Homemade Maple-Nut Granola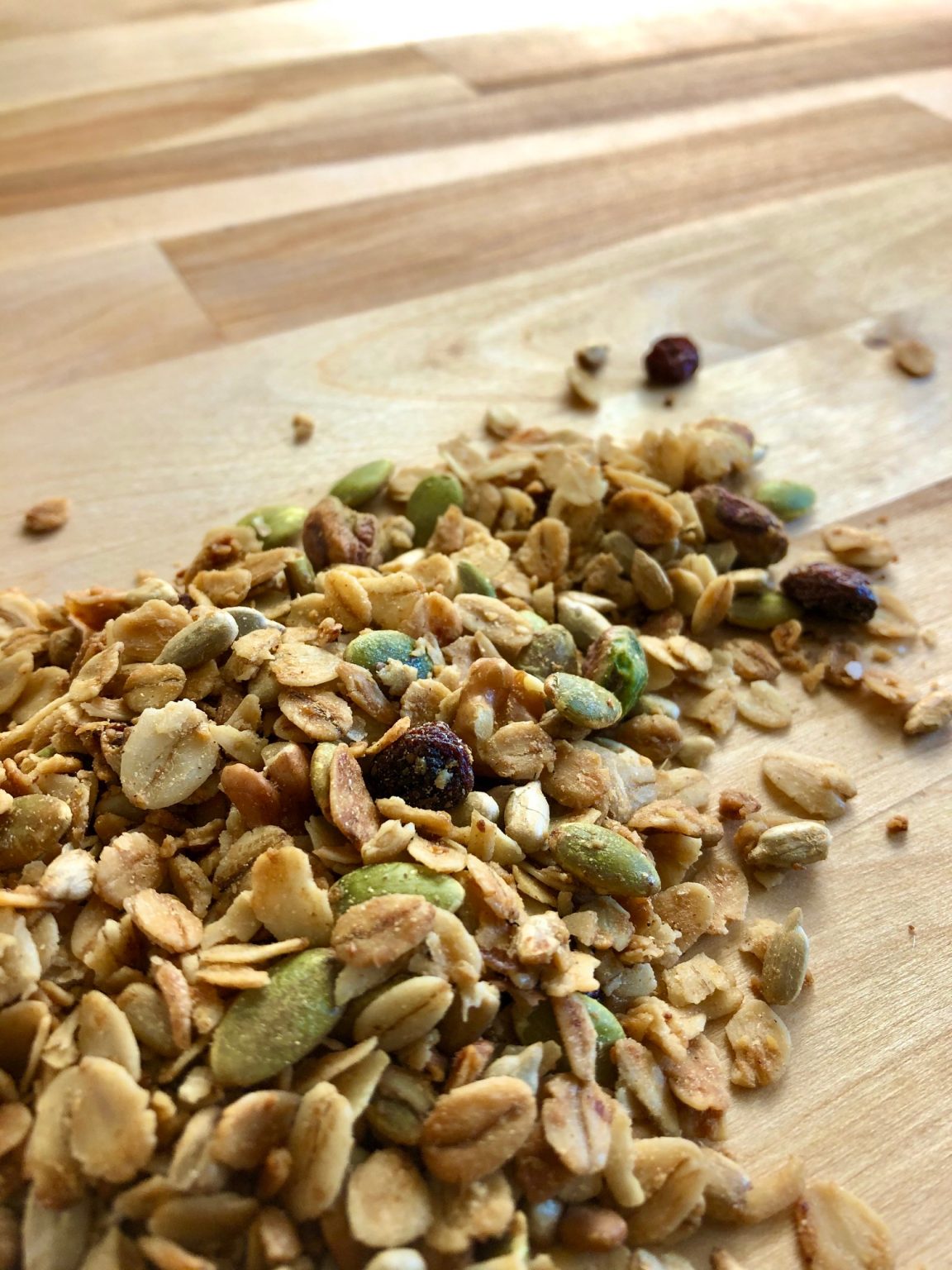 This granola is easy to make, and has the benefit of being able to accept any dried fruits, nuts, seeds, or flavourings you can throw at it! I always bring a bag of it with me camping for a fast, filling, and easy breakfast, but it can also become part of your normal breakfast routine too. Serve it in a bowl with fresh cut fruit, top a cup of yogurt with it, or just eat it by the handful on your way to work! I like to add a big pinch of flaky salt at the end to make it more savoury, which suits my tastes, but make this recipe your own!
Prep Time

5 min

Cook Time

30 min

Total Time

35 min

Ready in

1 Hr
For the Base
4 cups of rolled oats
1/2 cup coconut oil or canola oil
3/4 cup maple syrup
1 pinch of salt
Suggestions for Nuts and Seeds
1 to 2 cups of some or all of the following:
Almonds (whole or slivered)
Walnuts
Pecans
Peanuts
Hazelnuts (chopped)
Pistachios
Cashews
Filberts
Pumpkin Seeds
Sunflower Seeds
Hemp Seeds
Flax Seeds
Suggestions for Dried Fruits
1 cup of some or all of the following:
Raisins
Sultanas
Dried Cranberries
Dried Cherries
Dried Apricots (sliced)
Dried Apples (chopped)
Prunes (sliced)
Figs (sliced)
Dates (chopped)
Dried Currants
Dried Tropical Fruit
Coconut (large flakes)
Preparation
1
Preheat oven to 300°F (150°C, gas mark 2)
In a large bowl, mix together 4 cups of rolled oats, 1-2 cups of nuts/seeds, 1/2 cup coconut oil, 3/4 cup maple syrup, and a pinch of salt (don't add your fruit yet).
2
Spread mixture out onto a baking sheet and put in the oven for 20 minutes.
3
Take out after 20 minutes and add in 1 cup dried fruit (optional) and give it a stir. Firmly press the granola back down into a thick rectangle and cook for another 10-15 minutes or so, watching closely so it doesn't burn.
4
Let cool completely then store in a ziplock bag.
You can store at room temperature in a cool, dry place for 2 weeks. Store in freezer if you'd like to keep it for longer.
Enjoy!
Any extra notes can go here.