Lion's Mane Noodle Bowl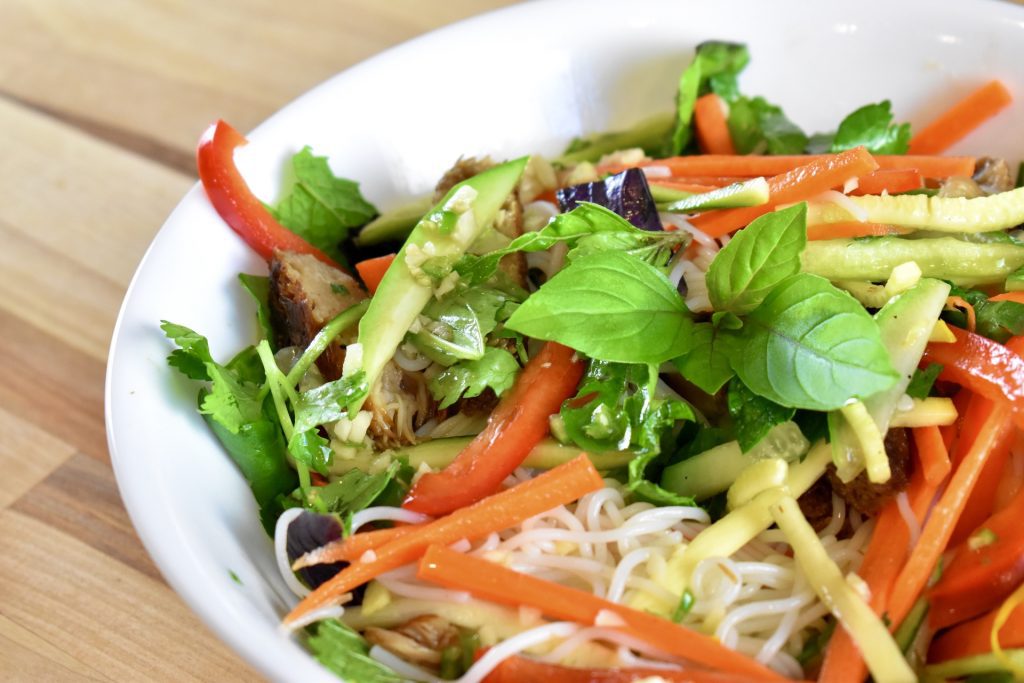 This delicious noodle bowl was inspired by Vietnamese bùn. Lion's mane mushrooms (hericium, or bear's head tooth fungus) gets pressed and seared, then simmered in a flavourful sauce which it completely soaks up. The mushrooms then get added to a bowl of vermicelli rice noodles, along with softened veggies and fresh herbs, then everything gets doused in a pungent nước chấm sauce, that really compliments all of the flavours. 
This makes for an absolutely refreshing and delicious meatless meal and is a great way to try lion's mane mushrooms in something other than the ubiquitous 'crab' cakes that it's known for. 
To make it completely vegetarian, replace the fish sauce with a vegan one, tamari sauce, or Bragg's liquid aminos.  
Prep Time

20 min

Cook Time

20 min

Total Time

40 min

Yield

4 servings
Cuisine

Course

Cooking Method

Suitable for Diet

Vegetarian if fish sauce is omitted or replaced
Ingredients
For the Noodle Bowl
1 pack (13oz, 375g) thin Vietnamese vermicelli rice noodles
1 small green zucchini 
1 small yellow zucchini
1 red bell pepper
1 carrot, peeled
1/2 cucumber
Kosher salt
1 large handful cilantro 
1 large handful mint
1 large handful Thai or regular basil 
2 tablespoons (30ml) vegetable oil
1 lb (454g) lion's mane mushroom
5-spice powder
Black pepper
1 tablespoon (15ml) hoisin sauce
2 tablespoons (30ml) water
For the Sauce
2 cloves garlic, minced
1 lime
1/4 cup fish sauce (or tamari for vegetarian)
1 tablespoon (15ml) chili paste or chopped fresh chilies
2 tablespoons (12g) white sugar
1/4 cup (60ml) water
1 teaspoon (5ml) soy sauce
1 tablespoon (15ml) rice or white vinegar
Preparation
1
Soak the vermicelli noodles in a bowl of warm water for about 20 minutes.
2
Cut the vegetables into matchsticks (or julienne) and put them all into a bowl. Add a pinch of salt and toss the vegetables until everything is covered to some degree with the salt. Set aside. 
3
Tear all of the herbs into bite-sized little pieces, put in a bowl and set aside. 
4
Break the mushrooms apart into small, fist-sized chunks.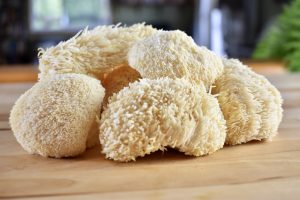 5
Melt 1 tablespoon (15ml) of the oil in a skillet, preferably cast iron. Bring to medium-high heat. 
Add the mushroom chunks to the skillet, then place another pan on top, and put something heavy in it like a big can of tomatoes or a mortar and pestle. This will help to press the mushrooms down. 
6
Cook the mushrooms for 5 minutes, keeping an eye on them so they don't burn. 
Flip them over and add the other tablespoon of oil if there isn't any left in the pan. 
Sprinkle the mushrooms with kosher salt, black pepper, and a pinch of 5-spice powder.
Lower the heat slightly, then put the heavy pan back on top and cook for another 4 minutes or so. 
7
Remove the top pan, mix the hoisin and water together in a small bowl, then pour over the mushrooms, tossing them in the sauce. 
Cook for another minute or until the mushrooms soak up all of the liquid. Turn off the heat. 
Once cool, cut into thick bite-sized slices. 
8
Bring a pot of water to boil and cook the vermicelli noodles for 5-10 minutes (follow package directions). Strain them in a colander and shake, shake, shake to attempt to dry them out as much as humanly possible. Try using your hands and giving them a gentle squeeze to get all of the water out. 
9
Mix together all of the sauce ingredients in a medium bowl. 
10
Split the noodles evenly between four bowls. 
Add the vegetables on top, then the herbs, then the mushrooms.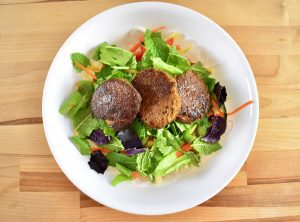 Diners spoon or pour the sauce over their bowls, then toss everything together.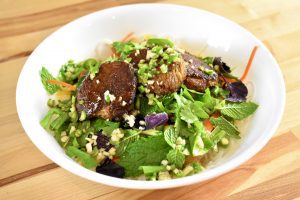 Enjoy!