Lambsquarter Spanakorizo Pies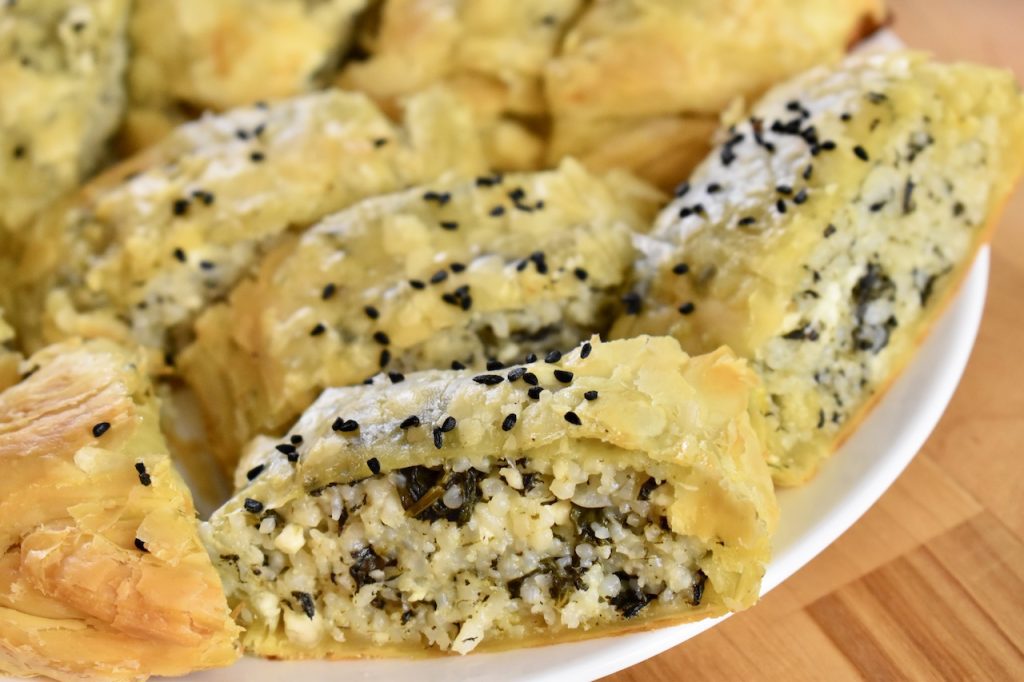 These tasty pies came about when I went to grab phyllo pastry out of the freezer to make lambsquarter spanakopita and found only puff pastry instead. 
I rolled with it and made these puff pastry pies stuffed with lambsquarters and rice (much like spanakorizo), which turned out wonderfully. 
These pies could be made with spinach or chard, or any other wild green, such as nettles, pigweed, dandelion, etc. 
Prep Time

20 min

Cook Time

1 hr

Total Time

1 hr 20 min

Yield

20-24 hand pies

Serving Size

2-4 pies
Cuisine

Course

Cooking Method

Suitable for Diet
Ingredients
2 tablespoons olive oil
1 small onion, chopped
2 cloves garlic, minced
4 cups lambsquarter leaves (no stems)
Pinch of salt and pepper
1 cup (200g) long grain white rice
2 cups (500ml) chicken stock or water
3.5oz (100g) feta cheese
Zest of 1 lemon
Juice of 1/2 lemon
4 sheets puff pastry
1/4 cup milk (or egg wash for brushing)
Flaky salt for garnish (optional)
Nigella seeds for garnish (optional)
Preparation
1
Heat olive oil in a medium pot over medium heat. 
Add the onion and cook for 2 minutes. Add the garlic and lambsquarters and season with a pinch of salt and pepper. Cook 3 minutes. 
Add rice and stock/water and bring to a boil, stirring often. Reduce heat to low and cover. 
Cook for 15 minutes, then take off of the heat, leaving the lid on and letting it rest for another 10 minutes. 
2
Open the lid and let the rice cool. 
Preheat oven to 350°F (177°C, gas mark 4).
Crumble in the feta cheese and add the lemon zest and juice. 
3
Lay out a sheet of puff pastry. 
Spoon out half the rice down the middle of the sheet, leaving the edges free for pinching closed. 
Lay a piece of puff pastry on top and pinch all of the edges together to form a flattish log. Trim off any extraneous pastry. 
Repeat with the other half of the rice and the other two sheets. 
4
Brush the logs with milk or beaten egg and sprinkle with the flaky salt and nigella seeds if using. 
Carefully transfer the logs onto a sheet pan and put them in the oven for 20-30 minutes or until lightly golden brown. 
5
Remove from the oven and let cool. Cut the logs into 10-12 pieces each. 
Serve the pies warm or at room temperature. Enjoy!