Mushroom and Goat Cheese Flatbreads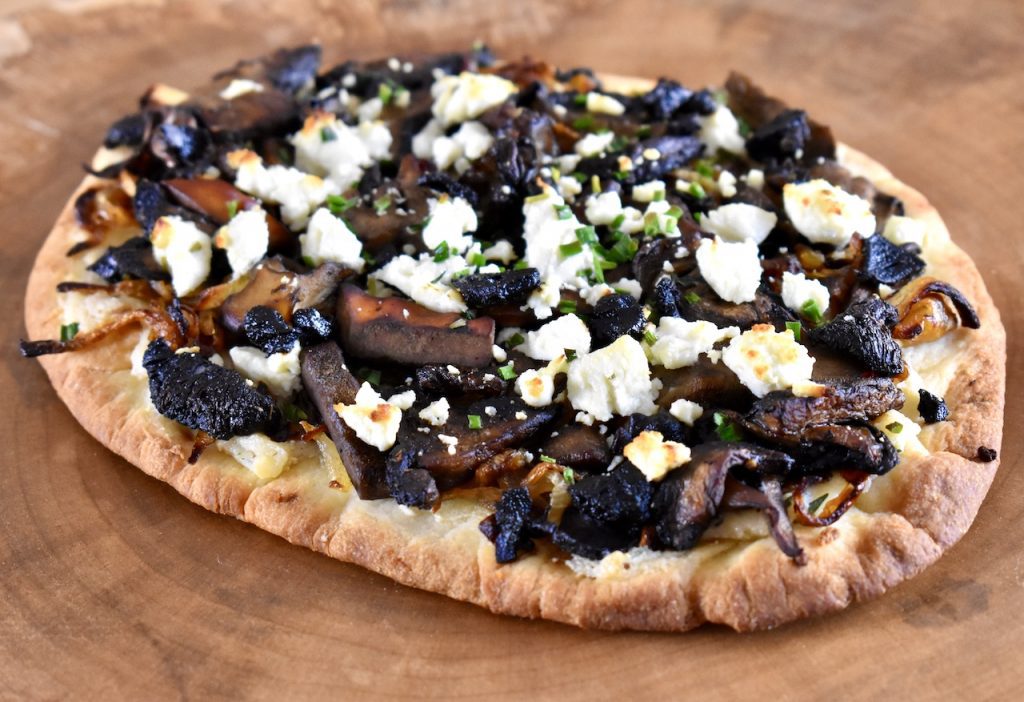 Pizzas? Flatbreads? Call them what you'd like, they're delicious!
Goat cheese and mushrooms have a lovely rapport and it's hard to go wrong combining the two, especially on a flatbread pizza!
Use any mix of wild or store-bought mushroom for this recipe (though wild or 'gourmet' mushrooms will definitely elevate it). 
Properly caramelizing the onions takes a long time, but it's totally worth it. Any recipe that tells you to caramelize onions in less than 30 minutes is lying to you. If you don't have the time to do it though, these flatbreads would taste great with onions that have simply been fried instead. 
Prep Time

15 min

Cook Time

1 hr

Total Time

1 hr 15 min

Yield

2 flatbreads, or 4 smallish servings
Cuisine

Course

Cooking Method

Suitable for Diet
Ingredients
1 tablespoon (15ml) vegetable oil
2 medium onions, sliced thinly
Kosher salt and black pepper
1.5+ tablespoons (21g) butter
10oz (300g) mixed wild or store bought fresh mushrooms (I used hen of the woods, chicken of the woods, and pavement mushrooms)
1 tablespoon (8g) flour
1 pinch of dried or fresh thyme leaves
1/2 cup (125ml) milk or cream
2 naan, Greek pita, or other thick flatbreads
1 oz (30g) goat cheese
4 cloves black garlic, sliced (optional)
1 big pinch minced chives (optional)
Truffle oil to drizzle (optional)
Preparation
1
Add 1/2 a tablespoon of the vegetable oil to a skillet over medium heat, then add the sliced onions and a small pinch of salt. 
Fry the onions until they begin to sizzle and show signs of browning. Turn the heat down to low and continue cooking for at least 30 minutes, or until the onions are deeply caramelized. 
Remove from pan and set aside. 
2
Meanwhile, chop the mushrooms up into small, bite-sized pieces. 
Add 1/2 a tablespoon of the butter and 1/2 a tablespoon of the oil to a separate skillet over medium high heat. 
Add the mushrooms and season with a pinch of salt and pepper. 
Fry for 10 minutes, or until the pan is dry and the mushrooms are caramelized and dark brown. Remove from pan and set aside. 
3
Preheat oven to 450°F (230°C, gas mark 8). 
4
In a small pot, or in one of the skillets you used, melt 1 tablespoon of the butter over medium heat. Add the flour and thyme, and stir to form a paste. 
Cook the paste for 1 minute, then add the milk or cream and turn down the heat to medium low. Add a small pinch of salt and pepper, and stir until it thickens down into a mayo-like consistency. Take off of the heat. 
5
Divide the sauce evenly between the two flatbreads, spreading it with a spoon to within 1/2″ (1cm) of the edges.
Sprinkle over the caramelized onions, then the mushrooms. 
Break the goat cheese apart with your fingers and crumble it over the mushrooms. 
Sprinkle over sliced black garlic and minced chives. 
Put in the upper half of the oven for 15 minutes, or until the bread is crispy and the cheese is melting.
6
Drizzle with truffle oil if using, and serve. Enjoy!