Bear Flammkuchen with Sauerkraut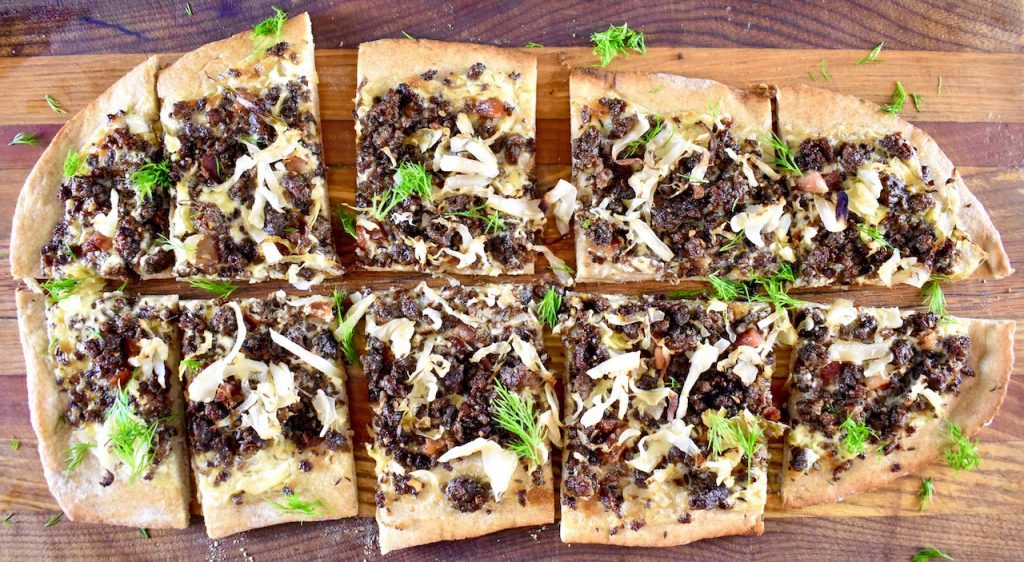 Flammkuchen is basically a German pizza that is enjoyed in the southwest of the country along the French border. Those across the border in Alsace enjoy it too, but call it tarte flambée. 
Flammkuchen (flame cake) is usually topped with bacon and onions, but I decided to go wild with mine and topped it with ground bear meat and homemade fermented sauerkraut.
You could of course use any type of ground meat and store bought sauerkraut, but bear works spectacularly in this particular recipe. 
Other traditional German flavours like rye, dill, caraway, and nutmeg make their way into this dish as well, creating a delicious pizza that would be great as appetizers at a party, or served with salad as a dinner. 
Prep Time

1 hr 20 min

Cook Time

20 min

Total Time

1 hr 40 min

Yield

1-2 Pizzas, serves 4 for dinner or 12 as an appetizer
Ingredients
For the dough
1 cup (120g) rye flour
1.5 cups (180g) white flour (or use 2.5 cups total white flour)
1 teaspoon (3g) kosher salt
1 cup (250ml) warm water
2 teaspoons (6g) active dry yeast
1/2 tablespoon (6g) white sugar
1 tablespoon (15ml) rendered bear fat or vegetable oil
For the toppings
3.5oz (100g) thick cut bacon, speck, or pancetta, cut into small cubes
8oz (225g) ground bear
2 cloves garlic, minced
Kosher salt and pepper
1 teaspoon (2g) caraway seeds, lightly crushed
1 cup (250ml) crème fraiche or thick, full fat sour cream
1 egg yolk
1/2 teaspoon (1g) grated nutmeg
1 cup (250ml) sauerkraut, squeezed dry
Fresh dill to garnish
Preparation
1
Combine the flours and salt in a large mixing bowl. 
In a smaller bowl, add the yeast, sugar, and warm water. Stir to combine, then let it sit to activate, about 5 minutes. 
2
Add the liquid ingredients to the dry ingredients and add bear fat/oil. 
Mix with a wooden spoon until the dough begins to form a ball. Begin mixing with your hands, until all of the flour is incorporated. You may need to add a touch more water or a touch more flour. 
Knead the dough ball in the bowl for 5 minutes, grasping the edge of the bowl with your off hand and firmly kneading with your dominant hand. 
You could also turn the dough out onto a floured surface and knead there if that's easier for you.
3
Put the dough back in the bowl if you took it out and cover with a damp towel or plastic wrap. Put it somewhere warm to rise for 1 hour. 
4
Meanwhile, fry the bacon cubes in a skillet over medium heat until crispy. 
Remove from the skillet and drain on paper towels, reserving about 1 tablespoon (15ml) of the bacon grease. 
Add the ground bear to the skillet with the reserved bacon grease and cook over medium high heat until browned, about 10 minutes. 
Add the garlic, a pinch of salt and pepper, and half of the caraway seeds and fry for another minute. 
Set aside for the time being. 
5
Mix the egg yolk and nutmeg into the crème fraiche until it is well combined. Set aside.
6
Preheat oven to 425°F (220°C gas mark 7).
7
Dump the risen dough onto a floured surface and knead for 1 minute. 
Cut the dough in half and roll/press each half into an oblong oval-ish shape. Put them onto a sheet pan lined with foil. 
8
Spread the crème fraiche on both pieces of dough, then sprinkle evenly with the bacon and the bear. 
Drape the drained sauerkraut on top of each half, then sprinkle with the other half of the caraway seeds. 
9
Put in the oven and bake for 20 minutes, or until the crust is nice and golden. 
Scatter some dill fronds over the pizzas and cut them into squares. Serve immediately. Enjoy!