Mango Snapper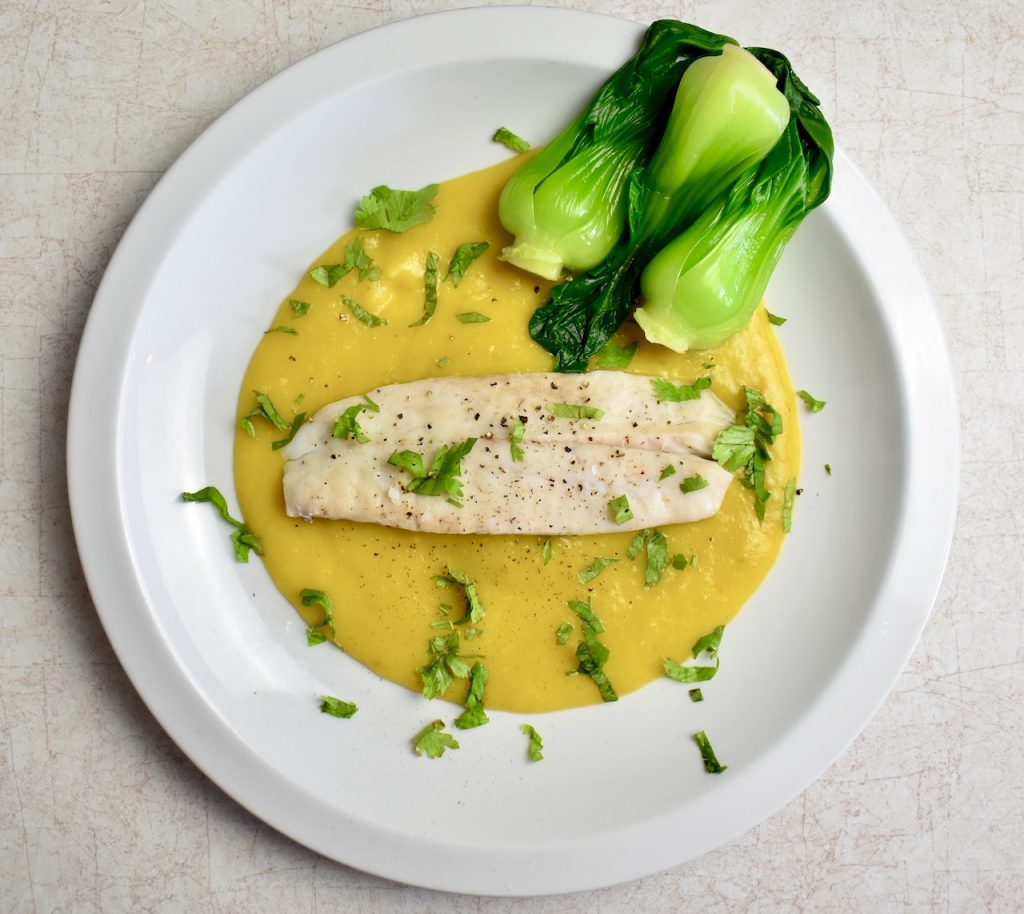 This recipe came about when I was going to make a mango salsa to go along with my snapper fillets. When I pulled the mangoes out though, they were over-ripe and too soft for a salsa. 
Instead, I puréed the mango along with some other aromatics and made a bright and tropical sauce for which to serve the poached fish fillets in. Even better!
I used vermillion snapper for this that I caught on a Florida fishing trip, but if you can't find snapper, feel free to use any mild white fish like tilapia, sole, basa/swaii, pike, bass, perch, etc. 
Prep Time

30 min

Cook Time

15 min

Total Time

45 min

Yield

4
Ingredients
2 ripe mangos, peeled, pitted, and chopped
1 clove garlic, minced
1/2 thumb ginger, peeled and minced
1/2 jalapeño or other chili, seeded and minced
1/4 cup (60ml) coconut milk
1 teaspoon (5ml) fish sauce
Juice of 1 lime
1 teaspoon (2g) curry powder
12 baby bok choy
1 cup (250ml) dry white wine
1 tablespoon (4g) salt
4 snapper fillets
Freshly cracked black pepper
Cilantro to garnish
Preparation
1
Add the chopped mango, garlic, ginger, and chili to a blender and blend on high until very smooth. 
Pour into a pot and simmer over medium low heat for 5 minutes. 
Add the coconut milk, fish sauce, lime juice, and curry powder. Cook for 2 more minutes, then turn down to the lowest setting to keep warm. 
2
Prepare a large bowl of ice water. 
Bring a pot of salted water to the boil. Add the bok choy, cook for 2 minutes, then drain. 
Immediately throw the bok choy into the ice water to shock them. Let them hang out for a few minutes, then gently wring them out to dry. 
3
Bring 1 cup (250ml) water and the wine and salt to 160°F (a bare shimmer, not yet bubbling). 
Add the fish fillets and cook for 2-5 minutes (depending on thickness) or until they're JUST cooked through. 
Remove from the poaching liquid onto a plate while you put everything together. 
4
Ladle one quarter of the mango puree onto each plate, moving the bottom of the ladle around in concentric circles to form a nice even circle of puree. 
Gently place a fillet into the middle. Crack some pepper over it and scatter everything with fresh cilantro. 
Put three baby bok choy into the corner of the plate, then serve immediately. Enjoy!