Miso-Kabocha Risotto with Maitake Mushrooms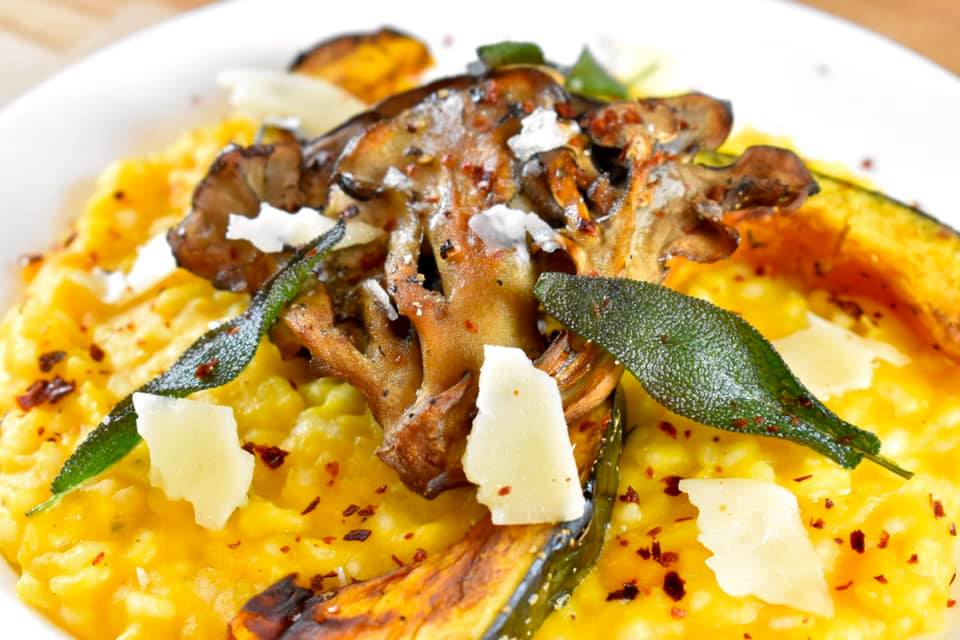 This fusion of Italian and Japanese elements work as a perfect backdrop to show off the prized Maitake or Hen of the Woods wild mushroom. 
Prep Time

15 min

Cook Time

45 min

Total Time

1 hr

Ready in

1 Hr
Cuisine

Course

Cooking Method

Suitable for Diet
Ingredients
For the Roasted Mushrooms and Squash
1 large piece of Maitake mushroom per diner*
1/4 kabocha squash
8 thyme sprigs
1 tablespoon vegetable oil
1 tablespoon hazelnut oil*
Kosher salt
Fresh cracked black pepper
For the Risotto
2 tablespoons oil
3 sage leaves per diner
1 medium kabocha squash (or half a large one)
1 tablespoon oil
1 large onion, chopped
3 sage leaves, minced
300 grams Arborio rice, or just over 1 cup (or other risotto rice) 
1.5 tablespoons red miso paste
2 teaspoons fish sauce (optional)
2 tablespoons Parmesan cheese 
1.5 tablespoons butter
Salt
Freshly cracked black pepper
Chili flakes 
Parmesan cheese 
Preparation
For the Roasted Mushrooms and Squash
1
Preheat oven to 400°F (200°C, gas mark 6).
Carefully clean the maitake, then pull off one large piece per diner, inspecting it once more for debris or insects. Transfer to baking sheet. 
2
Cut the kabocha squash in half, then into quarters.
Take one quarter, trim the top and bottom stem ends off and scrape out any seeds or gunk. 
Slice into 1 cm or 1/2 inch crescents. Transfer to baking tray.
3
Lay thyme sprigs on top of mushrooms and squash on baking sheet and drizzle the two oils over everything. Use your hands to toss everything in oil so it's all well coated. Season generously with salt and pepper and toss again. 
4
Add to preheated oven and cook for 30 minutes, flipping at least once. After 30 minutes, check on them often, making sure the mushrooms and squash develop some colour and crispiness, but don't burn. 
Once done, remove from oven and set aside. 
For the Fried Sage Leaves
5
Add 2 tablespoons of oil to a frying pan over medium high heat.
Add 3 sage leaves per diner to the oil and cook, flipping once, for about 2 minutes, or until the leaves are crispy and verging on brown. 
Remove from the oil and drain on paper towels, sprinkling with salt while they're still hot. 
For the Risotto
6
Take the remaining 3 quarters of the squash and scrape out any seeds and gunk.* 
Peel off the skin and carefully dice the squash into 1 cm (1/2 inch) pieces. They will be cooked down, so don't worry about their shape or exact size. 
7
Add 1 tbsp of oil to a large frying or casserole pan over medium high heat.
Add chopped onion and cook, stirring often until it begins to soften.
8
Add diced squash and minced sage and cook for another 2 or 3 minutes.
9
Fill up a pitcher of water and set beside your frying pan. 
Add rice to frying pan and splash about 1/2 cup of water into the pan.
10
Bring heat down to medium.
Continue stirring the rice every 30 seconds or more, adding a splash of water every time the liquid in the pan begins to dry up. 
The rice will slowly absorb the water and begin to turn creamy, while the squash will soften. 
11
Once the squash begins to soften (after about 10 minutes), start smushing down the squash as you stir the risotto. You want the squash to be a part of the sauce, with no visible chunks left at the end. 
12
Once the squash has been… squashed, and the rice is beginning to look creamy, add the miso paste and fish sauce. 
At this point, start tasting the risotto, you want it to be creamy and smooth, yet a touch al dente when you bite into the rice itself. It's all up to you though, when you feel like the texture is perfect, that means it's done!
13
Once the risotto is done to your liking, remove from the heat and stir in the grated Parmesan cheese and butter. Add salt and pepper to taste.
14
To plate, scoop some risotto onto a plate or bowl. Top with a few pieces of roasted squash, a piece of roasted maitake, 3 fried sage leaves, flaky salt, chili flakes, and petals (or grated) of Parmesan cheese (use a vegetable peeler to achieve this). Enjoy!
*You can easily pull apart Maitakes by hand. Try to pull off a flattish piece, as it will roast better that way. 
*For flavour. Use 2 tbsp vegetable oil if you don't have it.
*The seeds can be washed off, seasoned, and thrown into the slowly cooling oven to dry and cook after you take out the mushrooms!