Morel and Fiddlehead Pasta with Ramp Butter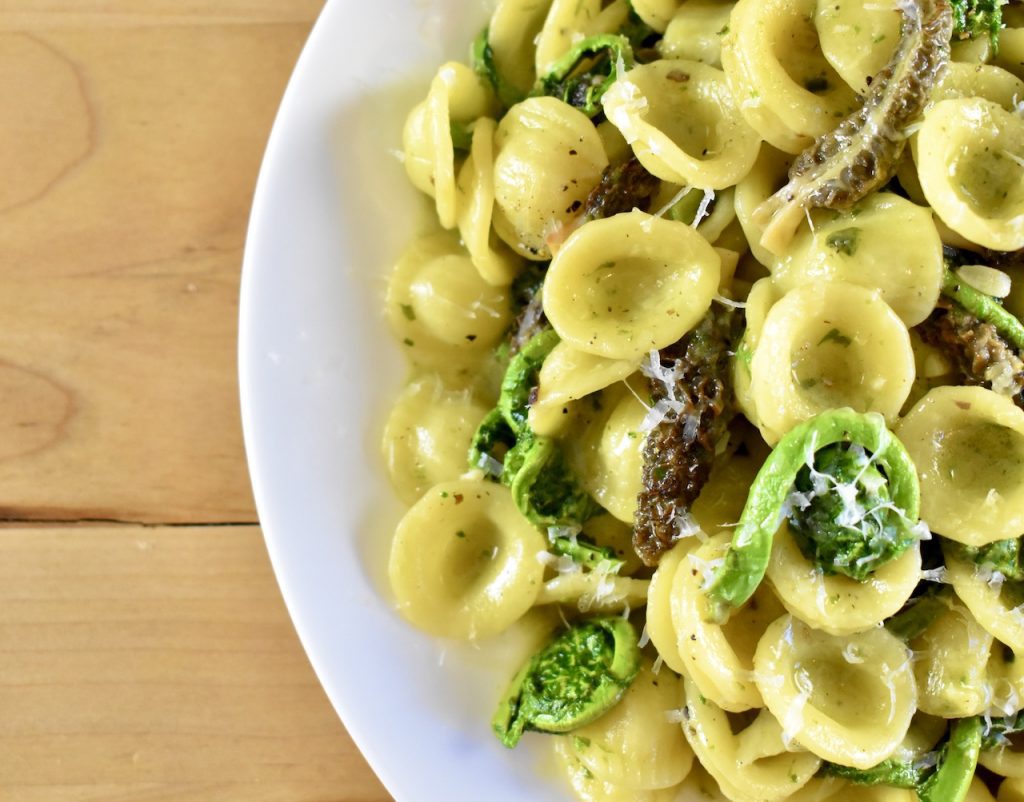 This recipe is perfect for the spring when the foraging gets interesting again and you're bringing home rare treats like morels, fiddleheads, and ramps. 
The recipe calls for ramp butter. Instead of giving you a recipe of my own, I'll let one of the masters take care of it for me: Forager Chef Ramp Leaf Butter Recipe.
Check out the rest of his page while you're there! 
If you don't have ramps, feel free to substitute normal butter. Maybe add another clove of garlic to the recipe. 
You can also swap the fiddleheads for chopped asparagus. 
Unfortunately there's nothing like morels, but you could use white button mushrooms in a pinch. Just make sure they get good and golden . 
A special thanks to my friend Moe for the ramp butter that I used for this recipe!
Use this guide to harvest your own fiddleheads.
Watch this video to learn more about hunting for morels.
WARNING:
Health Canada and the USDA recommend boiling fiddleheads in water for 10 minutes to avoid illness. I think that 10 minutes is overkill and leaves you with mushy vegetables BUT I don't know much of anything. It's up to you to decide how long you feel comfortable cooking them for. 
Prep Time

15 min

Cook Time

15 min

Total Time

30 min

Yield

2 servings (double ingredients for 4)
Ingredients
4oz (120g) fiddleheads, trimmed
7oz (200g) good quality orecchiette pasta
Kosher salt
1 tablespoon (15ml) duck fat or vegetable oil
2oz (60g) fresh morels, cleaned, trimmed, and cut in half lengthwise
2 tablespoons (16g) minced garlic
Black pepper
2 tablespoons (28g) ramp butter or regular salted butter
1 cup (90g) grated Parmesan cheese, plus more for serving
Preparation
1
Bring a pot of salted water to the boil. 
Add the fiddleheads and cook for 2 minutes. 
Drain, then add the fiddleheads to a bowl of cold water to stop them from cooking. Set aside. 
2
Fill the pot up with water again, add a pinch of salt and bring to the boil. 
Add the pasta and cook very al dente. 
Reserve 1 cup (250ml) of the cooking liquid. 
3
Meanwhile, melt the duck fat or oil in a skillet on high and add the morels. 
Cook for 3 minutes, or until the mushrooms have developed a brown crust. 
Add the garlic and cook for 1 minute. 
4
Add the pasta, pasta water, a few grinds of black pepper, and one of the tablespoons of ramp butter to the skillet with the mushrooms. Reduce to medium-high.
Cook, stirring constantly, until the liquid is mostly absorbed. 
Add the fiddleheads, the Parmesan cheese, and the other tablespoon of ramp butter. 
Reduce the heat to medium and fold everything in, stirring until the liquid has become a rich, creamy sauce, about 1 minute. 
5
To serve, spoon onto plates and shower with more grated Parmesan cheese and black pepper. Enjoy!