Moroccan Pike Meatballs on Couscous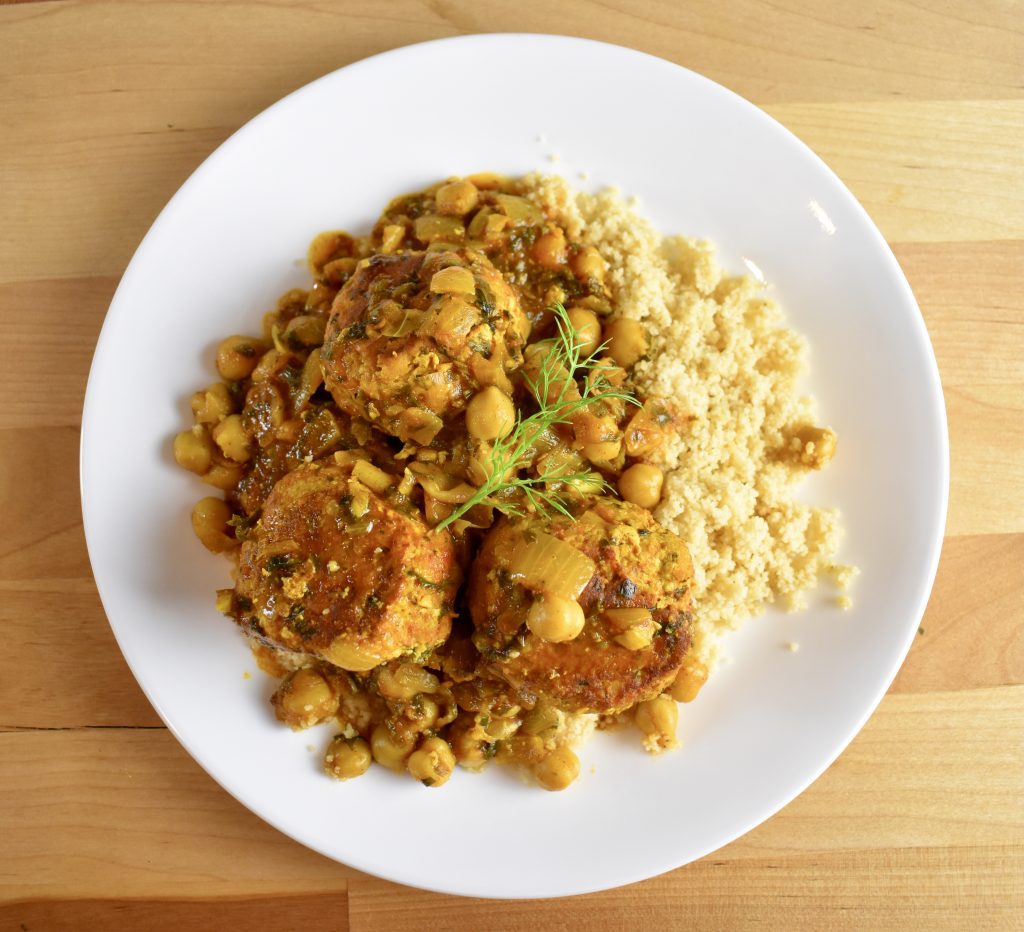 This recipe will work great for any white lakefish, or even fish fillets from the grocery store. You do need a meat grinder for this recipe though, with some patience and perseverance, you could use a knife to mince up the fish into a fine grind. 
I like using recipes like this for fish that may have been in the freezer a little too long, or for fish like late summer pike, which may have a bit of a unfavourable flavour to them. The highly seasoned meatballs covered in sauce should hide any off-flavours, but should still taste like good fish! 
Some people will grind the fillets with the 'Y' bone still in the pike. If you plan on doing this, pass the fish through the grinder 2 or 3 times to ensure the bones get ground down. You may still end up with some sharp pointy pieces in the grind, so be careful if you do it this way. 
Prep Time

20 min

Cook Time

1 hr

Total Time

1 hr 20 min

Yield

4 servings
Cuisine

Course

Cooking Method

Difficulty Level

Necessary Equipment
Ingredients
For the Meatballs
1 lb (454g) pike or other lakefish fillets, boned and skinned
1 egg
1/4 cup (30g) breadcrumbs
1/4 cup (7g) fresh parsley, minced
2 tablespoons (6g) preserved lemon rind, or fresh lemon zest
1/2 teaspoon (2g) kosher salt
1/2 teaspoon (1g) black pepper
1 teaspoon (2g) ras el hanout spice blend
1/2 teaspoon (1g) smoked paprika
1/2 teaspoon (1g) turmeric
For the Sauce
2 tablespoons (30ml) olive oil
1 tablespoon (14g) butter
2 medium onions, chopped
4 cloves garlic, minced
1 teaspoon (2g) smoked paprika
1 teaspoon (2g) turmeric powder
1 teaspoon (2g) ground cumin
1/4 teaspoon (0.5g) ground cinnamon
1/2 teaspoon (2g) kosher salt
1/4 teaspoon (0.5g) black pepper
2 tablespoons (30ml) tomato paste
1 tablespoon (15ml) harissa paste (or other hot sauce)
1/4 cup (7g) fresh parsley, minced
1/4 cup (7g) cilantro, minced (optional)
1 can chickpeas, rinsed and drained
For the Couscous
1 cup water
1 pinch kosher salt
1 tablespoon (15ml) olive oil
1 cup couscous
Preparation
1
Put the fish fillet(s) in the freezer until very firm to the touch. 
Cut into 1″ (2cm) chunks, then feed them through the meat grinder with a fine dye and into a bowl. I'll put half an onion or a piece of bread in at the end to push out the last of the fish. 
2
Add the rest of the meatballs ingredients, then use a wooden spoon or your hands to combine. Try not to over-mix. 
Once all of the ingredients are well-incorporated, form a small patty and fry it in a bit of oil to taste for seasoning. If you're happy with the seasoning (Does it need more salt? More spice?) then form the rest of the mix into meatballs about the size of golf balls.
You should end up with about 12-15 meatballs. 
3
Add the olive oil to a deep skillet or thick bottomed pot or Dutch oven and bring to medium-high heat. 
Add the meatballs and fry for about 15 minutes, letting them sear on one side for a few minutes, then half turn them again and again, letting each side sear and develop a brown crust. 
4
Remove the meatballs from the pot/skillet and add the butter. Once it melts, add the onions and cook over medium, scraping up anything stuck to the bottom of the pan, for about 10 minutes or until translucent and beginning to turn golden. 
Add the garlic and spices and cook for another 2 minutes. 
Push everything to the edges of the pan and add the tomato paste and harissa to the middle of the pan, stirring it around slightly until it begins to turn into a darker red, about 2 minutes. 
5
Add the herbs, chickpeas, and meatballs. Just barely cover with water and gently stir everything together. 
Bring to a boil, then reduce to a strong simmer for about 30 minutes, stirring occasionally, or until the liquid reduces into a thick sauce. 
6
Meanwhile, bring the cup of water to a boil. Add the salt, olive oil and couscous, stirring it all in. Take off the heat and cover. 
Let stand for 10 minutes, then fluff with a fork. 
7
Serve by ladling the meatballs and sauce over the couscous. Garnish with fresh herbs and serve with a Moroccan carrot or orange and mint salad. Enjoy!