"Thanksgiving" Stuffed Turkey Wings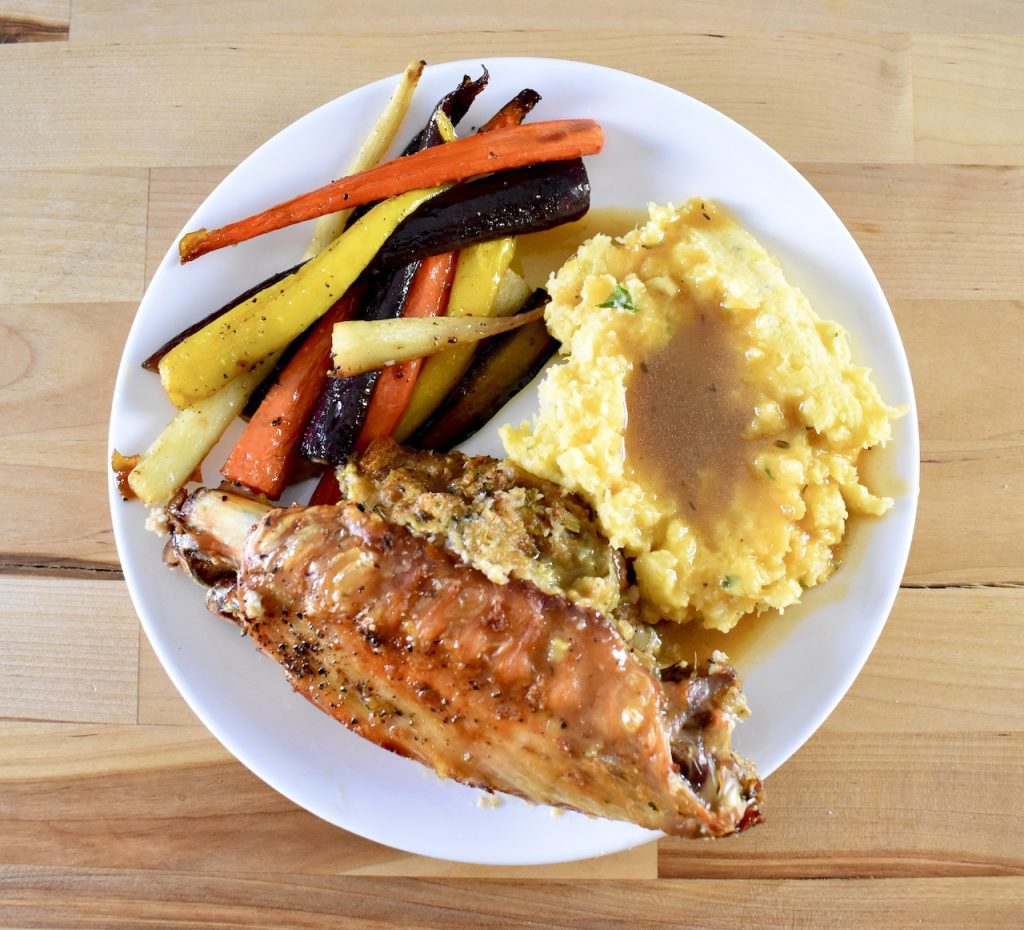 Turkey wings show up at the grocery store every once in a while and I'll always grab some. They're very inexpensive and I get to make stuffed wings with them! 
After successfully making Cajun-style stuffed turkey wings several times, I got the idea to stuff the wings with a traditional Thanksgiving turkey stuffing. 
Stuffed like this and cooked, they're absolutely delicious; tasting like a full classic Thanksgiving turkey meal. 
These would be great if you're making a small Thanksgiving dinner and don't need or want an entire turkey, or if you are just missing the warm flavours of Thanksgiving or Christmas later on in the year. 
I like to serve these with mashed potatoes and sweet roasted veggies to further replicate the feeling of a holiday meal. 
To simplify the recipe, feel free to use store bought croutons to replace the bread and poultry seasoning blend to replace the herbs and spices in the stuffing. 
Prep Time

30 min

Cook Time

2 hr 30 min

Total Time

3 hr

Yield

4 large servings

Serving Size

2 wings each
Ingredients
4 cups white bread, cut into small cubes (or use pre-made Caesar salad croutons)
1 tablespoon (14g) butter
2 stalks celery, finely chopped
1 small onion, finely chopped
2 cloves garlic, minced
1 tablespoon (3g) dried sage leaves, or 1 teaspoon ground sage (2g)
1 tsp (1g) dried thyme leaves
2 tablespoons (4g) fresh parsley, finely chopped
1/2 teaspoon kosher salt (2g)
1/2 teaspoon (1g) black pepper
2 cups (500ml) turkey or chicken broth
8 turkey wing "flats" (drumsticks can be used, but flats are preferable)
Poultry seasoning (optional)
Vegetable oil
For the gravy
Turkey drippings
1 tablespoon (14g) butter
2 tablespoons (18g) flour
1.5 cups (375ml) turkey or chicken broth
1/2 teaspoon (0.5g) dried thyme leaves
Kosher salt and black pepper
Preparation
1
Preheat oven to 375°F (190°C gas mark 5).
2
Put the bread cubes on a sheet tray. Bake in the oven for 15 minutes to dry them out and slightly toast them. 
Skip this step if using croutons. 
Remove them from the oven, but leave oven turned on. 
3
Melt the butter in a medium pot over medium heat. 
Add celery and onions and cook for 5 minutes, stirring often. 
Add garlic, sage, thyme, parsley, salt, and pepper (or poultry seasoning) and cook for another 5 minutes. 
Add the bread cubes and mix well. Slowly add the turkey broth and stir it in, making sure that all of the bread cubes get covered. Cook for 1 minute. 
Turn off the heat and let cool. 
4
Take one of the turkey wings and look closely at it. One side will be flatter than the other. 
Put the flatter side down on the cutting board. With a boning, paring, or fillet knife, make a slit in between the two wing bones (you can feel them with your fingers), making sure you don't cut through to the other side (if you happen to poke through, it's not the end of the world). 
Probe the knife around the slit, snipping away at the edges and forming a pocket inside the turkey wing. 
Repeat with the rest of the wings.
If you have drumsticks as well, find the meatiest section and make a slit in it, forming a pocket. 
5
Season the wings generously with salt, pepper, and poultry seasoning if using. 
Using your fingers, stuff the stuffing into the wings, packing it in as tight as possible in the pockets you've created. 
Once they're all stuffed, grease the bottom of a casserole dish (with a lid) with vegetable oil. 
Pack the turkey wings tightly into the bottom of the dish, stuffing side down. If there's not enough room for them all, you can stack them. 
If you have any leftover stuffing, you can stuff it in between the wings in the casserole dish. 
6
Put the lid on and put in the oven for 1.5 hours. 
Take off the lid and turn the heat up to 400°F (200°C, gas mark 6). Cook for 30 more minutes. 
7
To make the gravy, carefully pour out the drippings from the casserole dish into a pot over medium heat. 
Add the butter. Once it is melted, add the flour and whisk it in. This makes a thickening roux.
Cook for 5 minutes, or until the roux is starting to turn darker brown. 
Add the turkey broth and thyme. Simmer until the gravy thickens to your desired consistency. Taste, then season with salt and pepper. 
8
Serve the turkey wings with gravy and whatever sides you like. I like to serve them with mashed potatoes and sweet roasted root vegetables for more of a "Thanksgiving" feel. Enjoy!