Ramp Speckled Pasta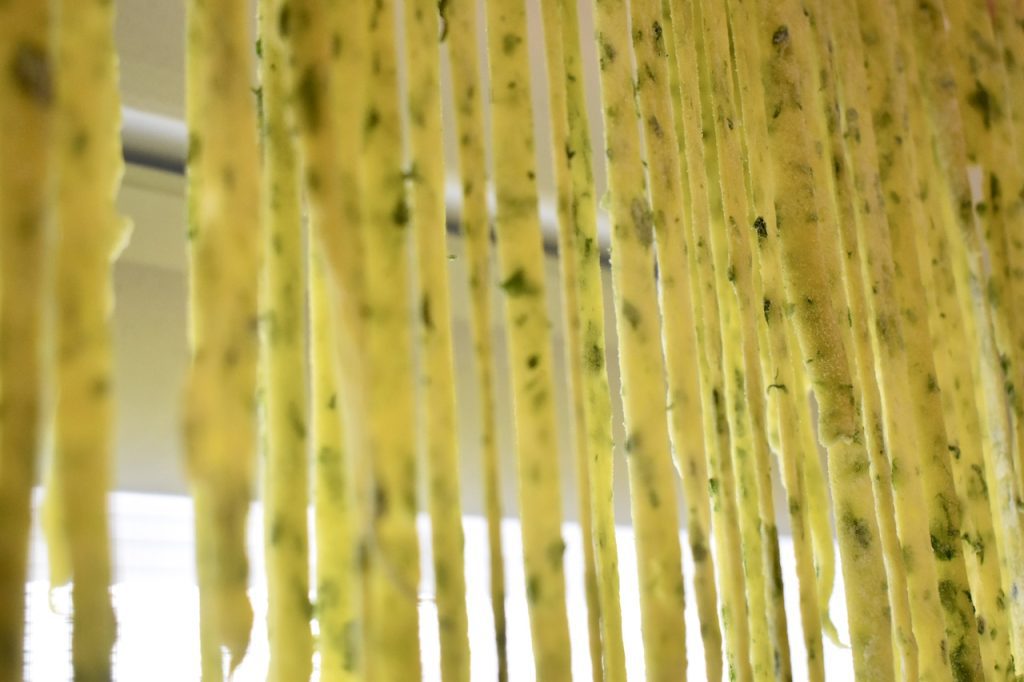 This ramp speckled pasta is a wonderful recipe to make with a modest harvest of ramp leaves in the spring!
Prep Time

55 min

Cook Time

5 min

Total Time

1 hr

Yield

4 servings
Cuisine

Course

Cooking Method

Suitable for Diet

Special Equipment
Ingredients
12-16 ramp (wild leek) leaves (you can replace with garlic chives or scallions)
2 cups (240g) 00 flour
2 eggs
3 egg yolks
1 teaspoon (4g) kosher salt (I used ramp salt)
Preparation
1
Bring a pot of water to boil. Add the ramp leaves and cook for 1 minute. Transfer to cutting board, let cool, then mince very finely. 
2
Add the flour to a large bowl, mix with salt, and make a well in the centre. Crack the eggs and egg yolks in and add the minced ramp leaves. 
Mix the eggs and ramps together with a fork, then start incorporating the rest of the flour, switching to your hands when the dough begins to stiffen.
Keep kneading in the bowl until the dough loses its stickiness and is smooth.
You may need to add a touch more flour or a tiny bit of water to achieve this. 
3
Break the dough into 4 equal pieces.
Cover the pieces you aren't working on with a damp towel. 
Run one of the pieces through the pasta maker on the first setting. Run it through again on the 2nd and third, and eventually to the 4th roller setting.
Dust the flattened dough with flour, then run through the fettuccini cutter.
Alternatively, roll out dough using a rolling pin until quote thin, then cut into noodles with a knife. 
4
Hang the noodles on a curtain rod, broom stick, or even on cupboard handles to dry out a bit while you continue on with the recipe. 
5
Once done, bring a large pot of water to the boil and add a good pinch of salt.
Add the noodles and cook until they float to the top, 2-4 minutes.
Eat plain, with butter, or use in your favourite pasta recipe.