Ribeye with Chanterelle and Pink Peppercorn Cream Sauce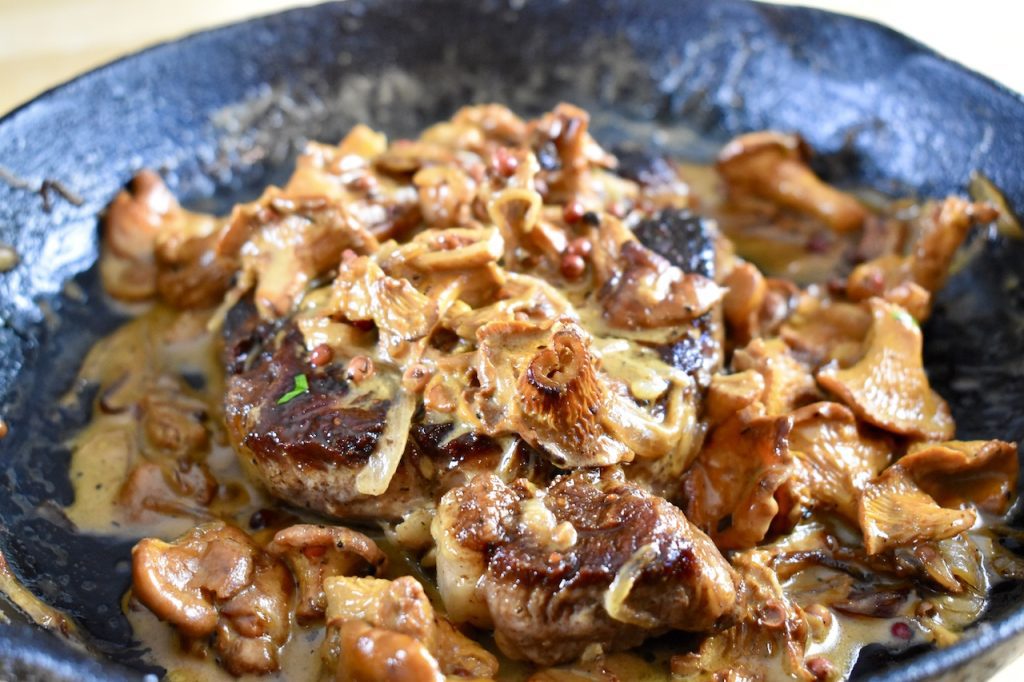 Finding a giant haul of chanterelles, I wanted to celebrate with an over-the-top meal that evening. 
I purchased a big ribeye steak and seared it to perfection, creating a delightful rich and creamy chanterelle and pink peppercorn sauce to go on top of it. 
Pure indulgent bliss!
Serve this steak with a tart salad and potatoes Lyonnaise for a wonderful summer meal. 
Prep Time

10 min

Cook Time

20 min

Total Time

30 min

Yield

1 large steak for 2

Serving Size

1/2 steak
Cuisine

Course

Cooking Method

Special Equipment

Cast iron or stainless steel pan
Ingredients
1 large ribeye steak, about 1lb or so (4540g)
Kosher salt
Freshly ground black pepper
2 tablespoons (30ml) fat or oil
1 tablespoon (14g) butter
2 shallots, sliced thinly
6oz (175g) fresh chanterelle mushrooms
1 tablespoon (15ml) brandy, sherry, white wine, or whisky
3/4 cup (180ml) half and half cream
1/2 tablespoon pink peppercorns (whole for stronger flavour, crushed for milder flavour)
1 teaspoon (5ml) lemon juice
Preparation
1
Season the steak very generously with salt and pepper as soon as you get it home. 
2
Add the fat or oil to a cast iron or stainless steel pan over high heat. 
Add the steak and sear for 5 minutes. Reduce heat to medium high. 
Cook for another 3 minutes and flip. 
Keep cooking until the internal temperature reaches 135°F (for medium rare). Take off of the heat and let rest while you cook the mushrooms. 
3
Lower the heat to medium low and add the butter to the pan you cooked the steak in. 
Once melted, add the shallots and cook for 2 minutes, stirring. 
Add the chanterelles and turn up the heat to medium.
Season with a pinch of salt and black pepper. 
Cook for about 3 minutes. 
Add whatever booze you're using and scrape the bottom of the pan to deglaze. Cook for 1 minute. 
Add the peppercorns and cream, cook for 1 minute. Add the lemon juice. 
Reduce heat to low and cook for 2 minutes, or until sauce thickens. 
4
Add the steak to the pan and swirl around in the sauce. Ladle some sauce and mushrooms over the steak. Serve in the pan for epic presentation, or cut in half and serve with potatoes Lyonnaise and a tart salad. Enjoy!