Roasted Fish with Pineapple-Jalapeño Sauce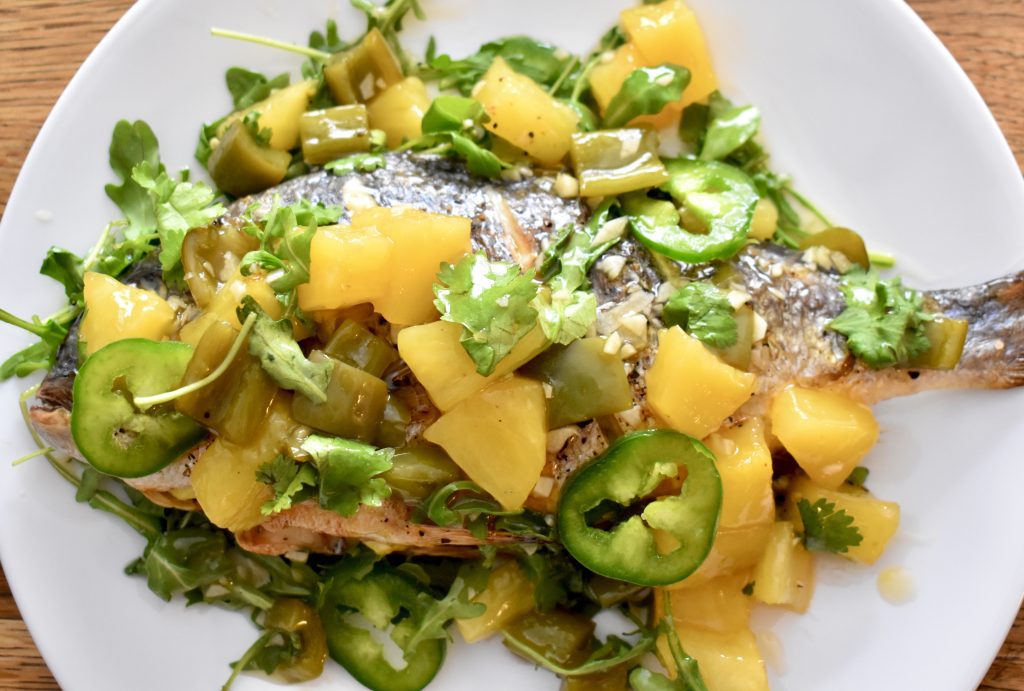 This roasted fish with pineapple-jalapeño sauce is an amazing way to eat whole fish. I used sea bream, but you could use any white-fleshed whole fish!
Prep Time

15 min

Cook Time

25 min

Total Time

40 min

Yield

2 servings
Ingredients
1 whole sea bream (or other white fleshed fish like snapper, tilapia, seabass, walleye, bass, etc.), scaled and gutted
Kosher salt
Black pepper
Neutral oil
1/2 pineapple, trimmed, cored, and cut into small chunks
5 jalapeño peppers
5 cloves garlic
1/4 cup (50g) brown sugar
1/4 cup (60ml) rice wine vinegar
1/2 cup (125ml) water
1 teaspoon (5ml) fish sauce OR a pinch of salt
1 teaspoon (3g) cornstarch
Cilantro to garnish
Preparation
1
Preheat oven to 450°F (230°C, gas mark 8).
2
Slash fish 3 times on each side with a sharp knife. 
Rub the fish inside and out with salt and pepper. 
Rub the outside of the fish with a small amount of oil. 
3
Take 1 jalapeño and cut it into slices. Stuff 3 slices into the cavity of the fish and set the rest aside for garnish. 
Take 1 clove of garlic. Crush it, discarding the peel. Stuff it into the cavity of the fish. 
Stuff a few pieces of pineapple into the cavity of the fish. 
Put the fish onto a sheet pan with a wire rack, then transfer to the oven. 
4
Chop the rest of the jalapeños into chunks. 
Mince the rest of the garlic. 
Add the pineapple chunks, jalapeño chunks, minced garlic, brown sugar, rice wine vinegar, water, and fish sauce into a pot over medium heat. Stir. 
5
Mix the cornstarch with 1 tablespoon (15ml) water and set aside. 
Bring the sauce to a simmer and cook for 2 minutes. Add the cornstarch slurry and cook until the sauce thickens. Remove from heat. 
6
Once the fish is cooked, you can either take it out, or set it until the broiler for a minute to crisp up a little more. 
Set the fish on a platter and spoon over a generous amount of the pineapple sauce. 
Sprinkle with cilantro leaves and the reserved sliced jalapeños and serve immediately. Enjoy!
Notice how I didn't have you scroll through pages of mundane nonsense to get to the recipe? Notice that there were no annoying pop-ups or ads? That was on purpose!
I want finding and using my recipes to be easy for you, not frustrating. That does translate into a lot of lost income for me though. If you made this recipe and loved it, would you consider "buying me a coffee" and donating a buck or two through the Buy Me a Coffee app? It will help me keep pumping out recipes like this one!