Sichuan Fiddlehead and Trout Salad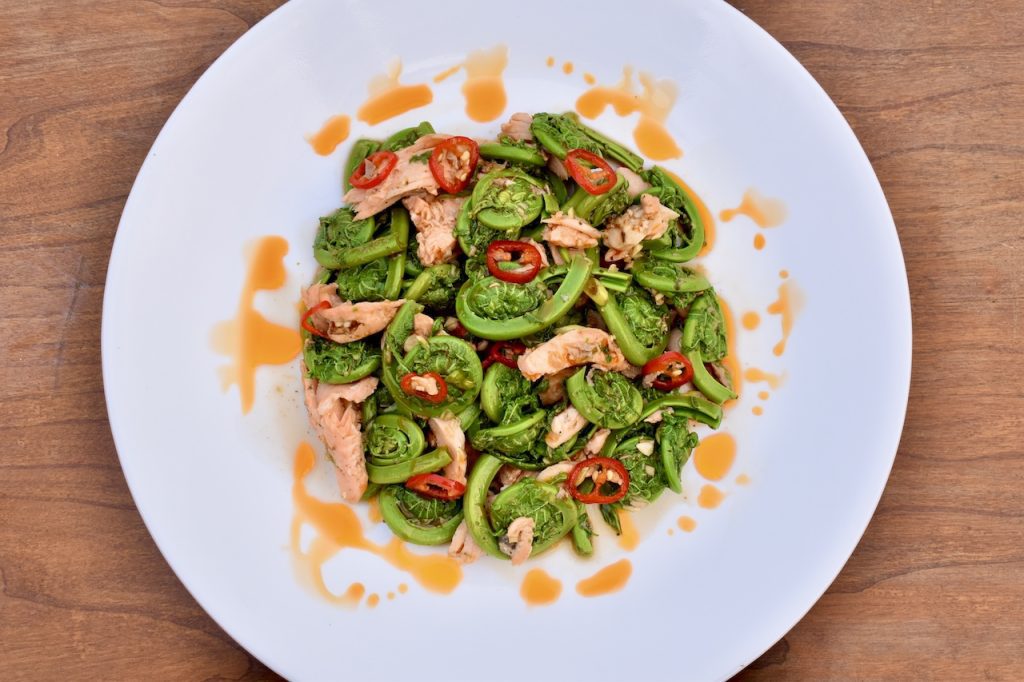 This Sichuan fiddlehead and trout salad contains ingredients that were found together on a spring-time trout fishing trip!
Prep Time

20 min

Cook Time

10 min

Total Time

30 min

Yield

2 large servings, or 4 as a side
Ingredients
2 boneless, skinless trout fillets
2 big handfuls of fiddleheads, washed
Kosher salt
3 tablespoons (45ml) Chinkiang black vinegar OR balsamic vinegar
1-2 tablespoons (15-30ml) chili oil, depending on spice tolerance
2 tablespoons (30ml) light soy sauce
1 teaspoon (5ml) sesame oil
1 tablespoon (12g) white sugar
2 cloves garlic, finely minced
1/2 teaspoon (1g) ground Sichuan peppercorn
1 red chili, sliced thinly
4 scallions, sliced thinly
Preparation
1
Steam the trout fillets in a steamer basket for about 2 minutes, or until just cooked through. Set aside to cool. 
Feel free to bake, roast, grill, or pan fry the fillets instead of steam, though I love the silky simplicity of steamed fish in this dish. 
2
Bring a pot of water to boil and add a big pinch of salt. 
Have a big bowl of ice water standing nearby.
Add the fiddleheads and boil for 5 minutes, then drain and add the fiddleheads to the ice water to stop them from cooking. 
Many sources recommend boiling the fiddleheads for 15 minutes for safety reasons. I think this is overkill and ruins the fiddleheads, but do your own research about it and make your own decision. 
3
Add the vinegar, chili oil, soy sauce, sesame oil, sugar, garlic, and Sichuan peppercorn to a small bowl and whisk until combined. 
4
Add the fiddleheads, chilies, and scallions to a large bowl. 
Break up the fish fillets into large bitesized chunks. Add the sauce and toss to coat. Serve immediately. Enjoy!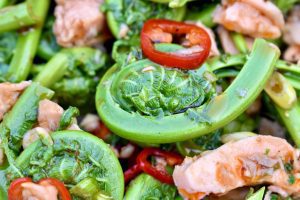 Notice how I didn't have you scroll through pages of mundane nonsense to get to the recipe? Notice that there were no annoying pop-ups or ads? That was on purpose!
I want finding and using my recipes to be easy for you, not frustrating. That does translate into a lot of lost income for me though. If you made this recipe and loved it, would you consider "buying me a coffee" and donating a buck or two through the Buy Me a Coffee app? It will help me keep pumping out recipes like this one!