Sichuan Style Lake Smelt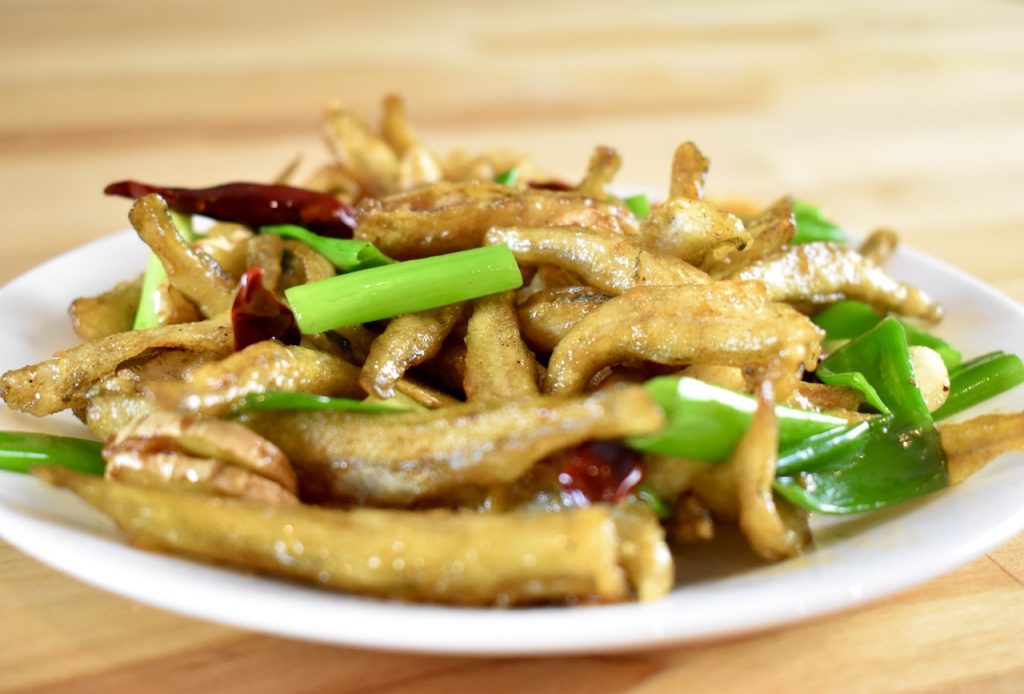 These Sichuan style lake smelt are an explosion of flavour. 
By cooking them twice, the little fish pick up a unique texture and soak up all of the flavours from the aromatics. 
This can be done with head-on (apply directly to the head) or head-off fish. 
Serve them piping hot!
Prep Time

15 min

Cook Time

10 min

Total Time

25 min

Yield

Large snack for 2, appetizer for 4-6
Ingredients
1/2lb (225g) thawed lake smelt (gutted)
Pinch of salt
1 teaspoon (5ml) Shaoxing wine 
Vegetable oil
1 teaspoon (2.5g) cornstarch
1 tablespoon (15ml) fish stock (or water)
1 teaspoon (5ml) soy sauce
1/2 teaspoon (2g) white sugar 
1/2 teaspoon (1g) white pepper
2 scallions, trimmed and cut into 1″ (2cm) pieces
1 thumb-size piece of ginger, peeled and sliced into thin coins
2 garlic cloves, peeled and sliced
Small handful of dried chilies
1 teaspoon whole or ground Sichuan peppercorn
Preparation
1
Toss the smelt in the salt and the Shaoxing wine and let marinate for 10 minutes.
2
Meanwhile, fill the bottom of a wok with at least 1 inch (2cm) of oil to fry the fish in.
Heat to 350°F (175°C).
3
Toss the fish in the corn starch, then fry in the oil. I recommend doing it in two or three batches, so as not to cool down the oil. 
Fry for 3-4 minutes, then transfer to a paper towel to drain. 
4
Dispose of all but 1 tablespoon (15ml) of the oil in the wok. 
5
In a small bowl, make a sauce by combining the fish stock, soy sauce, sugar, and white pepper. Set aside. 
6
Heat up the oil in the wok over high and add the scallions, ginger, garlic, and chilies. Stir fry for 1 minute.
Add the fish, the Sichuan peppercorns, and the sauce. Stir fry for 1 more minute, then take off the heat. 
7
To serve, dump the smelt into a bowl or onto a plate. Feel free to drizzle in chili oil or garnish with cilantro or sliced scallions. Enjoy!