Unagi-Style Pike Nigiri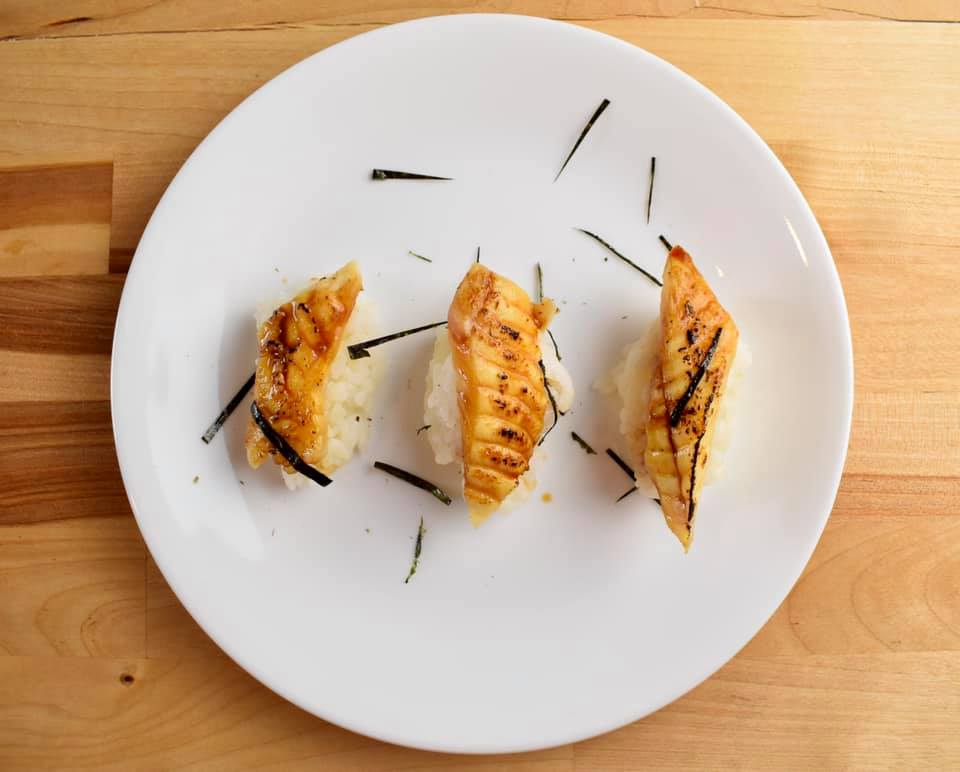 Make pike sushi with your next catch! This unagi-style pike nigiri is an elegant way to eat the infamous northern fish. To make more than three pieces, simply double or triple the sauce recipe and make more sushi rice. You will need a kitchen blowtorch for this recipe. 
Prep Time

15 min

Cook Time

5 min

Total Time

20 min

Yield

3 pieces
Ingredients
3 slices of northern pike fillet, approx. 1 inch (2.5 cm) wide and 3 inches (7.5 cm) long, and 1/2 inch (1.25 cm) thick
3 tablespoons (45mL) Japanese soy sauce
2 tablespoons (30mL) mirin
1 tablespoon (12g) white sugar
6 tablespoons (75g) cooked sushi rice (follow package directions)
Nori (sushi paper) snippings for garnish
Preparation
1
Have sushi rice ready and standing by.
2
In a small pot, bring the soy sauce, mirin, and sugar to a boil. 
Reduce heat and let the liquid simmer until it has reduced and thickened to a glaze-like consistency.
3
Take off the heat and set aside. 
Now lay your three pike fillet pieces on a heat proof surface. 
Start the blowtorch and begin torching the fish by brushing the flame over the pieces in a constant back and forth motion.
The fish will react to the flame, contracting and turning opaque. Once the side facing up begins to look opaque, flip the pieces over. 
4
Brush the flame over this new side a few times. 
Now, using a bbq or pastry brush, brush a layer of the sauce onto the side facing up. 
Blowtorch the sauced fish for a few seconds, then brush more sauce on. 
Repeat this process several times. You're going for a lacquered finished product with some light charring, with the fish cooked medium and not easily flaking apart.
Save a tiny bit of sauce for a last minute touch-up.
5
Now wet your hands with cold water and form three oblong or oval rice balls with the sushi rice, about 2 tablespoons (25g) per piece.
Put them on the serving plate.
6
Drape one piece of fish over each rice ball, then dab on a final bit of sauce. 
Garnish with nori snippings and serve as part of a larger sushi meal.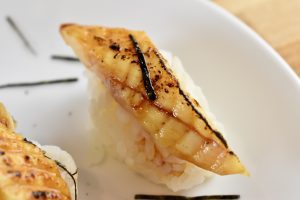 Enjoy!