Venison Dal Gosht – Meat and Lentil Stew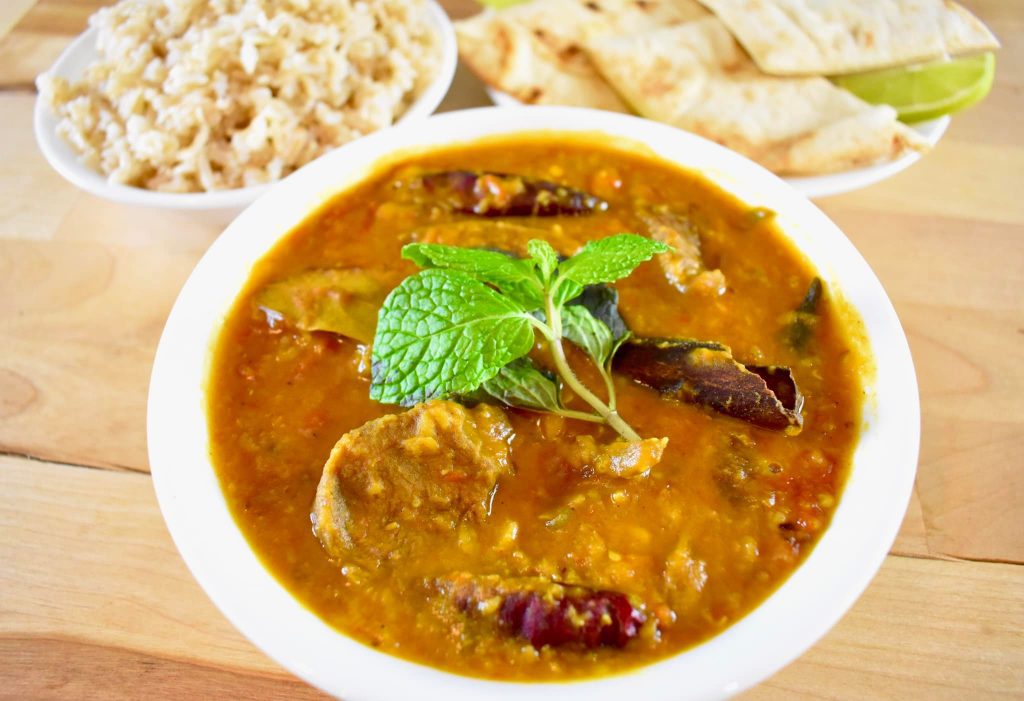 This venison dal gosht is a wild take on the North Indian or Pakistani dish made with lentils (dal) and meat (gosht). Though it is usually made with mutton or lamb, I used chunks of venison stewing meat, cut from the shoulder. You could make this dish with bone-in pieces of meat (which would be more traditional), or boneless.
I used a combination of three different types of dal: masoor, chana, and moong. I find the dish definitely comes out better this way, but it isn't necessary. Use regular red lentils if you can't find the others. 
The same goes for spices. Like most Indian dishes, this recipe has a wide array of whole and ground spices. If your pantry isn't bursting at the seams like mine, you can replace all of the spices with 1.5 tablespoons of curry spice blend and 1.5 tablespoons of garam masala (which can be found in most grocery stores nowadays). Though the flavour won't be quite as tasty or refined, you'll still end up with an excellent dal. 
If you're an adventurous cook, it is worth following this recipe and using all of the spices and lentils listed; you'll be happy you did! 
Prep Time

1 hr

Cook Time

2 hr 30 min

Total Time

3 hr 30 min

Yield

4 Servings
Ingredients
For Marinade
1 lb (454g) venison stewing meat (bones or no bones)
1 tablespoon (8g) garlic, minced
1 tablespoon (6g) ginger, minced
1 teaspoon (2g) chili powder
1 teaspoon (2g) ground coriander
1 teaspoon (3g) kosher salt
1 teaspoon (5ml) vegetable oil
For Dal
1 cup (200g) lentils (I used masoor/red, chana, and moong)
4 cups (1L) venison stock, beef stock, or water
1 tablespoon (15ml) vegetable oil
1 tablespoon (15ml) butter or ghee
1 onion, chopped
2 bay leaves
6 peppercorns
3 cardamom pods
3 whole cloves
1 cinnamon stick
1 dried chili, seeded and snipped in half (more if you like it spicy)
1/2 teaspoon (2g) mustard seeds
1 black cardamom (optional)
1 tablespoon (6g) ground cumin
1 tablespoon (6g) ground coriander
1/2 tablespoon (3.5g) chili powder
2 teaspoons (4g) ground turmeric
Handful (10ish) of curry leaves (optional)
16oz (475ml) can chopped tomatoes
1 green chili, seeded and sliced
Preparation
1
Mix marinade ingredients in a medium bowl and toss the meat in so its completely coated. 
Let marinate on the counter for 1 hour. 
2
Meanwhile, rinse the lentils under water until the water runs mostly clear. 
Put them into a bowl, cover with water and let them soak for 1 hour. 
3
Add the drained lentils and the meat and marinade to a medium to large pot with the venison stock and bring to a boil. 
Reduce to a simmer and cook until the lentils begin to disintegrate and the venison becomes tender, anywhere from 1 to 2 hours. 
You may need to top off the pot with more water or stock if it is getting low. It should be a soup consistency. 
4
Add the oil and butter/ghee to a separate skillet over medium heat. 
Add the onion and cook until browned, about 10 minutes. 
Add all of the spices* and curry leaves and cook for 2 minutes. 
Add the canned tomatoes and green chili and cook over medium high heat, stirring often, for 5-8 minutes, or until all of the liquid has evaporated . Moderate the heat throughout this process, so that nothing burns. 
5
Add the tomato mix to the meat and lentils, stir well, cover and cook for 15 minutes over medium low heat. 
Taste for seasoning and add salt or more chilies if needed. 
6
Serve with Indian breads, basmati rice, and a kachumber salad or raita. Enjoy!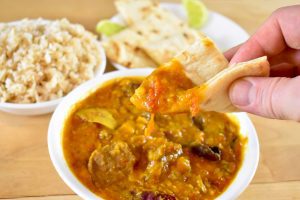 *Add this point, you can add 1.5 tablespoons of curry spice and 1.5 tablespoons of garam masala instead of all of the individual spices