Greek Braised Mutton with Spring Greens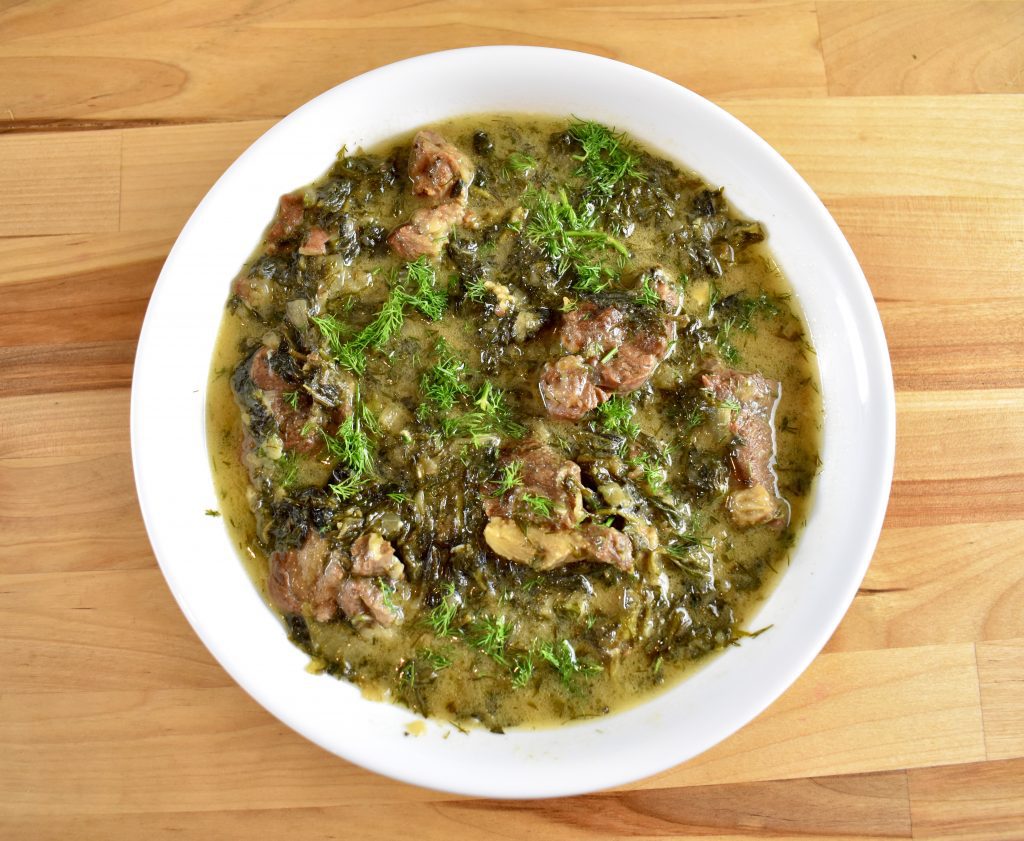 This is a classic recipe from the island of Crete called Arnaki Fricase, that traditionally uses lamb meat and horta, or Greek wild greens. I did my version with foraged stinging nettle and dandelion, dill, and some mutton shoulder chops, but you could use any tough cut from lamb, mutton, beef, or venison. 
The bright and tangy avgolemono sauce really ties this dish together and turns it into something very special. If you enjoy it, try my recipe for a quick and easy chicken avgolemono soup! 
Prep Time

15 min

Cook Time

2 hr

Total Time

2 hr 15 min

Yield

4 servings
Cuisine

Course

Cooking Method
Ingredients
1.5lbs (700g) bone-in lamb or mutton shoulder chops
Kosher salt and black pepper
1/4 cup olive oil
2 large onions, chopped
Water or stock 
About 1lb (454g) foraged wild greens like dandelion, stinging nettle, garlic mustard, ramps, chicories, etc.
1/2 cup (10g) fresh herbs like dill, parsley, chives, etc., chopped
1 egg
Juice of 1 lemon
Preparation
1
Season mutton chops generously with salt and pepper on both sides. 
2
Heat olive oil over medium heat in a medium to large pot, Dutch oven, or deep skillet.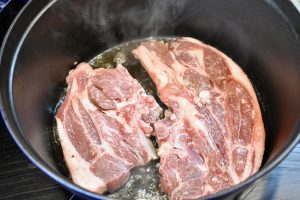 Add the chops and cook until lightly browned on both sides. You're not looking for a deep brown here, just lightly browned.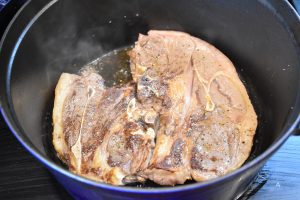 3
Remove the chops from the pot and add the chopped onions. Cook for 10 minutes or so over medium heat until soft and translucent. 
4
Once the chops have cooled, cut the meat off of the bones in large chunks. 
Add the meat chunks and the bones (discard any tiny bones you may have trouble finding later in the liquid) back to the pot with the onions.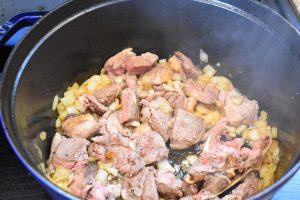 5
Cover everything with water or stock (any will do, but lamb stock would be best) and bring to a simmer. 
Reduce heat to low and cover the pot with a lid. 
Cook for 1 hour.
6
After the hour has elapsed, take off the lid and raise the heat until it achieves a gentle simmer. 
Fish out the bones and discard them (after gnawing the remnants of meat on them of course).
Cook for 30 more minutes uncovered.
7
Meanwhile, bring a pot of salt water to the boil. Add the wild greens and cook for 1 minute. Dump into a colander and run cold water over them to stop them from cooking. 
Once cool, squeeze the water out, then chop the ball of greens with a knife a couple of times to break them down into small pieces. 
8
After the 30 minutes has elapsed, add the cooked greens and the chopped herbs (reserving a pinch for garnishing) to the pot with the lamb and give everything a good stir.
Cook for 30 more minutes, stirring often and keeping an eye on the liquid level. You want this to be liquidy, but not soupy, more like a stew texture. 
9
Break an egg into a medium bowl and add the lemon juice. Whisk until lightly frothy. 
Take a ladle of hot liquid from the pot and slowly dribble it into the egg and lemon mixture while whisking. This will temper the sauce so it doesn't turn into scrambled eggs when you add it to the braise. 
Once you've added a ladle's worth, turn off the heat, then add the egg mixture to the pot, giving it a gentle stir to incorporate it.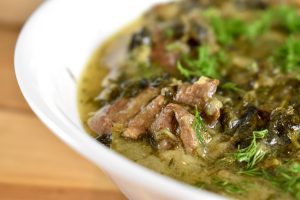 10
Garnish with a pinch of chopped herbs and serve with a horiatiki or other type of Greek salad. Enjoy!