Greek Avgolemono Soup (The Quick and Easy Version)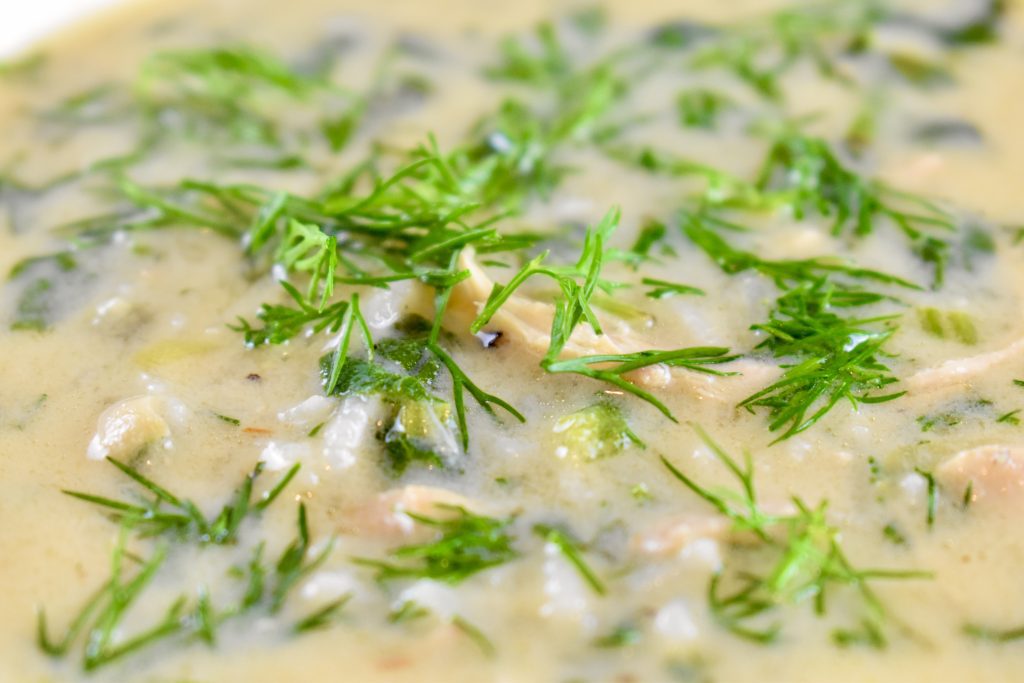 You just got home from work, you're tired, the kids are hungry…  you don't have time to lovingly make chicken stock from scratch. This soup relies on easy, store-bought ingredients and/or leftovers to make your life easier.
Greek avgolemono soup uses a tempered egg and lemon mixture (don't worry, it's easier than it sounds) to flavour chicken, rice (or orzo pasta), and broth, to create a silky, creamy and uniquely flavoured broth. Feel free to add in any veggies that happen to be kicking around in your fridge!
Prep Time

10 min

Cook Time

15 min

Total Time

25 min

Ready in

25 min
Ingredients
1/2 store-bought rotisserie chicken
1 tablespoon olive oil
1 onion, chopped
2 cloves garlic, chopped
3 cups fresh spinach, chopped (optional)  or  1 package frozen chopped spinach, drained (optional)
2 – 1L tetra packs of chicken broth
1 cup of dry orzo pasta  or  1/2 cup uncooked white rice 

or

  2 cups leftover, cooked rice
1/2 teaspoon salt (or more to taste)
2 teaspoons freshly cracked black pepper
2 eggs
Juice of 2 lemons  or  5 tablespoons bottled lemon juice
1/2 cup freshly chopped dill 

or

  1/2 tablespoon dried dill or oregano
Preparation
1
Remove half of the meat from the rotisserie chicken and shred it into bite sized pieces with your fingers or two forks. 
Chop/prepare vegetables.
2
In a large pot, add olive oil and put on med-high heat. 
Add onions, garlic, and spinach and cook for a few minutes until softened. 
3
Add chicken broth, orzo/rice, salt and pepper. 
Bring to a boil, then reduce heat until the soup is at a gentle simmer.
4
Cook until pasta or rice is soft, about 10-15 minutes. If using leftover cooked rice, you'll only need to cook it for 5 minutes. 
When pasta/rice is ready, add the chicken to the pot. 
5
Meanwhile, crack the 2 eggs into a sturdy bowl. Add the lemon juice and whisk it all together until the eggs are nice and fluffy. 
Take a cup of hot soup from the pot and SLOWLY drizzle it into the egg/lemon mixture as you continue whisking. This tempers the egg mixture so it doesn't turn into scrambled eggs when you add it to the pot! 
6
Slowly add the egg mixture to the pot, stir it in, and remove from heat. 
7
Ladle the soup into bowls and sprinkle generously with fresh dill (or lightly with dried herbs). Serve immediately.
Enjoy!