Venison Saag Gosht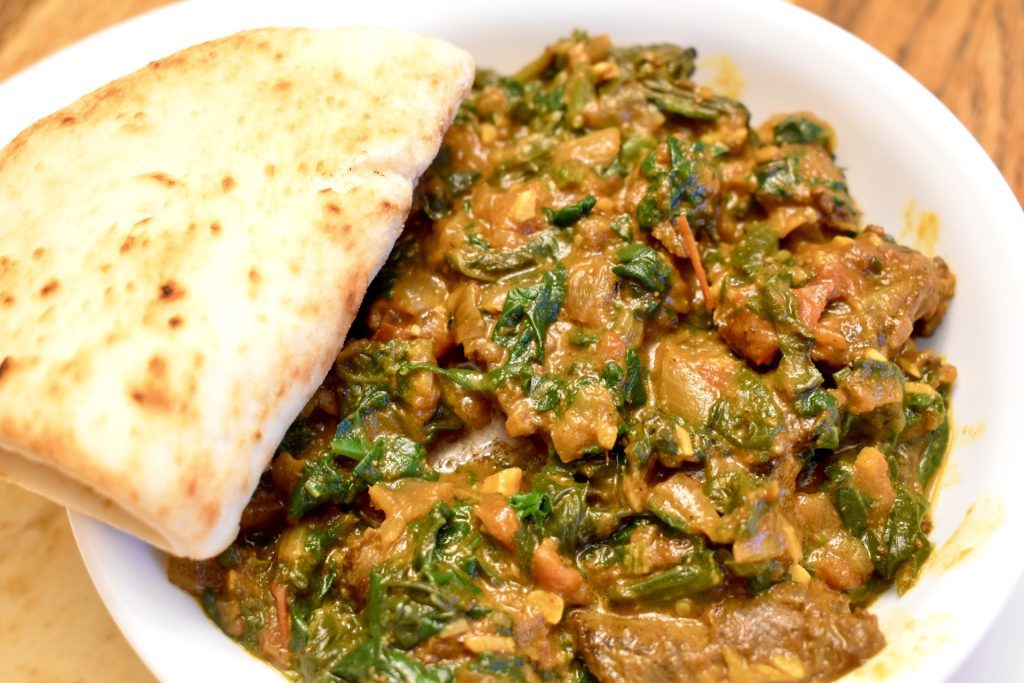 This venison saag gosht is an incredible way to enjoy tougher meat from the shoulder or hindquarters. Try it with old bucks, boars, or rams!
Saag gosht (saag=greens, gosht=meat/mutton) is a variation of the popular saag dish that can be found in different iterations all over the subcontinent. Westerners will most likely be familiar with saag paneer, a dish of stewed greens and Indian cheese that is served at most Indian restaurants here.
The greens in question vary from region to region, with mustard greens, spinach, fenugreek leaves, chickpea leaves, broccoli leaves, malabar spinach, or wild greens being popular choices. I would normally go with foraged wild greens for a dish like this, but seeing as they were still covered in several feet of snow when I made this, I went with some store-bought spinach instead.
Saag gosht is one of the few varieties of the dish that includes meat, and meat in northern India or Pakistan usually refers to either goat or mutton. Saag gosht is usually prepared in the Haryana region, in northern India, which is sandwiched between Punjab, Uttar Pradesh, and Rajasthan, near the Pakistani border. I find venison is an easy sub-in for mutton in many international dishes, so I didn't hesitate to use it in my version of saag gosht.
Prep Time

30 min

Cook Time

1 hr 30 min

Total Time

2 hr

Yield

4 servings
Ingredients
0.5-1lb (226-454g) mature spinach leaves (1 large bag)
1.5lbs (680g) venison shoulder OR round
2 tablespoons (30ml) lard or cooking oil
Kosher salt
Black pepper
2 large onions, chopped
1 teaspoon (2g) garam masala
1 teaspoon (2g) coriander powder
1 teaspoon (2g) cumin powder
1/2 teaspoon (1g) cinnamon
1/2 teaspoon (1g) turmeric
1/2 teaspoon (1g) Kashmiri chili flakes OR paprika
2 tablespoons (30ml) tomato paste
3 cloves garlic, minced
1 thumb ginger, peeled and minced
1 large tomato, chopped
1/4 cup (60ml) plain yogurt
2 cups venison stock
Naan bread or basmati rice to serve
Preparation
1
Fill a deep skillet with water and bring to a boil. 
Meanwhile, prepare a bowl of ice water. 
Dump the bag of spinach into the boiling water and cook for 45 seconds. 
Immediately strain, then transfer the spinach to the bowl of ice water. 
Once cool, wring out the water from the spinach with your hands and set it aside. 
This step ensures bright green spinach in the dish. You can skip it, but you'll end up with drab, army green spinach at the end. 
2
In the same skillet, add the fat or oil over high heat.
Working in batches, add the venison cubes and season generously with salt and pepper. 
Cook until well browned, then set the meat aside on a plate. 
3
In the same skillet, reduce heat to medium and add a touch more oil if there isn't any left in the pan. 
Add the onions and cook for about 20 minutes, or until they are beginning to brown and caramelize. 
Add the spices, tomato paste, garlic, and ginger. Cook for 2 minutes. 
Add the chopped tomato, yogurt, and the venison cubes as well as any juices from the meat. 
Cook for 2 minutes. 
Add the venison stock and bring to a simmer. 
4
Reduce heat to low and cook for about 1 hour, or until venison is tender. 
If using older venison, boar, or ram, you may need to cook this longer to achieve tenderness. If cooking longer, you may need to add a little more stock or water. 
5
Chop the blanched spinach and add it to the skillet. Cook for 5 minutes, them taste and adjust for seasoning. 
Serve with basmati rice or toasted naan bread. Enjoy!
Notice how I didn't have you scroll through pages of mundane nonsense to get to the recipe? Notice that there were no annoying pop-ups or ads? That was on purpose!
I want finding and using my recipes to be easy for you, not frustrating. That does translate into a lot of lost income for me though. If you made this recipe and loved it, would you consider "buying me a coffee" and donating a buck or two through the Buy Me a Coffee app? It will help me keep pumping out recipes like this one!