Wild Greens Mac and Cheese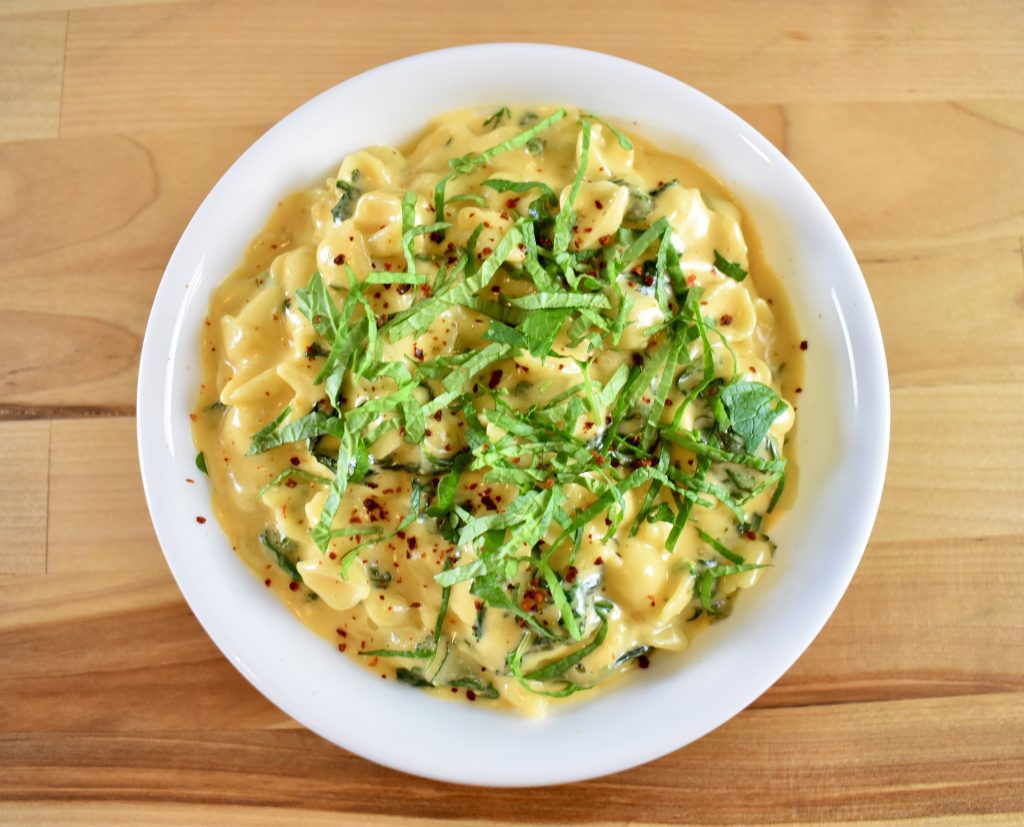 This recipe riffs on Serious Eats fantastic mac and cheese recipe making a decadent bowl full of velvety and gooey cheese, noodles, and heaps of freshly foraged wild spring greens like stinging nettles, dandelion leaves, garlic mustard, trout lily, etc. 
This is a great way to get kids to eat the slightly bitter wild greens, or to just enjoy a special treat. Feel free to swap the Monterey jack and cheddar for any good meltable cheese like mozzarella, gouda, Swiss, gruyere, fontina, or Velveeta. 
Prep Time

10 min

Cook Time

15 min

Total Time

25 min

Yield

6 servings
Cuisine

Course

Cooking Method

Suitable for Diet
Ingredients
1 lb (454g) macaroni or shell pasta
Kosher salt
1 teaspoon (5ml) Dijon or yellow mustard
12 oz (341ml) can of evaporated milk
2 eggs
6 tablespoons (90g) butter
3 cups (4.5oz) wild spring greens*, washed, dried, and roughly chopped (set aside a small amount for garnish)
1 1/2 lb (680g) cheese (Monterey jack and cheddar, or any combination of other good meltable cheeses), cut into small cubes
1 teaspoon (15ml) hot sauce
Salt and pepper to taste (spruce salt goes particularly nicely here)
Chili flakes to garnish
Preparation
1
Pour the dry noodles into a large pot, and barely cover with water. Add a hefty pinch of kosher salt. 
Bring to a boil, stirring often so that the noodles don't stick to the bottom. 
2
Once boiling, cover the pot, then take it off the heat and let it sit for 10 minutes. 
3
Meanwhile, in a medium bowl, whip together the mustard, evaporated milk, and eggs. 
4
After 10 minutes have elapsed, drain the water out of the noodles, then put them back into the pot over low heat. 
Add the butter, stirring it in until it is mostly melted, then add the egg mixture and stir that in as well. 
5
Add the greens and cheese and continue stirring until the cheese has melted, the greens are wilted, and everything is nice and gooey. Take the pot off of the heat about half way through stirring in the melted cheese. 
Stir in the hot sauce, and salt and pepper to taste. Add more hot sauce if you like it spicy.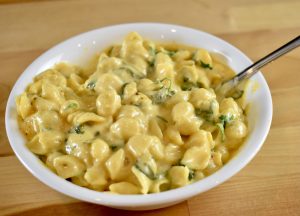 6
Serve immediately, garnishing with some chopped garlic mustard or other greens and chili flakes. Enjoy!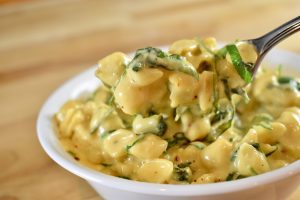 *Use any combination of wild spring greens that were safely and responsibly harvested. Some options are: dandelion greens, stinging nettle, violet leaves, chickweed, garlic mustard, ramps, dock, day lily, trout lily, hosta shoots, plantain, claytonia, or, if you don't have any wild greens, feel free to use spinach.