Creamy Chanterelle Ramen with Crunchy Fried Chanterelles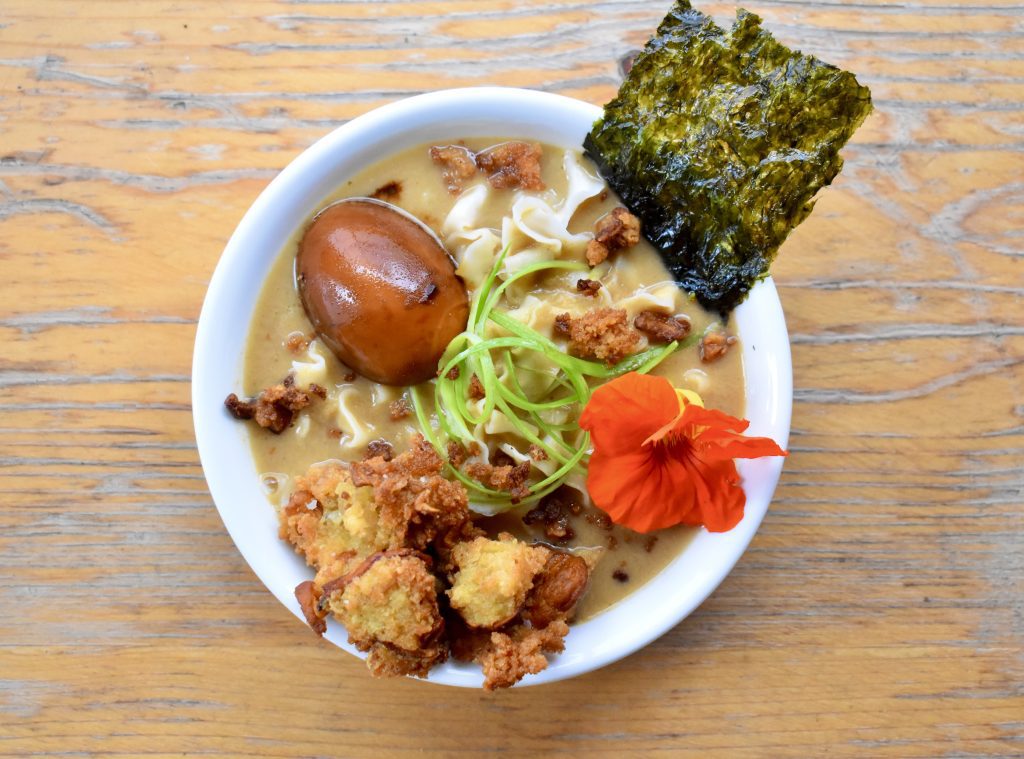 This is a delightful soup to make if you happen to bring home a good haul of golden chanterelles. You'll need about 1.5lbs to make this. 
The contrast between the slippery noodles, the silky and creamy broth, and the crunchy fried chanterelles is unbelievable! 
Prep Time

1 hr

Cook Time

1 hr

Total Time

2 hr

Yield

4 servings
Cuisine

Course

Cooking Method

Suitable for Diet
Ingredients
For the Ramen
1lb chanterelle mushrooms
3 cloves garlic, unpeeled
8 cups mushroom, chicken, or vegetable stock
2 tablespoons butter
1 onion, chopped
2 cloves garlic, minced
1 tablespoon white miso paste
1 tablespoon flour
1/2 cup sherry (optional)
1 teaspoon mirin
1 teaspoon sesame oil
4 servings of your favourite Asian or ramen noodles
For the Toppings
4 eggs
1/2 cup dark soy sauce
1/2lb chanterelle mushrooms
1 cup panko breadcrumbs
1 teaspoon kosher salt
1/2 teaspoon black pepper
3 scallions
1 sheet nori seaweed paper, cut into 4 (or 4 pieces roasted seaweed snacks)
Oil for frying
Preparation
For the Ramen Broth
1
Clean and trim chanterelles.
Add trimmings and the 3 unpeeled cloves of garlic to a pot and cover with 6 cups of chicken, mushroom, or veggie stock.
Bring to a simmer, lower heat and gently simmer while you complete the rest of the recipe.
2
Melt the butter in a skillet over medium heat and add the onion and minced garlic. Cook until softened.
Divide 1lb of chanterelles (saving the other 1/2lb for garnish) and roughly chop them. Add them to the skillet with the onions.
Cook for 15 minutes. Stir in the miso paste. 
Add flour and cook for 1 minute. Add sherry and cook until liquid has mostly dissipated. 
Strain the broth with the trimmings through a sieve and add the strained broth to the skillet, stirring it in. 
Once garlic cloves are cool enough to handle, squeeze out the garlic paste and add to the skillet. 
Simmer on medium-low for 30 minutes. 
Let cool, then blitz in a blender on high until very smooth. Pass back through a strainer if desired. 
For the Eggs
3
Take 2 eggs and run under warm water. 
Bring a pot of water to the boil and gently add the eggs. Set a timer for 8 minutes.
Once 8 minutes is up, drain the eggs and immediately run under cold water until they are cooled. 
Remove the shells. Add the eggs and the dark soy sauce to a bowl, rolling the eggs around in the bowl every once in a while so that they get stained with the sauce. 
Cut the eggs in half. 
For the Crunchy Fried Chanterelles
4
Cut the chanterelles into bite-sized pieces. 
Crack the other 2 eggs into a bowl and whisk until smooth. 
Fill another bowl with the panko breadcrumbs and add the salt and pepper. 
Add the oil to a pot so that it is about an inch deep. Bring to 325°F. 
Take a piece of mushroom and drop it into the egg mixture, rolling it so that it gets coated. 
Now transfer it to the panko and do the same. 
Drop it into the hot oil and repeat with several more pieces. 
Fry them until golden brown, flipping them at least once. 
Transfer to paper towels to drain, scooping out the loose fried crumbs as well.
Repeat until all of the mushrooms get fried. 
For the Noodles
5
Cook noodles as per package instructions and drain very well. 
To Plate
6
Split the cooked noodles into 4 portions and add them to 4 bowls. 
Ladle the creamy mushroom broth into the bowls over the noodles. 
Add half a marinated egg to each bowl. 
Slice the scallions either lengthwise or widthwise and add them to the middle. 
Split the crunchy chanterelles into 4 portions and add them to the bowls. Sprinkle with the leftover fried crumbs. 
Add a piece of nori seaweed to the edge of each bowl. 
Feel free to add other garnishes like sesame seeds, chili oil, or edible flowers. 
Serve immediately. Enjoy!
Notice how I didn't have you scroll through pages of mundane nonsense to get to the recipe? Notice that there were no annoying pop-ups or ads? That was on purpose!
I want finding and using my recipes to be easy for you, not frustrating. That does translate into a lot of lost income for me though. If you made this recipe and loved it, would you consider "buying me a coffee" and donating a buck or two through the Buy Me a Coffee app? It will help me keep pumping out recipes like this one!