Wild Pork, Chanterelle, and Apricot Tagine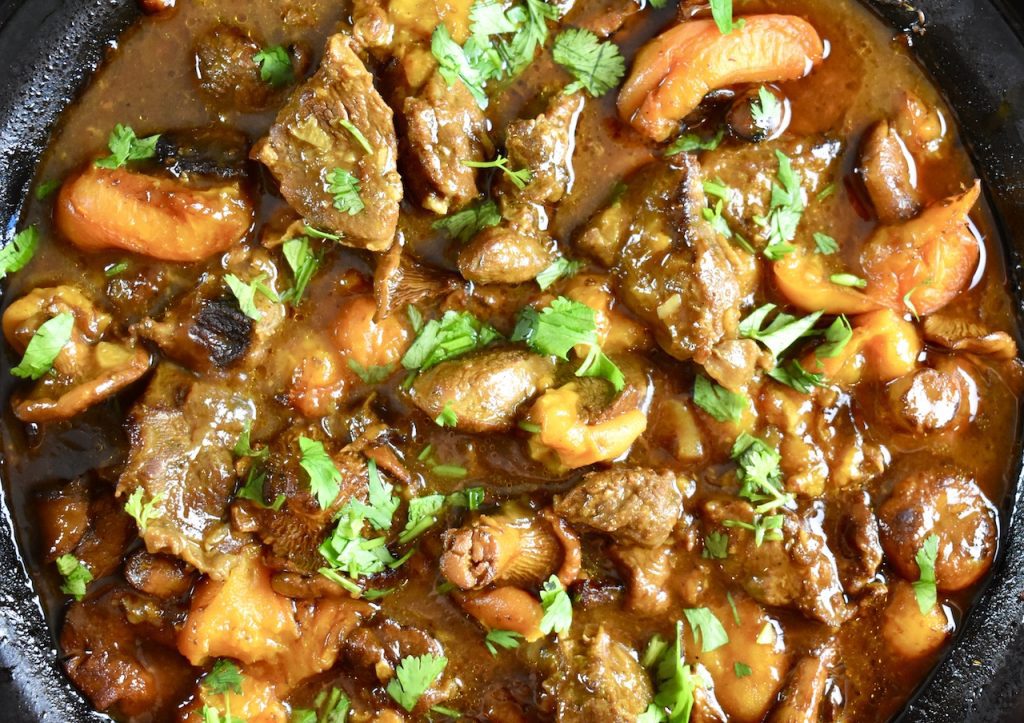 Since Morocco is by and large a Muslim country, you're not likely to find many pork dishes there. 
If you do happen to eat pork though, Moroccan flavours and cooking methods work great for it, especially when it's wild pork which is leaner and more strongly flavoured. 
I used a tagine (pictured below) to cook this stew. Tagines are Moroccan earthenware cooking vessels that gently braise/steam meats and vegetables. 
If you don't have one (keep an eye out at thrift stores for them), you could use a Dutch oven, or an oven friendly pot with a lid. The tagine really does make a difference though! 
You can also use regular pork for this recipe, though I would use a leg cut rather than shoulder, as the shoulder may render too much fat into the stew. 
If you can't find fresh apricots, use dried, but add them to the stew before you put it in the oven rather than afterwards. 
This stew (also called a tagine in Moroccan cuisine) is best served with plain rice or couscous.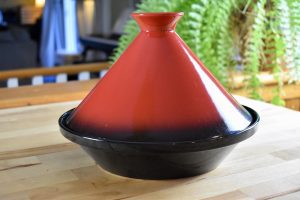 Prep Time

10 min

Cook Time

2 hr 20 min

Total Time

2 hr 30 min

Yield

4 servings
Cuisine

Course

Cooking Method

Special Equipment
Ingredients
1 tablespoon (15ml) olive oil
1 onion, sliced
1.5lbs (680g) wild pork shoulder, cut into bite-sized cubes
1 teaspoon (4g) kosher salt
2 teaspoons (4g) ground coriander
2 teaspoons (4g) smoked paprika
1 teaspoon (2g) ground cumin 
1 teaspoon (3g) cinnamon
1 teaspoon (2g) ground ginger powder
1 teaspoon (2g) turmeric or 5 saffron threads
1/2 teaspoon (2g) black pepper
4oz (120g) fresh chanterelle mushrooms
2 tablespoons (30ml) apricot preserves (jam)
1 cup (250ml) pork stock or water
2 cloves garlic, sliced
1 teaspoon (2.5g) cornstarch
4 fresh apricots, pitted and cut into wedges
Fresh cilantro or mint for garnish
Preparation
1
Preheat oven to 300°F (150°C, gas mark 2).
2
Add the olive oil to the tagine or Dutch oven over medium heat. 
Add the onions and cook until lightly browned, about 5-8 minutes. 
Remove and set aside. 
3
Add the pork chunks to the tagine/Dutch oven and cook for 5 minutes.
Add the spices and cook for 2 more minutes. 
Remove the pork and set aside. 
4
Add the chanterelles, cook for 5 minutes. Add the apricot preserves and 2 tablespoons (30ml) of water. Cook for 1 more minute, then remove. 
5
Add the onions back to the tagine, top with the pork, then top with the pork stock, top with the garlic, then top with the chanterelles. 
Put on the lid to the tagine/Dutch oven and put it in the oven for 1.5 hours (90 minutes). 
6
Remove from the oven and take off the lid. 
Mix the cornstarch with 1 teaspoon (5ml) water. Gently stir it into the liquid in the cooking vessel. 
Place the fresh apricot slices on top of the stew. 
Put it back in the oven with no lid for 15 minutes, or until stew thickens.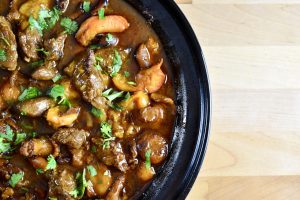 7
Sprinkle over fresh chopped cilantro or mint.
Serve with rice or couscous. Enjoy!