Wild Pork Hatch Chili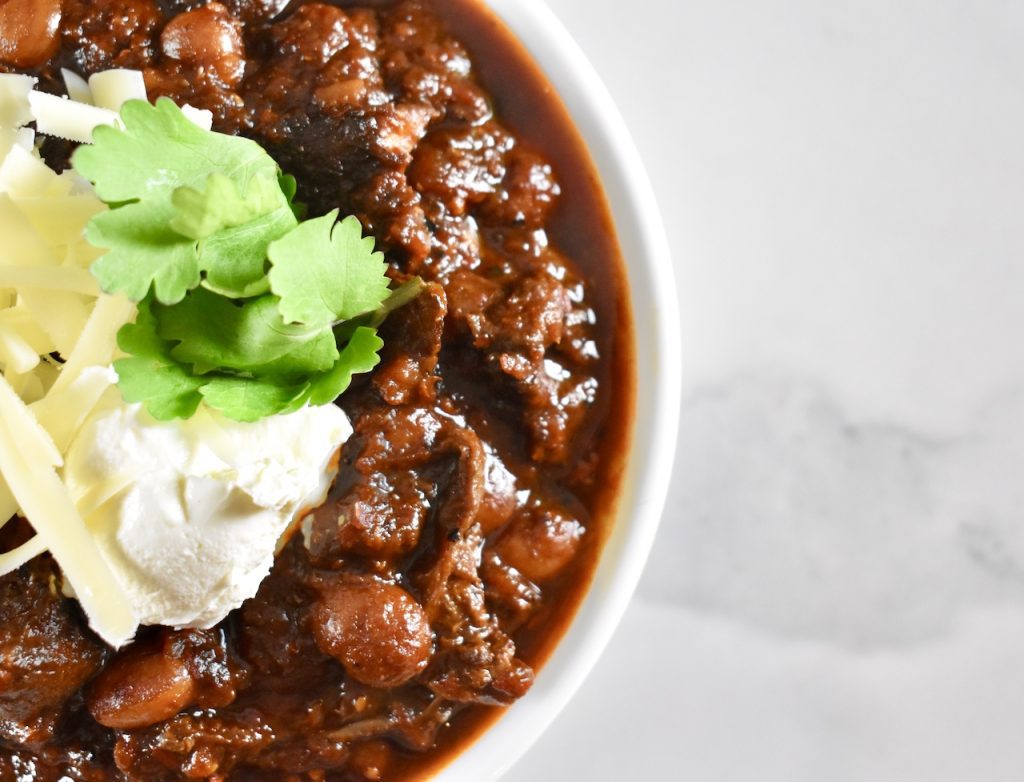 This wild pork hatch chili is made with dried red and chopped canned green New Mexico hatch chiles, as well as wild pork shoulder. 
Don't worry too much about the long ingredient list and amount of steps, this chili isn't all too hard to make despite them. The extra steps will also give you a MUCH tastier end product. 
If you decide to add beans, be sure to soak them overnight, or add freshly dried beans right to the pot. 
Feel free to use domestic pork shoulder for this dish. 
Prep Time

30 min

Cook Time

4 hr

Total Time

4 hr 30 min

Yield

4 large servings
Ingredients
10 dried hatch chiles, torn into pieces, de-stemmed, and de-seeded
1 onion, halved + 3 onions, chopped
2 cloves garlic, smashed + 3 cloves garlic, minced
4 cups (1L) wild pork OR chicken stock
2 tablespoons (30ml) lard or oil
1.5lbs (680g) wild pork shoulder, cubed
2 teaspoons (4g) cumin powder
2 teaspoons (2g) dried oregano leaves
1 teaspoon (4g) kosher salt
1/2 teaspoon (1g) black pepper
1 bottle beer (dark lager or amber works best here, don't use an IPA)
1 cup dried beans, soaked overnight (optional)
2 cups (500ml) water
2 tablespoons (28g) brown sugar
2 teaspoons (10ml) fish sauce or Worcestershire
4oz  (120g) canned chopped hatch chiles (optional)
Grated cheese for garnish
Sour cream for garnish
Cilantro leaves for garnish
Preparation
1
Preheat oven to 325°F (177°C, gas mark 4).
2
In a Dutch oven over medium heat, toast the torn and deseeded hatch chiles for 5 minutes, being sure that they don't start smoking. 
Transfer the toasted chiles to a separate medium pot along with 1 halved onion, 2 smashed cloves of garlic, and the 4 cups of stock. 
Bring to a boil, then reduce to a simmer and cook for 10 minutes. 
Transfer to a blender, let cool, then blend on high until completely smooth.
3
Meanwhile, add the lard or oil to the Dutch oven over high heat. 
Add the pork cubes and fry until well-browned, about 10 minutes. Transfer to a bowl or plate. 
Reduce heat to medium-high and add the 3 chopped onions. Fry until browned, about 6-8 minutes, then add the 3 cloves of minced garlic, cumin, oregano, salt, and pepper and cook for another 2 minutes. 
Add the meat back to the pot, then pour in the bottle of beer, scraping up any bits stuck to the bottom of the pot. 
Add the chili paste from the blender, the water, and the beans if using then bring to a simmer. 
4
Cover the pot and put it in the oven for 1.5 hours. 
Take off the lid and cook for another 1.5 hours, keeping an eye on it that it doesn't lose too much liquid. If it's looking too dry, add a cup of water at a time until it's back to a chili-like consistency. 
5
Take the chili out of the oven and add the brown sugar, fish sauce, and canned chilies. 
Put it back in for another 30 minutes. 
6
Ladle into bowls and garnish with shredded cheese, sour cream, and cilantro if desired. Enjoy!