Zimbabwean Venison and Kale Stew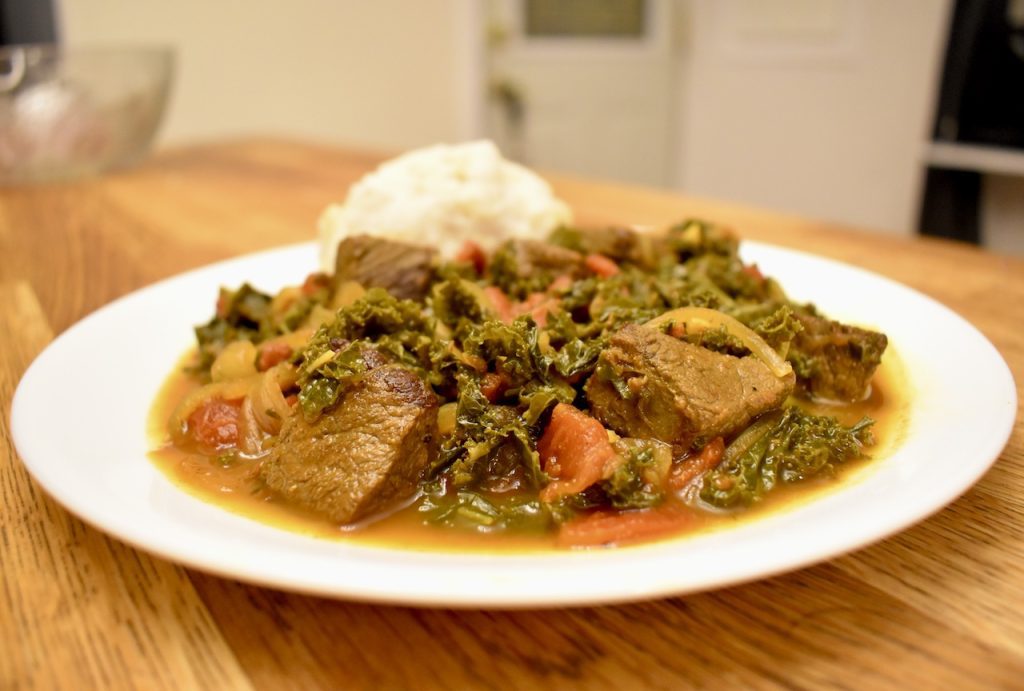 This Zimbabwean stew, called Sadza Nyama, is made up from two parts: the Sadza, a ubiquitous starchy side, and the Nyama, a meat stew. 
Though it's usually made with beef, I made my nyama with venison, which added more flavour and complexity to the dish. I used chunks of round, but you could use meat from anywhere on the shoulders or hindquarters. 
This dish can be served with potatoes, polenta, or rice, but is best served with cornmeal sadza or ugali. Follow this recipe from Chef Lola's Kitchen to make your own:
Prep Time

15 min

Cook Time

45 min

Total Time

1 hr

Yield

4 servings
Cuisine

Course

Cooking Method
Ingredients
1lb (454g) venison round, rump, or shoulder, cut into large cubes
2 tablespoons (30ml) lard, red palm oil, or vegetable oil
1 large onion, sliced
2 cloves garlic, chopped
2 tablespoons (14g) curry powder
1 tablespoon (7g) chili flakes (less if you are sensitive to spice)
1/2 teaspoon (3 g) kosher salt
1/2 teaspoon (2g) black pepper
1 bunch curly kale, de-ribbed and chopped
1 16.5oz (500ml) can chopped tomatoes
2 cups (500ml) venison stock
1 teaspoon Maggi sauce (optional)
Preparation
1
Melt the fat in a large pot over medium high heat, then add the venison cubes. 
Cook until browned on all sides, about 5-8 minutes. 
2
Add the onions and cook for another 5 minutes, turning down the heat if it begins to burn or smoke. 
Add the garlic, curry powder, chili flakes, salt, and pepper and cook for 2 minutes. 
Add kale, tomatoes, and venison stock and stir together. 
Bring to a simmer, lower the heat and cover
Cook 15 minutes. 
For very tender meat, cook for longer. Africans tend to like their meat with a bit more bite to it. 
3
Uncover, raise the heat to a strong simmer and cook until thickened, another 15 minutes or so. 
Serve with sadza, rice, polenta, potatoes, or fufu. Enjoy!