Bacon and Mushroom Lasagna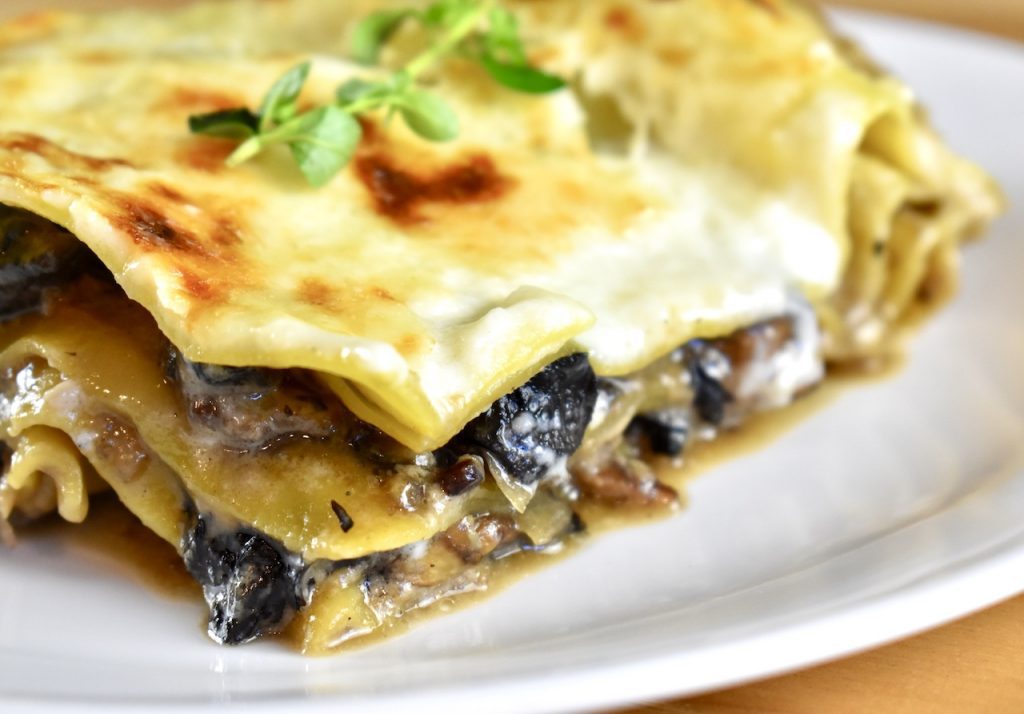 This bacon and mushroom lasagna is the perfect thing to make with a big haul of wild or store bought mushrooms. 
I used Agaricus bitorquis (see me harvesting them here) or pavement mushrooms, which are a lot like white button or portobello mushrooms, but you could use pretty much any mushroom you have or desire. 
To make this vegetarian, remove the bacon from the recipe and use 2 tbsps vegetable oil to cook the mushrooms. 
Prep Time

10 min

Cook Time

1 hr

Total Time

1 hr 10 min

Ready in

90 minutes

Yield

4 servings
Cuisine

Course

Cooking Method

Suitable for Diet
Ingredients
0.5lbs (225g) bacon, chopped
1.5lbs (680g) mushrooms (Agaricus bitorquis, chanterelle, black trumpet, morel, porcini, white button, portobello, oyster, or mixed)
1 onion, minced
4 cloves garlic, minced
1/2 teaspoon (1g) dried thyme leaves or 2 sprigs of fresh thyme
Kosher salt
Black pepper
1/4 cup (60ml) dry vermouth or white wine
2 cups (500ml) mushroom, chicken, or veggie stock
1/4 cup (57g) butter
3/4 cup (96g) all purpose flour
5 cups (1250ml) whole milk
Lasagna noodles, fresh or dried
2 heaping cups (200g) grated fresh Parmesan cheese
Preparation
1
Preheat oven to 350°F (177°C, gas mark 4).
For the filling:
2
Add chopped bacon to a large skillet over medium heat. 
Cook bacon until partially crispy. Drain off 1/2 of the bacon grease (reserve for another recipe).
Increase the heat to medium high and add the mushrooms to the bacon and leftover bacon grease. 
Cook, stirring, until mushrooms release their liquid, the liquid evaporates, and the mushrooms begin to brown, about 10 minutes or so. 
Add the onions, garlic, thyme, a pinch of salt, and a few grinds of black pepper and cook for 3 more minutes. 
Add the vermouth or wine and cook until the wine mostly dissipates. 
3
Add the mushroom or chicken stock. Bring to a strong simmer and cook for about 10 minutes. 
To make the béchamel:
4
Meanwhile, melt the butter in a separate medium pot over low heat. 
Once the butter has melted, add the flour and cook, stirring constantly, for 4 minutes. 
Heat the milk up to near boiling in another pot or in the microwave. 
Slowly whisk the milk into the butter/flour. I like to use a ladle to add 1 ladleful at a time. Whisk it in, then add another ladleful of milk. 
Keep slowly whisking until the sauce thickens. Season with a very small pinch of salt and some black pepper. 
5
Add 2/3 of the béchamel sauce to the mushroom mixture, and stir it in.
Reserve the other 1/3rd. 
Putting it all together:
6
Follow package directions for your lasagna noodles. Some can be added without cooking, others need to be blanched or partially cooked. 
7
In a casserole dish, lay down a thin layer of the mushroom mixture. 
Top with overlapping noodles, then another layer of mushroom mix. 
Sprinkle generously with Parmesan cheese. 
Keep layering like this until you're out of sauce. Top with noodles, then pour over the reserved béchamel sauce, and a final big sprinkle of Parmesan. 
8
Put it into the oven and bake for 30 minutes.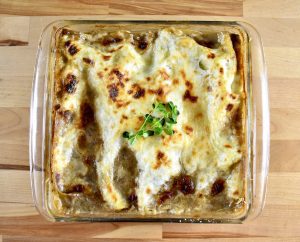 9
Let cook for 15 minutes or so, then cut into pieces with a sharp knife. 
Serve with a nice tart salad. Enjoy!