Kapuśniaczki – Wild Mushroom Pies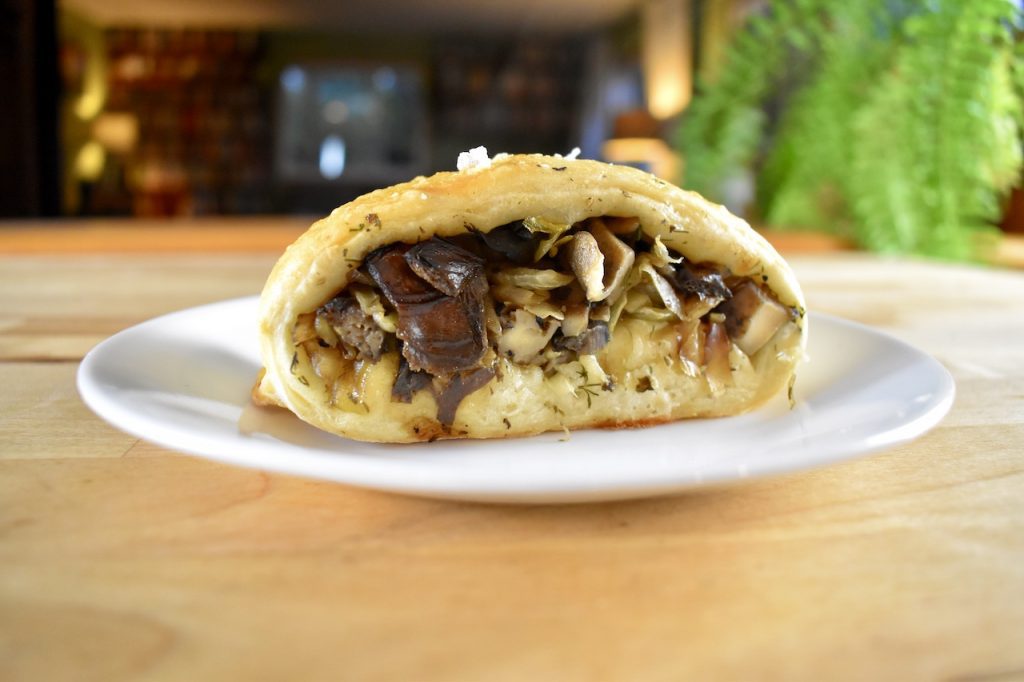 Kapuśniaczki (aka paszteciki), are Polish hand pies that are either filled with meat or, as in this case, with wild mushrooms and sauerkraut. 
Kapuśniaczki are usually served with a Polish beet soup called barszcz (cousins with borscht) for Christmas, but I love making them in the autumn here in Ontario, when the wild mushrooms are really popping. 
Use a mix of any mushrooms you like, (some dried porcini or ceps really add to the flavour). Wild mushrooms are most often used since they taste so much better than store bought, though regular white button mushrooms can definitely be used for this recipe! 
Prep Time

1 hr

Cook Time

1 hr

Total Time

2 hr

Yield

8 pies
Cuisine

Course

Cooking Method

Suitable for Diet
Ingredients
For the dough
3 cups (135g) white flour
1 cup (250ml) warm water
1 teaspoon (3g) dry active yeast
1 tablespoon (15ml) vegetable oil or melted lard
For the filling
12 oz (350g) mixed fresh mushrooms (wild and/or store-bought and/or reconstituted dried mushrooms – I used reconstituted porcini, hen of the woods, and Agaricus bitorquis mushrooms)
1 tablespoon (14g) butter
1 small onion, chopped
1 clove garlic, minced
1 cup (250ml) sauerkraut, drained 
Salt and pepper
1 tablespoon fresh or 1 teaspoon dried dill
1 egg
Flaky maldon salt
Preparation
1
Mix together the dough ingredients in a large bowl with a wooden spoon until it becomes difficult, then switch over to your hands. 
Form into a ball, then knead it in the bowl until it becomes smooth, about 5 minutes. 
Leave the dough in the bowl, and cover with plastic wrap or a damp towel. Let sit for an hour. 
2
Chop the mushrooms into small chunks. 
Melt the butter in a skillet over medium high heat and add the chopped mushrooms. 
Fry for 5 minutes, then add the onions. Fry for another 10 minutes, or until everything begins to dry out. Moderate your heat so nothing burns. 
Add the garlic, sauerkraut, and dill as well as a pinch of salt and pepper. Fry for another 10 minutes or so until completely dry. 
Take off of the heat and let cool. 
3
Preheat oven to 350°F (200°C, gas mark 5)
4
Turn the dough out onto a floured surface and roll it into an oval-ish or rectangular shape.
Lay the mushrooms down the middle lengthwise.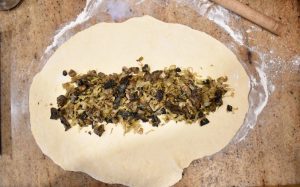 5
Beat the egg in a small bowl. 
Fold over one half, then brush the edge of the other half with egg wash.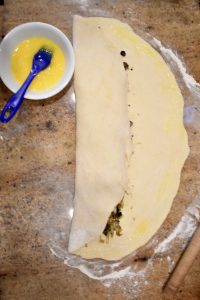 6
Fold over that half, letting the egg wash seal the two sides together. 
Carefully flip the whole thing over, then trim the ends off up to where the mushrooms are.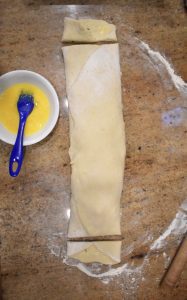 7
Cut the dough into 2 inch (4cm) pieces. Brush each of them with egg wash.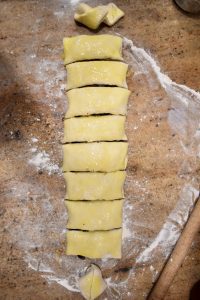 8
Transfer the pieces to a baking sheet, so they're still touching and in the same shape as before. Sprinkle with flaky salt. 
Bake for 30 minutes, or until golden on top.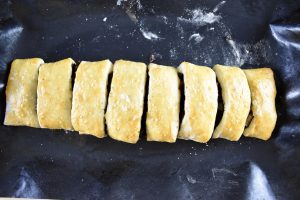 9
Let cool, then separate the pies to serve.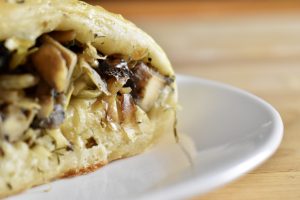 10
Serve on their own or with Polish beet soup (barszcz) and cucumber salad (mizeria). Enjoy!