Bison Keema Aloo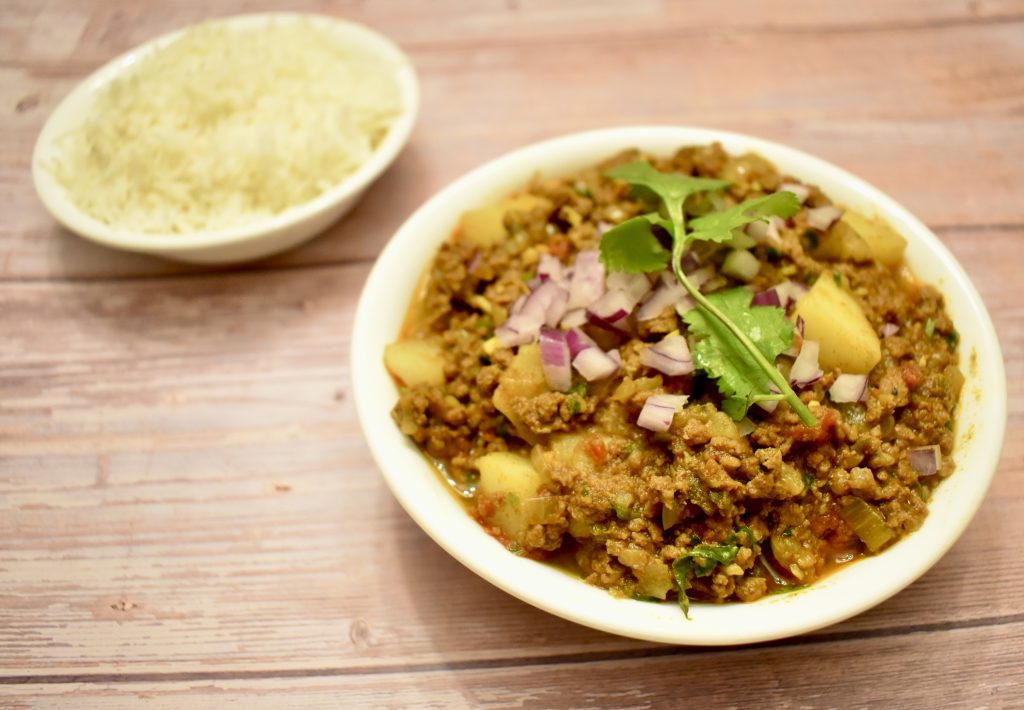 This bison keema aloo is a wonderfully tasty, quick, and easy meal to make on a weeknight.
Keema is a popular dish for meat eaters in India and Pakistan. It is usually made with ground beef, but can also be made with ground lamb, chicken, or like in this case, bison. 
If potatoes are included in the dish, it is called Keema Aloo. If peas are added, it's Keema Matar.
If you don't have all of the spices, feel free to replace the cumin, coriander, chili, cinnamon, and turmeric with curry powder. Garam masala is a must though. 
You can use any ground meat in place of bison.
Prep Time

10 min

Cook Time

50 min

Total Time

1 hr

Yield

4 servings with rice or bread
Ingredients
1lb (454g) ground bison (or use venison, beef, etc.)
2 tablespoons (30ml) cooking fat or oil
1 large red onion, chopped
3 cloves garlic, minced
1 thumb ginger, peeled and minced
1 jalapeño, OR 2 small green chilies, minced
2 teaspoons (4g) garam masala
1 teaspoon (2g) cumin powder
1 teaspoon (2g) coriander powder
1-2 teaspoons (2-4g) Kashmiri chili powder OR hot paprika
1/2 teaspoons (1g) cinnamon
1/2 teaspoon (1g) turmeric powder
1/2 teaspoon (1g) black pepper
1 teaspoon (4g) kosher salt
14-oz (420ml) can chopped tomatoes OR 3-4 chopped fresh tomatoes
2 medium Russet potatoes, peeled and cubed
1/4 cup (4g) chopped cilantro
Minced red onion and cilantro for garnish
Preparation
1
Add the fat or oil to a deep skillet over medium heat. 
Add the onions, cook for 5 minutes. 
Add the garlic, ginger, and chilies and cook for another 5 minutes, or until everything is nice and browned. 
2
Add all of the spices to the skillet, then add the tomatoes. Cook until the liquid from the tomatoes evaporates and the oil begins to separate, about 5-7 minutes. Stir often. 
3
Add the ground bison and sauté until the meat begins to brown with the tomatoes, about 5-7 minutes. 
Add 1 cup (250ml) of water and bring to a simmer. 
Turn heat to low, cover the skillet, and cook for 15 minutes. 
4
Add the potatoes (and 1/4 cup (60ml) more water if it is looking dry).
Cover again and cook 15 minutes or until potatoes are tender. 
Uncover, add chopped cilantro and cook for 2 more minutes. 
5
Serve with basmati rice or Indian flatbreads (like naan) and garnish with cilantro leaves and minced red onion. Enjoy!