Black Trumpet and Yellowfoot Dumplings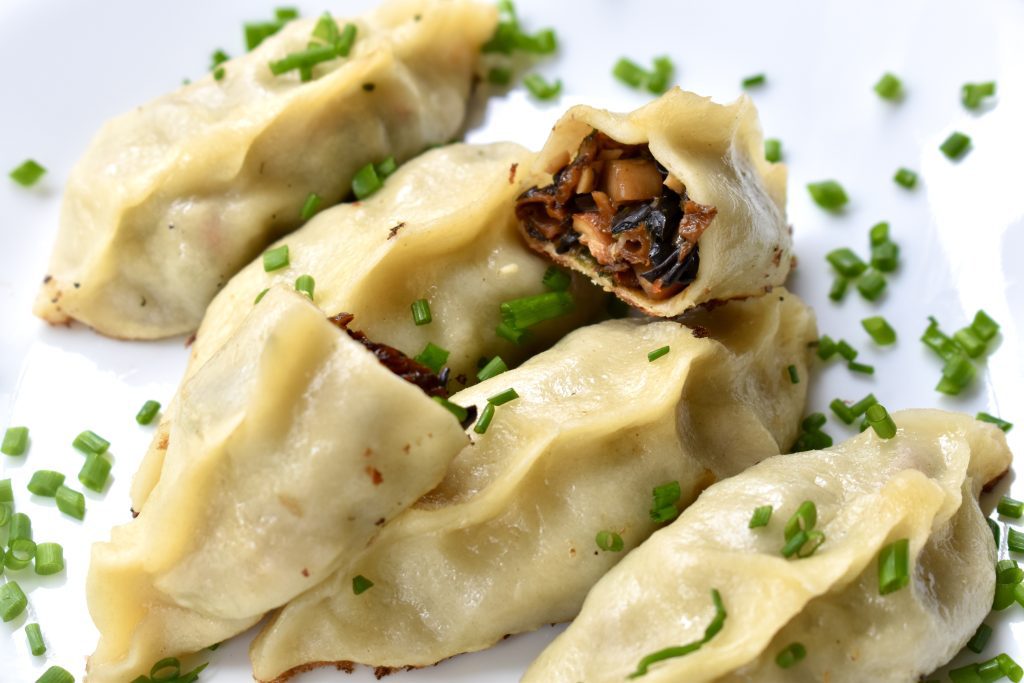 These black trumpet and yellowfoot dumplings are a wonderfully tasty thing to make when you gather a haul of these two species that love living near each other.
If making the dough and dumpling wrappers from scratch seems daunting, feel free to just buy some won ton wrappers from the store and use them instead. 
You can also fill out your mushroom mixture with chanterelles, lobsters, or any other mushroom you happen to find while foraging for black trumpets. 
Prep Time

2 hr

Cook Time

15 min

Total Time

2 hr 15 min

Yield

16-20 large dumplings
Cuisine

Course

Cooking Method

Suitable for Diet
Ingredients
For the Dough
2 cups all-purpose flour
3/4 cup hot water
For the Filling
4 cups mixed black trumpet and yellowfoot chanterelles (feel free to add chanterelle, lobster, or other mushrooms to the mix), roughly chopped
1 tablespoon + 1 tablespoon cooking oil
2 scallions, minced
2 cloves garlic, minced
2 teaspoons minced ginger
1 small chili, minced (optional)
1 tablespoon oyster sauce (or vegetarian equivalent)
2 teaspoons light soy sauce
2 teaspoons Shaoxing wine OR cooking sherry
1/2 teaspoon white sugar
1/2 teaspoon kosher salt
1/4 teaspoon ground white pepper
Chives, cilantro, or scallions to garnish
Preparation
1
Add the flour to a large bowl. 
Add the water gradually, stirring it in with a spoon or chopsticks. 
Once it has become sticky and shaggy, switch to your hands and knead dough into a smooth ball. 
Put the dough ball on a floured surface and flip the bowl over top of it. Let rest for 10 minutes. 
2
Put the dough ball back into the bowl and knead it in the bowl, flipping it, folding it, and pressing it, for 5 minutes. 
It should be smooth and no longer sticky.
Flip the bowl on top of it again and let it rest for another 20-30 minutes. 
3
Meanwhile, add 1 tablespoon of the oil to a skillet over medium heat. 
Add the mushrooms and cook for 5 minutes. 
Add the scallions, garlic, ginger, and chili and cook for another 5 minutes. 
Add the oyster sauce, soy sauce, wine, sugar, salt, and pepper and cook for 2 more minutes. 
Take off of the heat and let cool completely. 
4
Pull off a hunk of dough (leaving the rest under the bowl) and form it into a 1″-wide cylinder, or log, in your hand.  
Flour a working surface and cut a 1″ piece off of the log. 
Squish it down with the palm of your hand forming it into a rough circle. 
Use a small rolling pin or glass jar or bottle to roll it into a larger, thin circle, spinning and rolling, spinning and rolling. 
Add about a tablespoon of the mushroom filling into the center of the circle. 
Fold it over and press the edges together to seal. Plump it down on the working surface, forming a flat bottom with the seam facing upwards. You can pleat the top by pinching the seal several times. 
Set aside on a floured surface and cover with a towel while you do the rest. 
Alternatively, you can roll the dough out very thin and use a cookie cutter or wide-mouth mason jar to cut rounds out. 
5
Heat the other tablespoon of oil in a skillet over medium heat. Add the dumplings in a circle, wagon-wheel style.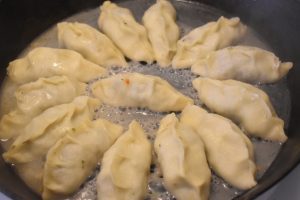 Pour in 3/4 cup of water and cover the skillet. 
Let cook for about 8 minutes. Uncover and cook until the water dissipates completely. 
Check the bottoms of the dumplings for browning. Once nice and crispy, transfer to a plate and scatter with chopped herbs or scallions. 
6
Serve immediately as-is, or with a vinegar or soy dipping sauce. Enjoy!
Notice how I didn't have you scroll through pages of mundane nonsense to get to the recipe? Notice that there were no annoying pop-ups or ads? That was on purpose!
I want finding and using my recipes to be easy for you, not frustrating. That does translate into a lot of lost income for me though. If you made this recipe and loved it, would you consider "buying me a coffee" and donating a buck or two through the Buy Me a Coffee app? It will help me keep pumping out recipes like this one!