Broiled Pike Collar with Grated Daikon Salad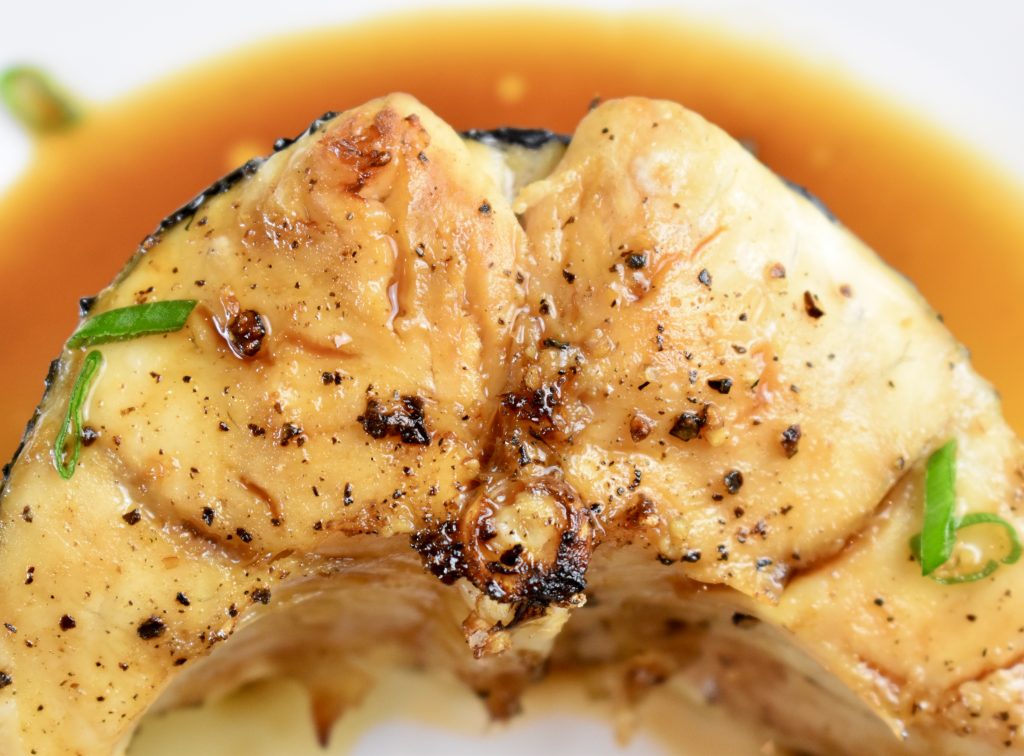 The collar is the cut on a fish just behind the head where the 'shoulders' would be. Any pike over 4-5lbs (2kg) will have a beautiful collar that is definitely worth cooking on its own. The collar tends to have more fat and collagen than the fillets, making it juicy, flavourful, and lip-smackingly tasty. You could grill the collars for this recipe as well, but since I caught this pike while ice fishing, I cooked it inside under the broiler. I used an easy cheater's ponzu sauce for this, but feel free to use real store-bought or homemade ponzu. You can serve this on its own, but I like it as part of a Japanese themed meal or sushi platter. 
Cook Time

15 min

Ready in

15 min

Yield

1 collar
Ingredients
1 pike collar 2-3″ (5-8cm) thick
Kosher salt
Freshly cracked black pepper
1 cup (250mL) shredded daikon (see step 3)
1 tablespoon (15mL) Japanese soy sauce
2 teaspoons (10mL) lemon juice
1/2 teaspoon (2g) white sugar
Scallion for garnish
Preparation
1
Move rack in oven to 10″ (25cm) under top broiler. 
Preheat broiler on high. 
2
Season the pike collar generously with salt and pepper. 
Set onto a baking tray or dish and set under the broiler.
Cook for about 15 minutes, flipping it half way through. Keep a close eye on it so it doesn't burn. You want some light charring, but not a chunk of black carbon at the end. 
Once the fish is lightly charred and flaking with a fork, it is ready. 
3
Meanwhile, grate a cup's worth (250mL) of peeled daikon radish on the small side of a box grater.
Squeeze the grated daikon over the sink in your fist, ridding it of all of its water. 
Fluff back up and set aside. 
4
In a small bowl, mix together soy, lemon, and sugar until the sugar completely dissolves. 
5
When the collar is cooked, transfer it to a plate and place the grated daikon into a pile beside it.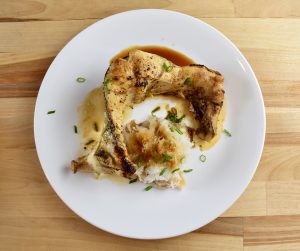 Spoon over all of the sauce so it gets all over the fish and the daikon and forms a pool under everything on the plate. Sprinkle with finely sliced scallions and serve immediately. Enjoy!