Bullhead and Ramp Fried Rice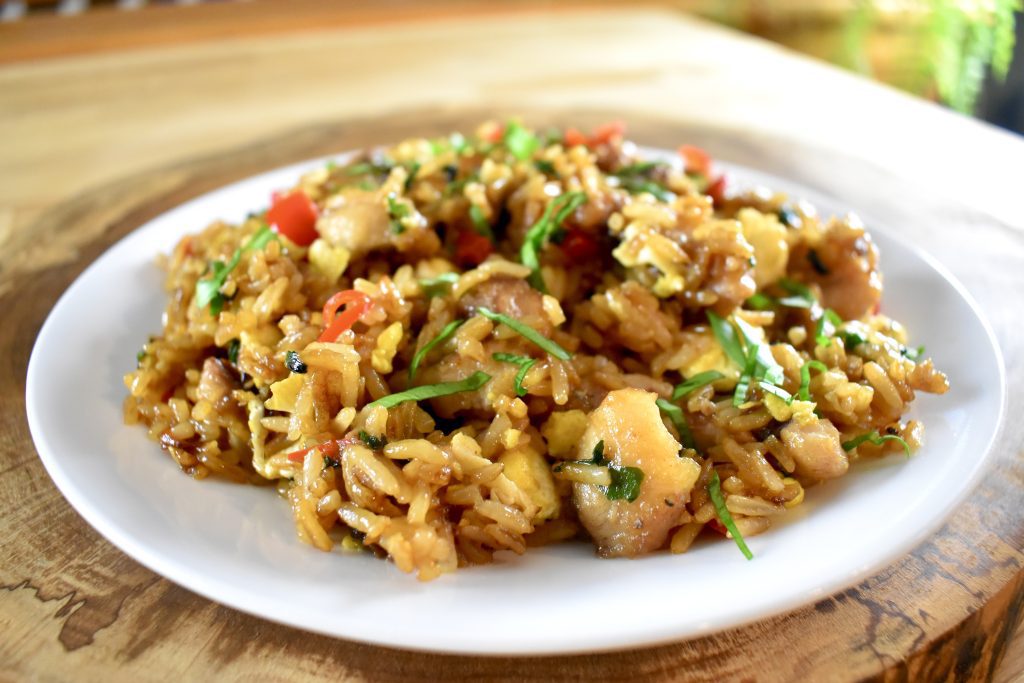 This bullhead and ramp fried rice uses Chinese techniques with wild ingredients and is a delicious way to enjoy wild springtime delicacies.
Fried rice should always be made with leftover rice that has had a chance to dry out in the fridge for a while. Freshly cooked rice will be sticky and mushy. 
To cheat a bit, cook the rice, spread on to a baking sheet or large plate, and put in the fridge for an hour or two. 
I call for both light and dark soy sauces, which will add lots of flavour and colour to the dish. If you only have one type of soy sauce, just use that. 
Prep Time

45 min

Cook Time

10 min

Total Time

55 min

Yield

4-6 servings
Ingredients
10oz (285g) boneless bullhead fillets, cut into bite-sized chunks
2 teaspoons (5g) cornstarch
1/4 teaspoon (0.5g) white OR black pepper
1/4 teaspoon (1g) baking soda
1 teaspoon (5ml) shaoxing wine OR cooking sherry
1 teaspoon (5ml) + 1 teaspoon (5ml) light soy sauce
3 tablespoons (45ml) fat or cooking oil
2 eggs
12 ramp leaves, sliced OR 6 scallions, cut into 1″ chunks
1 red chili, sliced
1/2 red bell pepper, chopped
3 cups (320g) leftover white rice (1 cup uncooked)
1 teaspoon (5ml) dark soy
1 teaspoon (5ml) fish sauce
Preparation
1
Add the fish, cornstarch, pepper, baking soda, shaoxing wine, and 1 teaspoon (5ml) of the light soy sauce to a bowl and toss well. 
Let marinate for at least 15 minutes. 
2
Heat the fat or oil in a wok or large skillet over medium high heat. 
Add 1/2 of the marinated fish and fry for about 1 minute per side until crispy. 
Transfer to bowl and repeat with the other half. 
3
Crack the eggs into the hot oil and scramble until just set. Set aside. 
4
Add the ramps (set aside a pinch for garnish), chili, and red pepper.
Cook for 30 seconds, then add the rice, soy sauces, and fish sauce. Mix well, then let sear undisturbed for 1 minute. 
Flip it all around and let sear for 1 more minute, keeping a close eye on it so it doesn't burn. 
Add the fish and eggs into the rice and gently mix them in. Cook for 2 more minutes. 
5
Transfer to bowls or plates, and sprinkle with the reserved ramps. Serve immediately. Enjoy!
Notice how I didn't have you scroll through pages of mundane nonsense to get to the recipe? Notice that there were no annoying pop-ups or ads? That was on purpose!
I want finding and using my recipes to be easy for you, not frustrating. That does translate into a lot of lost income for me though. If you made this recipe and loved it, would you consider "buying me a coffee" and donating a buck or two through the Buy Me a Coffee app? It will help me keep pumping out recipes like this one!