Coconut Salmon Poke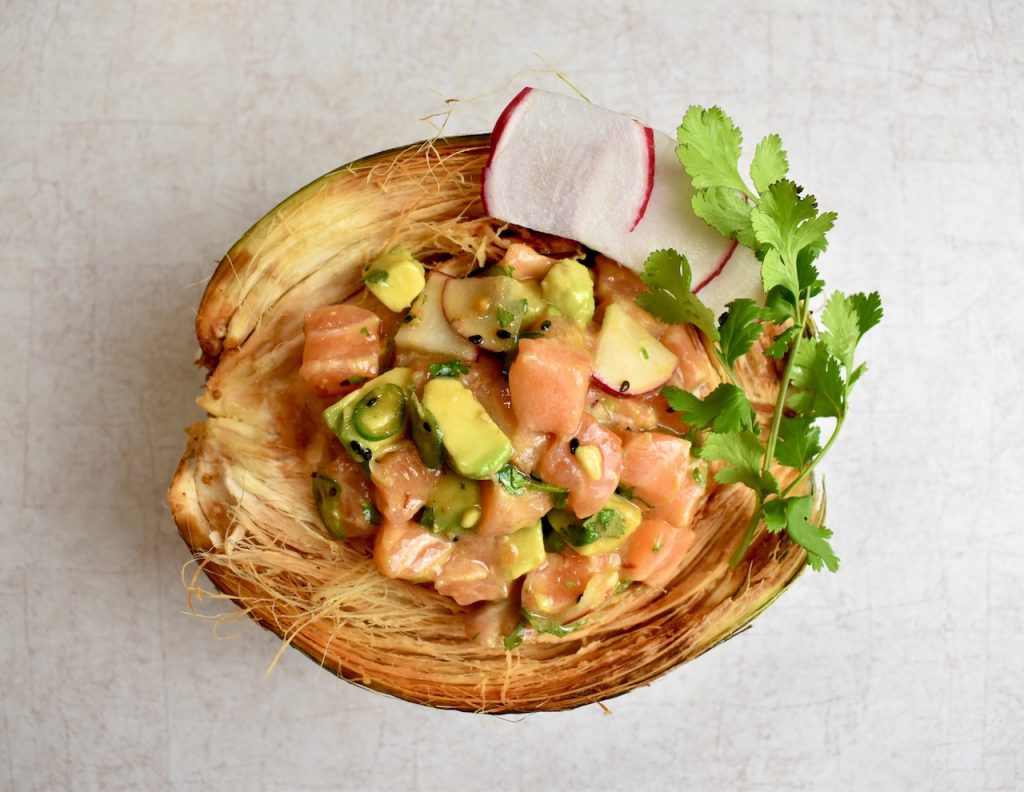 ***Consuming raw or undercooked meats, poultry, seafood, shellfish, or eggs may increase your risk of foodborne illness, especially if you have certain medical conditions.***
This recipe was inspired by Hawaiian poke (pronounced poke-eh) which usually uses tuna or octopus as well as ingredients like candlenuts and soy sauce. 
Mine strays quite far from the original, using sushi grade raw salmon (be sure to use only sushi grade if you're going to eat this raw!), avocado, coconut, and other flavourings. 
I absolutely love serving it in a split young coconut, as it looks fantastic, plus you get to scrape up the coconut meat as you eat it. 
If you'd like to try that out, just follow the instructions in the method. Otherwise you could just serve it in a bowl, or over steamed grains with fresh vegetables as a poke bowl. 
Prep Time

30 min

Yield

2 servings or 4 appetizer servings
Ingredients
1/2lb (225g) sushi grade salmon
1 avocado, cubed
1 radish, quartered and sliced thinly
1 jalapeño or serrano chili, seeded and sliced thinly
1 tablespoon (2g) chopped cilantro
1/2 teaspoon (5g) black sesame seeds 
1 tablespoon (15ml) coconut water
1 tablespoon (15ml) coconut cream
1 teaspoon (5ml) Japanese soy sauce
1/2 teaspoon (2.5ml) chili garlic paste
1/2 teaspoon (2.5ml) sesame oil
1/2 teaspoon (2.5ml) neutral oil (I used grapeseed)
1/2 teaspoon (2.5ml) lime juice
Preparation
1
Put the salmon in the freezer for 15-20 minutes while you prepare the rest of your ingredients. 
This will allow you to cube it easier. 
Cut the skin off if necessary (fry it up for a nice snack!) then cut the fish into small cubes. 
2
Mix all of the ingredients together and let sit for 5 minutes at room temperature. 
Serve with little spoons or with something to scoop it up like nacho or plantain chips. You could also make a poke bowl and serve it on grains with shredded cabbage and other veggies. 
To serve in a coconut
3
I love to serve this in a split young coconut. Find a curb or cement edge and bang the coconut from the point, all the way around until you reach the point again. Save the juice in a cup as it starts spilling out and use some in the recipe where it says coconut water. Drink the rest. Once it begins to split, use your fingers to pry it open and snap it in half. This takes some strength!
Serve the poke in the coconut, using spoons to scrape up the young coconut meat as you eat it. Enjoy!