"Crab" Jalapeño Poppers with Hericium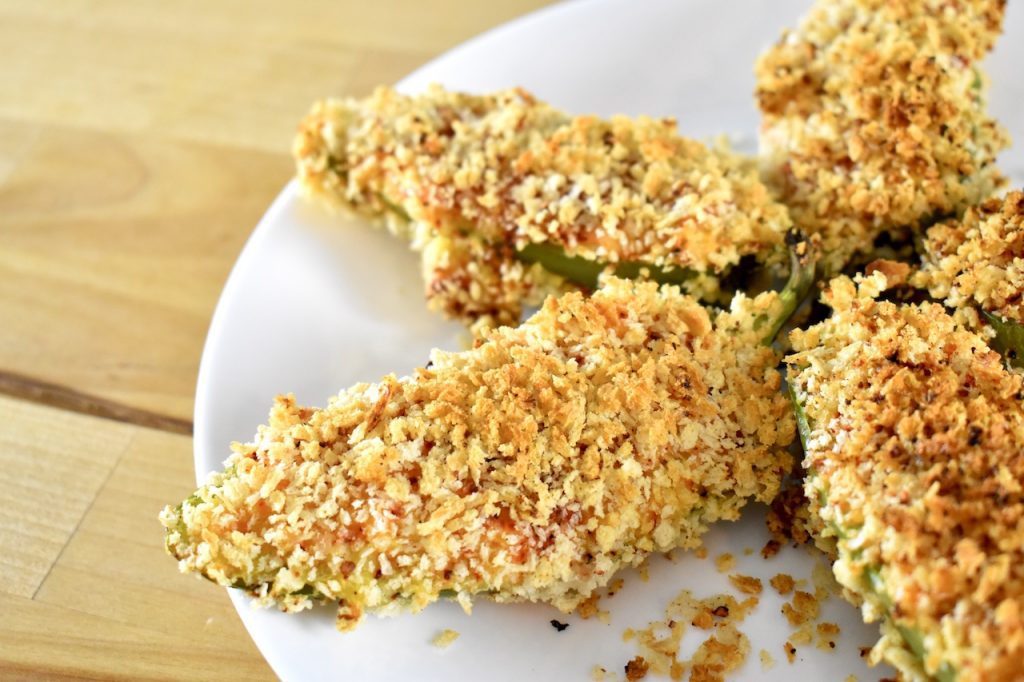 These "crab" jalapeño poppers are actually made with wild Hericium mushrooms, which resemble shredded crab meat in flavour and texture.
Feel free to use lion's mane, bear's head tooth, or the comb's tooth variety of these mushrooms. 
If you're lucky, you can even find lion's mane for sale by gourmet mushroom growers in markets or specialty stores. 
Prep Time

20 min

Cook Time

25 min

Total Time

45 min

Yield

8 poppers (recipe can be doubled or tripled for more)
Cuisine

Course

Cooking Method

Suitable for Diet
Ingredients
2 oz (60g) Hericium mushrooms
Kosher salt and black pepper
4 jalapeño peppers, halved
2 oz (60g) cream cheese
1/4 cup (30g) finely shredded Monterey Jack cheese
1/4 cup (30g) finely shredded cheddar cheese
1/2 teaspoon (2.5ml) Worcestershire sauce
1/2 teaspoon (1g) smoked paprika
1 egg
1 cup (90g) panko breadcrumbs
1 teaspoon (2.5g) BBQ rub seasoning
Preparation
1
Preheat oven to 400°F (200°C, gas mark 6)
2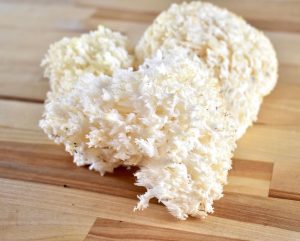 Bring a medium pot of water to the boil. Add a big pinch of salt. 
Add the mushroom(s) and simmer for 2 minutes. Remove and set aside to cool. 
3
While the mushrooms are cooling, slice the jalapeños in half, then remove the pith and seeds. 
You may want to wear gloves for this if your skin is sensitive to heat. 
4
In a small bowl, mix together the cream cheese, the finely shredded Jack and cheddar cheeses, the Worcestershire, a pinch of salt and pepper, and the paprika until it becomes a homogenous mixture. 
Squeeze out any water in the mushroom, then shred it into crab-like strands.
Mix them into the cream cheese mixture until well incorporated. 
5
Crack an egg into a small bowl and beat it well. 
In another bowl, pour in the breadcrumbs and add the BBQ rub, mixing it in well. 
6
Use a small spoon to stuff the jalapeños with the cream cheese mixture, dividing it evenly between the 8 pieces. 
Dip the stuffed jalapeños one by one in the egg wash, then roll them in the panko crumbs. Use your fingers to press some of the breadcrumbs into the top creamy part. 
7
Arrange on a sheet pan lined with foil, then bake for about 20 minutes or until golden and melty.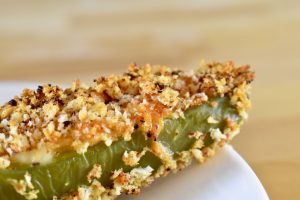 If you'd like to crisp them up a little more, turn on the broiler in the oven and broil them for another 2 minutes. Watch them the entire time, as they can burn quick! 
8
Serve immediately. These would go well with some ranch dressing or buffalo sauce. Enjoy!