Goose Breast with Kimchi Sauce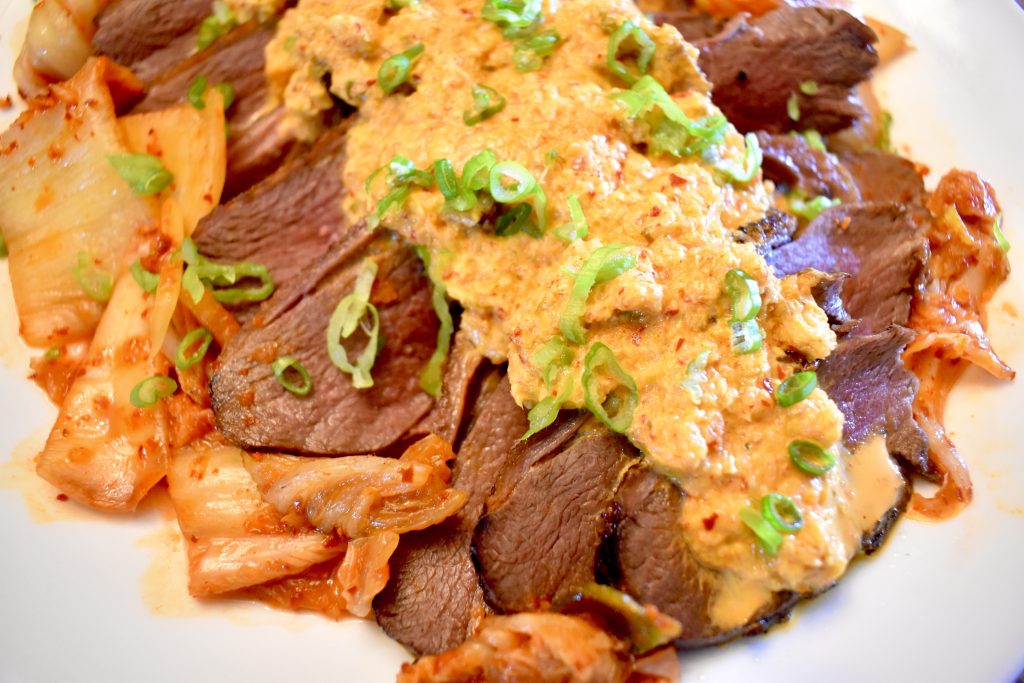 This Canada goose breast with kimchi sauce is a wonderfully unique way to enjoy a much maligned piece of wild game!
Using the reverse sear method is a stress-free way of cooking things like steaks or goose breasts. 
Prep Time

15 min

Cook Time

30 min

Total Time

45 min

Yield

2 servings per goose breast
Cuisine

Course

Cooking Method
Ingredients
1-2 large goose breast(s)
Kosher salt
Black pepper
2 cups kimchi
2 tablespoons (30ml) kewpie mayonnaise OR use regular
2 teaspoons (10ml) rice wine vinegar
1 teaspoon (5ml) sesame oil
1 tablespoon (15ml) goose fat or neutral cooking oil
Scallions to garnish
Preparation
1
If possible, season goose breast(s) generously on all sides with salt and pepper. Transfer to a wire rack on a plate or sheetpan and place in the fridge overnight. 
2
Preheat oven to 250°F (120°C, gas mark 1/2).
Let goose breast return to room temperature. 
3
Put the goose breast in the oven on a wire rack on a baking sheet for about 20-25 minutes, or until internal temperature reaches 115°F. 
4
Meanwhile, make the sauce by blending 1/2 cup of the kimchi, the mayo, vinegar, and sesame oil in a blender until smooth.
Add a teaspoon of water if you need to loosen it up enough to blend. 
5
Heat the fat or oil in a cast iron pan over high heat and brown the goose breast(s) on all sides until nice and browned and crispy.
Slice the breast and serve with kimchi and the kimchi sauce. Enjoy!
Notice how I didn't have you scroll through pages of mundane nonsense to get to the recipe? Notice that there were no annoying pop-ups or ads? That was on purpose!
I want finding and using my recipes to be easy for you, not frustrating. That does translate into a lot of lost income for me though. If you made this recipe and loved it, would you consider "buying me a coffee" and donating a buck or two through the Buy Me a Coffee app? It will help me keep pumping out recipes like this one!