Venison and Mushroom Gravy on Toast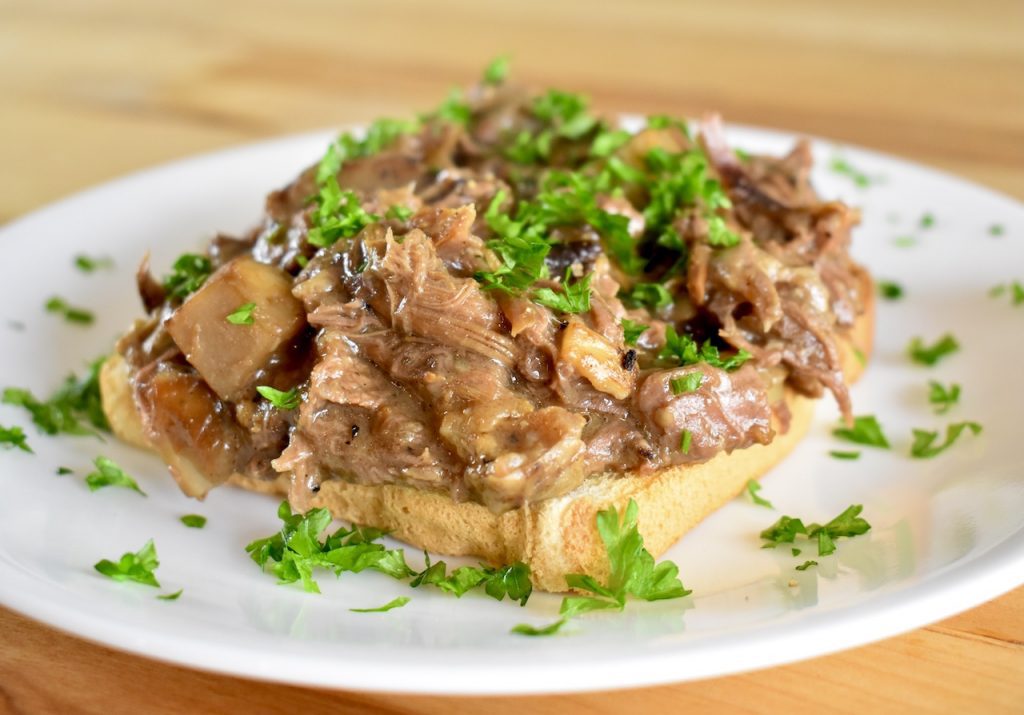 This venison and mushroom gravy on toast is a great way to utilize a small venison shoulder roast or shank and turn it into pure comfort food!
Prep Time

10 min

Cook Time

12 hr

Total Time

12 hr 10 min

Ready in

12 Hrs

Yield

4 servings

Serving Size

1 Piece of Toast
Cuisine

Course

Cooking Method

Special Equipment
1lb (454g) venison shoulder roast (or 2 shanks)
Kosher salt and freshly cracked black pepper
1/2lb (225g) wild mushrooms (I used oyster mushrooms and shaggy mane ink caps)
2 tablespoon (28g) butter
1 tablespoon (16g) flour
1/2 teaspoon (2.5ml) Worcestershire sauce
1 tablespoon (15ml) prepared horseradish
1/4 teaspoon (1g) garlic powder
4 slices of bread
1/4 cup (5g) fresh parsley, chopped (for garnish)
Preparation
1
Season venison shoulder roast generously with salt and pepper. 
Put it in a slow cooker or Crock Pot (or in the Instantpot, though you're going to have to figure out the cooking time on your own) and cover just barely with water. 
Set temperature to LOW and cook overnight, or until the meat is fork tender and will easily shred. 
2
Remove the roast from the slow cooker to let cool.
Retain the cooking liquid.
Once cool, shred the venison with two forks. 
3
Chop the mushrooms into medium pieces and add to a deep skillet with 1 tablespoon of the butter over medium high heat. 
Cook until the mushrooms are browned and the liquid has burned off, about 5-8 minutes. Season with a pinch of salt and pepper. 
4
Add the other tablespoon of butter and the flour, and cook on medium low, stirring very regularly for 2 minutes. 
Add the shredded venison and the liquid from the slow cooker to the skillet. Increase the heat and bring everything to strong simmer, stirring constantly. 
5
Once it thickens to a gravy-like consistency, reduce the heat to low, and add the Worcestershire, horseradish, and garlic powder. 
Taste for seasoning and add salt and/or pepper if necessary. 
Toast the bread slices. 
6
To serve, spoon the meat and mushroom gravy over the toast, letting it spill over the sides. 
Shower fresh parsley and black pepper over it, then serve immediately. 
This should be eaten with a fork and knife. Enjoy!