Grouse Rahmschnitzel with Chanterelle Sauce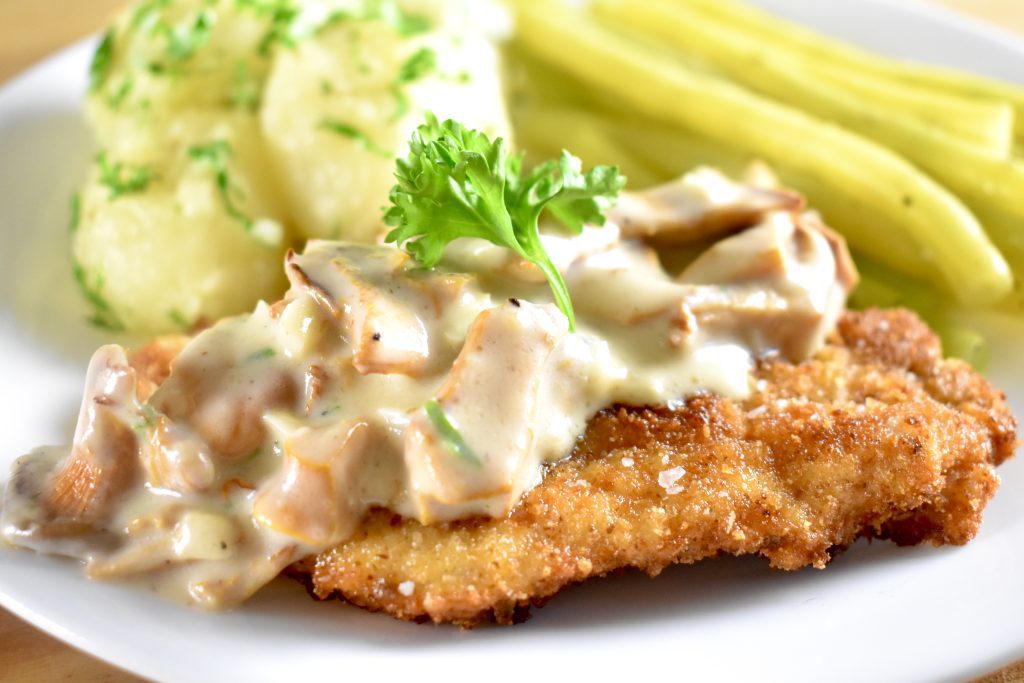 This grouse rahmschnitzel with chanterelle sauce pairs beautifully delicate wild poultry with a tasty wild mushroom cream sauce. Serve it with steamed beans and dressed boiled potatoes for a delicious dinner. 
Prep Time

45 min

Cook Time

15 min

Total Time

1 hr

Yield

4 servings
Cuisine

Course

Cooking Method
Ingredients
For the Schnitzel
4 boneless, skinless grouse breasts
1 cup all-purpose flour
1 teaspoon Kosher salt
1 teaspoon black pepper
2 eggs, beaten
1 cup fine breadcrumbs
For the Sauce
8oz chanterelle mushrooms, chopped
1 tablespoon butter
1/4 cup white wine or chicken/grouse stock
1 garlic clove, minced
1 tablespoon all-purpose flour
1/4 teaspoon ground nutmeg
1/2 cup heavy cream
Kosher salt
Black pepper
For the Sides
12 small potatoes (or 6 medium potatoes, halved), peeled
1 tablespoon butter
2 tablespoons chopped parsley
1 lb green or yellow beans, trimmed
Preparation
For the Schnitzel
1
Prepare three bowls, one with the flour, one with the beaten eggs, and the last with the breadcrumbs. Season the flour with salt and pepper.
Take a grouse breast and cover it in plastic wrap. Gently pound it with a meat mallet or wine bottle until it is about ¼ of an inch thick. Repeat with the other breasts.
Add about an inch of oil to a skillet and bring to 350°F.
Dip pounded breasts in flour, then eggs, then breadcrumbs, fry in hot oil for about 1 minute per side. Drain on paper towels.
Keep warm in a low oven while you finish the rest of the meal.
For the Sauce
2
Melt the butter in a skillet over medium heat. Add chanterelles and cook for 5 minutes. Add garlic, flour, and nutmeg and cook for 1 minute. Add wine or stock and cook until liquid has mostly evaporated. Take off of heat and slowly stir in the cream. Season with salt and pepper to taste.
For the Sides
3
Peel potatoes, cover with water, add a pinch of salt and bring to a boil. Reduce to a strong simmer and cook until potatoes are tender all of the way through. Drain, and put the drained potatoes in the pot over low heat until the residual water evaporates. Add the butter and parsley and toss until all of the potatoes are coated. 
Steam beans for 7 minutes until tender. Season lightly with salt and pepper.
Notice how I didn't have you scroll through pages of mundane nonsense to get to the recipe? Notice that there were no annoying pop-ups or ads? That was on purpose!
I want finding and using my recipes to be easy for you, not frustrating. That does translate into a lot of lost income for me though. If you made this recipe and loved it, would you consider "buying me a coffee" and donating a buck or two through the Buy Me a Coffee app? It will help me keep pumping out recipes like this one!