Chinese Venison and Potato Stew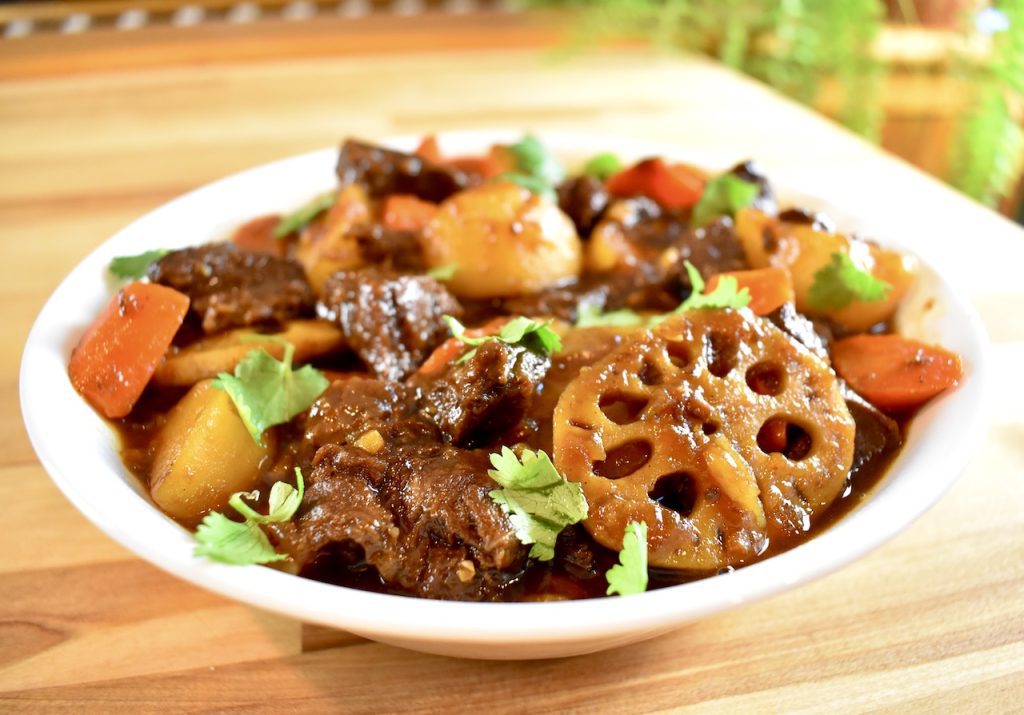 This Chinese venison and potato stew is the perfect thing for changing up your venison stew routine; it's comforting, yet exciting!
Try serving it with this Chinese Purslane Salad. 
Prep Time

20 min

Cook Time

2 hr 30 min

Total Time

2 hr 50 min

Yield

4 servings
Ingredients
1.5lbs (680g) venison shoulder, cut into large bite-sized cubes
2 tablespoons (30ml) vegetable oil or lard
2 medium onions, sliced
1 small thumb ginger, peeled and chopped
2 whole star anise
1 stick cinnamom
3 whole cloves
3 dried chilies
2 bay leaves
2 scallions, sliced
2 tablespoons (30ml) light soy
1 tablespoon (15ml) dark soy 
1 tablespoon (12g) white sugar
1 tablespoon (15ml) Shaoxing wine
1/2 teaspoon (1g) white pepper
3 cups (750ml) venison stock or water
6 smallish white potatoes, peeled and halved or quartered
2 large carrots, peeled and cut into bite sized pieces
1 4″ (8cm) piece lotus root, peeled and sliced into coins (optional)
1 tablespoon (9g) cornstarch
2 tablespoons (30ml) cold water
1 handful of cilantro (for garnish)
Preparation
1
Add the cubed venison to a large pot and just cover with water. 
Bring to a boil and cook for 2 minutes. 
Dump out the water and rinse off the meat and the pot.
This is an Asian cooking method to help rid impurities and off-flavours. 
Set the venison aside for the time being. 
2
Heat the oil in the pot over medium high heat and add the onions. Cook for 5 minutes. 
Add the ginger. 
Wrap the spices in a piece of cheese cloth or in a spice bag (you could also let them float free and scoop them out later). Add them to the pot and cook for 2 minutes. 
Add the venison, scallions, both soy sauces, sugar, wine, white pepper, and stock. 
Bring to a strong simmer, then lower to a low simmer. Cover and cook for 1.5 hours. 
3
Take off the lid, remove the spices, and add the potatoes, carrots, and lotus root if using. 
Bring to a strong simmer and cook until the potatoes are tender, but not falling apart. 
4
Mix the cornstarch and cold water into a paste or slurry and add it to the stew. 
Simmer, stirring, until the stew thickens, about 1-2 minutes. 
5
To serve, ladle into bowls and garnish with cilantro leaves. Enjoy!