Chinese Purslane Salad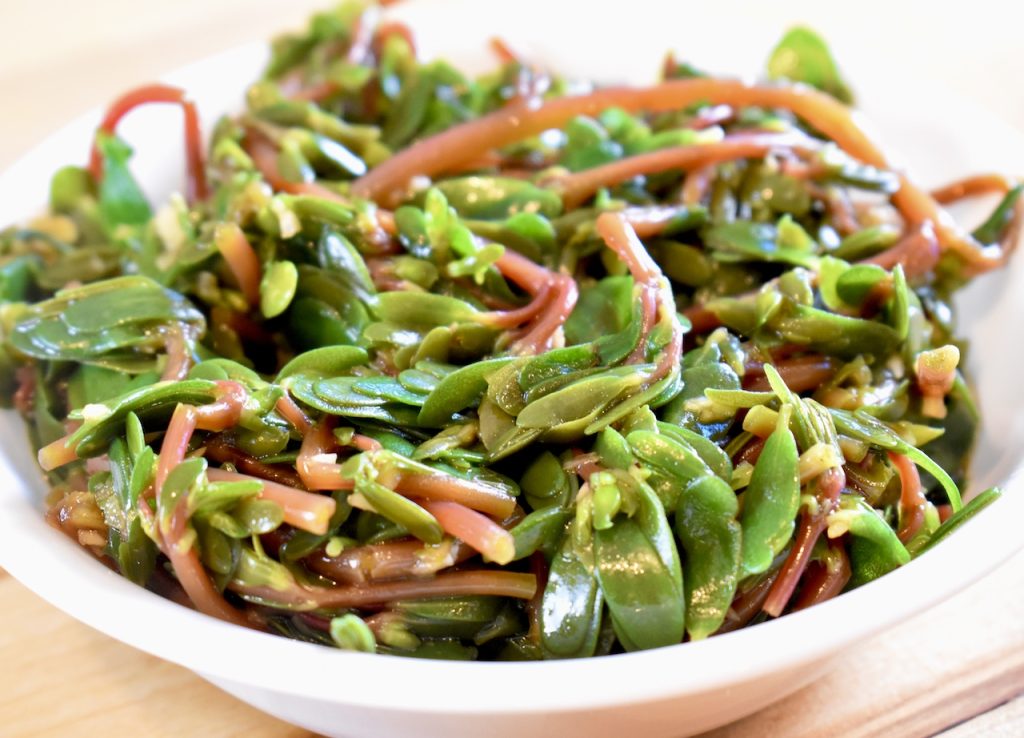 This Chinese purslane salad is a delightful way to eat up the wild purslane growing up in your garden, farm field, or back yard!
Prep Time

20 min

Cook Time

10 min

Total Time

30 min

Yield

4 servings as a side
Cuisine

Course

Cooking Method

Suitable for Diet
Ingredients
4-6 cups purslane, washed well, thick or tough stems discarded
Kosher salt
2 cloves garlic, minced
1 tablespoon (15ml) light soy sauce
2 tablespoons (30ml) Chinkiang (black) vinegar, or balsamic vinegar
1 tablespoon (15ml) neutral oil
Preparation
1
Bring a large pot of water to the boil. 
Add a big pinch of kosher salt. 
Add the purslane and cook for 2 minutes. Drain the purslane and run cold water over it until it is completely cool. 
Shake off the excess water.
2
Crush the garlic with the flat of a knife or a rolling pin. Remove the peel.
Chop the garlic briefly, then sprinkle a small pinch of kosher salt over it. Let sit for 5 minutes, then mince the garlic and smash and scrape it into a paste. 
3
Add the garlic paste, soy, vinegar, and oil to a medium salad bowl and mix well. 
Add the blanched purslane and toss well in the dressing. 
Serve alongside stir fried meats and rice, or as part of any summer meal. Enjoy!