Kake Soba with Pan Seared Maitake Mushrooms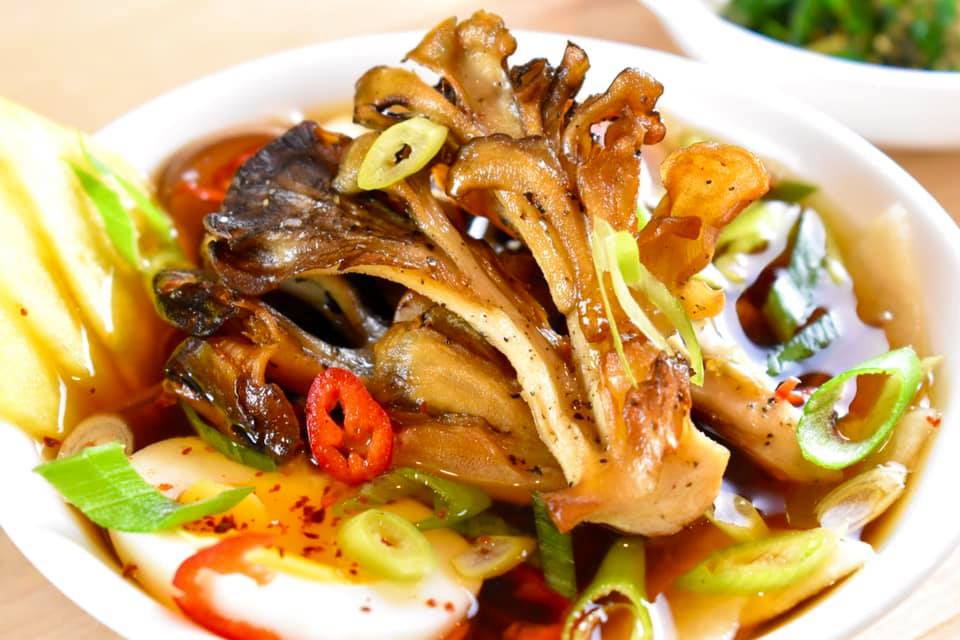 Kake Soba is a basic Japanese recipe for soy, mirin, and dashi broth poured over cooked soba noodles. In this recipe, lightly inspired by a Bon Appétit recipe, the broth gets simplified and the soup is topped with crispy and meaty Maitake mushrooms and an assortment of crunchy and spicy accoutrements. 
Prep Time

15 min

Cook Time

20 min

Total Time

35 min

Ready in

35 min

Yield

4 bowls of soup
Cuisine

Course

Cooking Method
Ingredients
1 medium Maitake (Hen of the Woods) mushroom, cleaned and trimmed, and split into 4 pieces (reserve trimmings)
1 thumb-sized chuck of ginger
3 cloves of garlic
2 tablespoons vegetable oil
Kosher salt
Freshly cracked black pepper
2 large eggs at room temperature*
1/2 cup Japanese soy sauce
1/4 cup mirin
2 teaspoons white sugar
8 ounces (225 grams) dry soba noodles
1 chili (finger, cayenne, or jalapeño), optional
3 green onions/scallions, thinly sliced on a bias
Assortment of thinly sliced daikon radish, red radish, watermelon radish, golden beet, candy cane beet (any or all of the above) for garnish
Sprinkle of shichimi togarashi or chili flakes
Preparation
1
Clean and trim your mushroom, saving the trimmings. Break into 4 pieces and set aside. 
Wash the trimmings under water until very clean. Discard any that won't come clean. 
2
Bring 6 cups of water to a simmer in a medium pot.
Add cleaned mushroom trimmings, ginger and peeled garlic cloves. 
Keep on a low simmer while you complete the rest of the recipe. 
3
Fill a large pot with water 3/4 full and bring to a boil on another burner. This will be for the eggs and noodles. 
4
Meanwhile, heat the oil in a frying pan over medium high heat, then add the mushrooms.
Let the mushrooms expel all of their water and keep cooking, pressing down with a spatula every once in a while until it begins to brown. Season generously with salt and pepper, then flip the mushrooms and sear on the other side. Both sides should be beautifully golden brown, this should take 10-15 minutes. 
Once done, set aside. 
5
Meanwhile, when the pot of water comes to a full boil, add the room temperature eggs, gently with a spoon. 
Set a timer for 6 minutes and 30 seconds exactly. 
When the timer goes off, remove the eggs from the boiling water with a slotted spoon and add them to a bowl of cold water or run them under cold water in the sink until they cool. Don't discard the boiling water as you will be using it for the noodles, just turn the heat down to low. 
Peel the cooled eggs, then carefully slice in half. Try not to let the yolk run away on you. 
Set aside for the time being. 
6
Prepare all of your vegetables, leaving them in handy piles or in small bowls (this is called a mise en place) so they'll be ready to add to the soup at the last instant. 
7
Remove the ginger, mushroom scraps, and garlic from the broth with a slotted spoon. 
Add the soy sauce, mirin, and sugar to the broth and stir to combine. Keep the broth on low so it doesn't cool down.
8
Make sure all of the above steps are complete and everything is ready to go.
Bring the pot of water back to a boil and add soba noodles and a large pinch of salt. 
Cook according to package directions, or until al dente. Drain. 
9
Split the noodles evenly between 4 bowls. Ladle the hot broth over the noodles, leaving some space at the top of the bowl for you toppings.
Artfully arrange 1/2 an egg, 1 piece of mushroom, some sliced radishes and beets, sliced chili, and sliced green onions on top of the bowl. Sprinkle with chili flakes or shichimi and serve with a spoon and chop sticks. Enjoy!
*Cold eggs right out of the fridge tend to crack and burst when introduced to boiling water. If you forgot to take them out of the fridge an hour before cooking, simply run them under warm to hot water for a minute before adding them to the boiling water.