Meatless Rogan Josh with Eggplant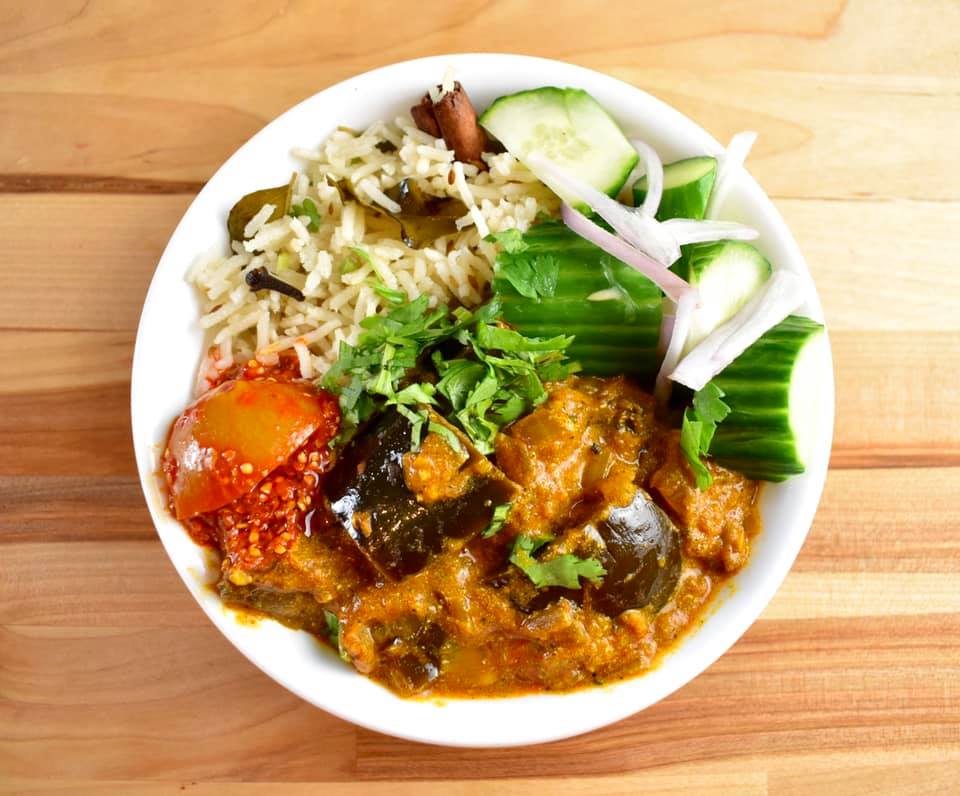 Swap out lamb for vegetables in this meatless rogan josh with eggplant, a take on the Kashmiri spicy stew. It's excellent served with Jeera Rice, Cucumbers Dressed in Lime, and a pungent Indian pickle. 
Prep Time

20 min

Cook Time

1 hr

Total Time

1 hr 20 min

Yield

4 servings
Ingredients
1 large globe eggplant (aubergine), or 2 small
2 tablespoons (30mL) vegetable oil or ghee
2 onions, peeled and chopped
1 cinnamon stick
2 bay leaves
4 cloves garlic, peeled and minced
1 thumb sized piece of ginger, peeled and minced
1/2 teaspoon (2.5mL) kosher salt
1/2 teaspoon (2.5mL) crushed black pepper
1/2 teaspoon (2.5mL) Kashmiri chili powder or hot paprika
2 teaspoons (10mL) garam masala
1 teaspoon (5mL) turmeric
1 teaspoon (5mL) ground cumin
1 teaspoon (5mL) ground coriander
1/2 teaspoon (2.5mL) ground green cardamom
1/2 teaspoon (2.5mL) ground cloves
1 teaspoon (5mL) sweet smoked paprika, optional
3 heaping tablespoons (45mL) tomato paste
1/2 cup (125mL) plain yogurt
Cilantro leaves, chopped, for garnish
Preparation
1
Chop the eggplant into large chunks, leaving the peel on. 
To do this, trim the very top and bottom off, then cut the eggplant in 3 thick slices from top to bottom. Now cut each of those slices into 3 strips. Now cut each of those strips into 4 or 5 chunks. 
Set this aside. 
2
Heat the oil in a large pot over medium high heat.
Fill a vessel with 2 cups (500mL) of water and set it close to your cooking area.
Add onions and cook for about 6-8 minutes, or until the edges are developing a golden colour. 
3
Turn down the heat to medium and add the cinnamon stick and bay leaves, as well as the garlic and ginger.
Cook for another minute or so. 
4
Now add the spices, and cook, stirring constantly for 30 seconds. 
Add the tomato paste and keep stirring so everything develops some colour and richness, about 2 more minutes. 
Some of the paste will stick to the bottom of the pot. This is fine, as long as it's not burning. If it starts to burn, add the water before the 2 minutes is up. 
5
After 2 minutes add the water and scrape up everything that stuck to the bottom, mixing well. 
Add the eggplant chunks, give everything a stir and bring to a simmer. 
6
Once it comes to a simmer, reduce heat to low and cover the pot. 
Cook for 1 hour, checking periodically to make sure that the water hasn't completely dried up. If it has before the hour is up, add a small amount of water to the pot. 
7
After an hour, stir in the yogurt, mixing well. 
Cook for another 5 minutes, then take off the heat.
8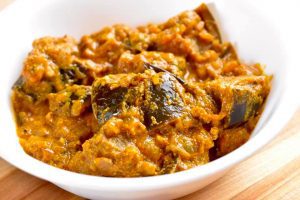 Serve as is, garnished with cilantro leaves, or with white or jeera rice and a cucumber salad. Enjoy!