Nigerian Suya – Grilled Meat Skewers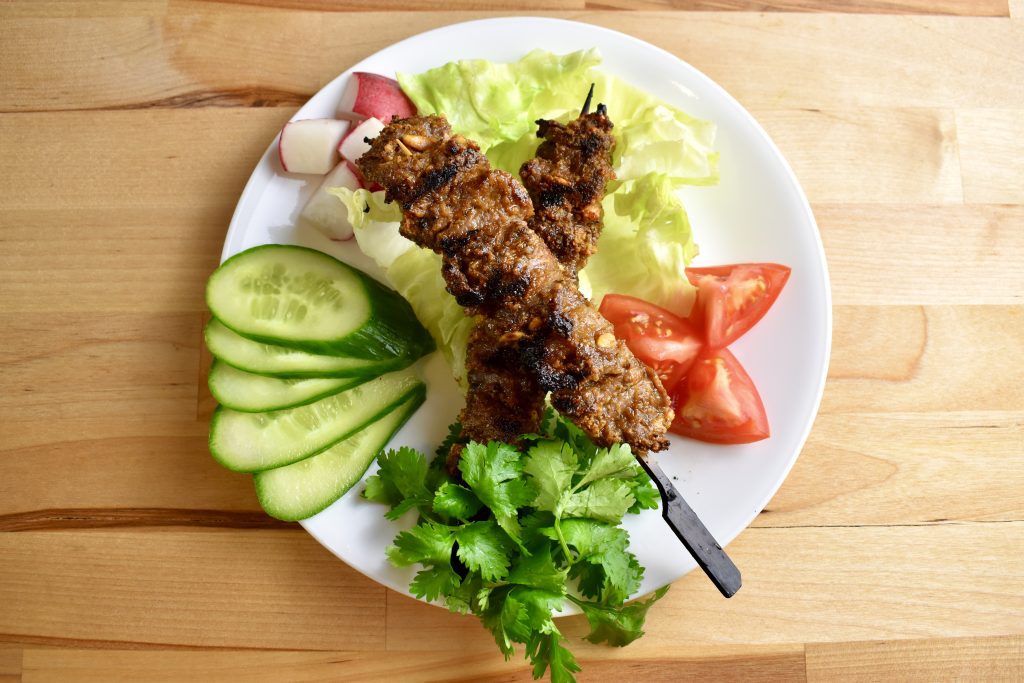 Suya are grilled meat skewers commonly eaten as street food in Nigeria and elsewhere in West Africa. They are marinated in a delicious combination of special peanut powder (kuli kuli) and spices called yaji. Since it can be hard to find yaji, I use unsweetened natural peanut butter and a homemade spice blend instead. You can use beef, venison or goose breast for this recipe; I like using top sirloin. 
Prep Time

10 min

Cook Time

10 min

Total Time

20 min

Ready in

6 Hrs

Yield

4 skewers
Cuisine

Course

Cooking Method
Ingredients
1 lb (454 g) top sirloin steak
1 teaspoon ground ginger
1 teaspoon smoked paprika
1 teaspoon garlic powder
1 teaspoon onion powder
1 teaspoon kosher salt
1 teaspoon black pepper
1/4 teaspoon cayenne pepper (or more if you like it spicy)
1/8 teaspoon ground cloves
3 tablespoons natural peanut butter (unsweetened)
1/2 tablespoon peanut oil (or other neutral oil)
Preparation
1 to 8 hours prior to cooking
1
Slice steak against the grain, approximately 1/4 inch (0.5 cm) thick. 
If this proves to be troublesome, put the steak in the freezer for 15-20 minutes so it firms up and then cut it. 
Set aside in a medium bowl. 
2
In a small bowl, mix together the spices, peanut butter, and oil very well. 
3
Now add the peanut butter mixture to the steak slices and mix very well, so every little bit has been covered in the marinade.
Move to the fridge and let marinate for at least 1 hour, and no more than 8 hours. 
30 minutes prior to cooking
4
Remove the meat from the fridge about 30 minutes before cooking. 
Preheat a gas or charcoal grill and get it going very hot. 
5
Thread the meat slices onto the skewers, like an accordion. 
Pierce through one side of the strip, fold it back on itself and pierce again. Then fold it back on itself and pierce again, all the while, pushing the meat down to the bottom of the skewer. 
6
When ready, throw them onto the smoking hot grill and grill them until medium in the centre, about 5-8 minutes total. Don't be afraid to cut into one to check it out. 
7
Serve with fresh vegetables like tomatoes, cabbage, lettuce, cucumbers, onion, etc. Enjoy!