Asparagus and Spruce Tip Risotto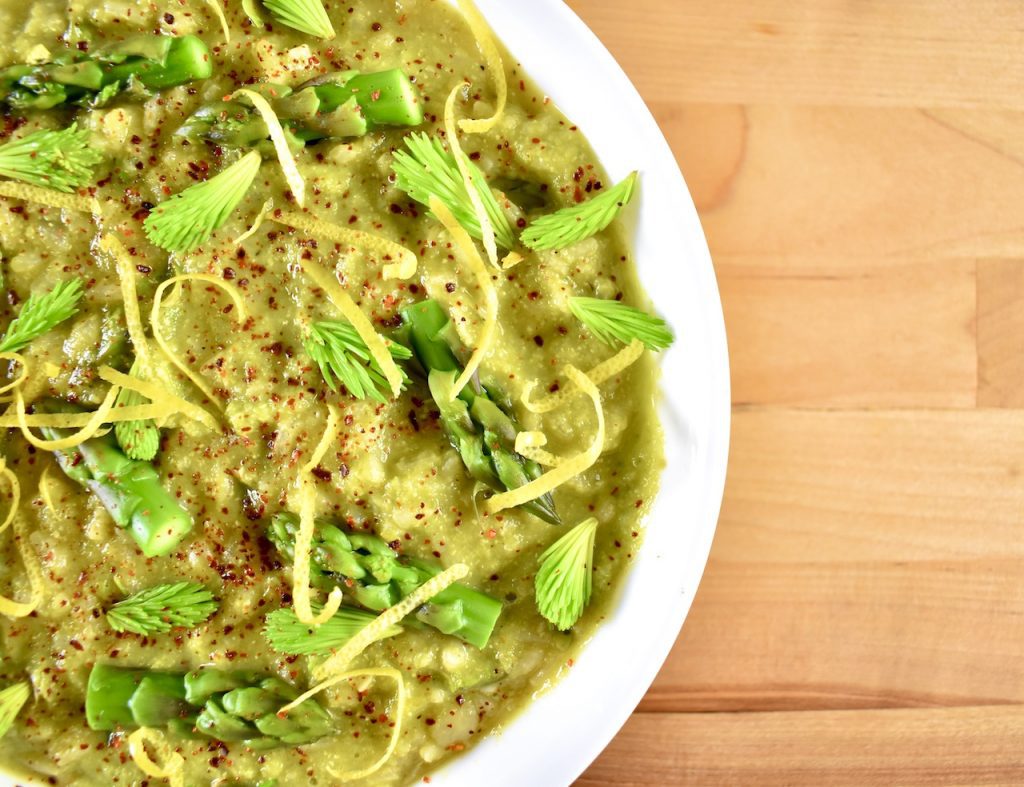 This asparagus and spruce tip risotto is the perfect vegetarian meal to make before springtime swings into summer!
Prep Time

10 min

Cook Time

45 min

Total Time

55 min

Yield

4 servings
Cuisine

Course

Suitable for Diet

Special Equipment
Ingredients
1lb (454g) wild or store bought asparagus, tough ends removed
Kosher salt
1 cup (+/- 120g) young spruce tips, plus some for garnish
2 tablespoons (30ml) olive oil
1 onion, finely chopped
2 cloves garlic, minced
1/4 cup (60ml) dry vermouth or white wine
1 cup (220g) Arborio rice
4-6 cups (1000-1500ml) vegetable or chicken stock
Black pepper
Spruce salt or kosher salt
1 cup (100g) grated Parmesan cheese
Juice of half a lemon
Lemon zest for garnish (optional)
Aleppo pepper for garnish (optional)
Preparation
1
Bring a pot of water to a boil. Add a pinch of salt. 
Add the asparagus spears and cook for 2 minutes. 
Fill a bowl with ice cold water. 
After 2 minutes, transfer the asparagus to the ice water, reserving a 3/4 cup (177ml) of the cooking water. 
2
Once the asparagus is cool, cut the tips off (the top 1-1.5 inches) and set aside. 
Chop the rest of the spears into pieces, then add them to a blender with the spruce tips, 1 tablespoon (15ml) of the olive oil, and the reserved cooking liquid. 
Blend on high until smooth, about 1 minute. 
3
Add the other tablespoon (15ml) of olive oil to a deep skillet over medium heat. 
Add the onion and cook until translucent, about 5 minutes. Add the garlic and cook for another 2 minutes. 
Pour in the wine or vermouth and cook until it has mostly dissipated. 
Add the rice and toast, stirring, for 2 minutes. 
Reduce heat to medium low. 
4
Set a bowl of veggie or chicken stock with a ladle next to the skillet.
Ladle in 1 ladleful of stock into the rice. Let the rice absorb pretty much all of the liquid, stirring all the while with a wooden spoon. 
Add another ladleful, let the stock absorb it, and repeat. 
Carry on doing this until the rice is starting to get creamy, but is still a bit al dente (has a bite to it), about 30 minutes. 
Add 3/4 of the blended asparagus and spruce mixture, and cook down until mostly absorbed. 
5
Add half of the asparagus tips, a few grinds of black pepper, a pinch of spruce salt, the Parmesan cheese, and the lemon juice. 
Stir in the last 1/4 of the purée and take the skillet off the heat. 
Taste for seasoning. 
6
Spoon the risotto into bowls and sprinkle with the reserved asparagus tips and spruce tips. Sprinkle over some lemon zest and Aleppo pepper as well (if using). Serve immediately. Enjoy!