Rabbit, Porcini, and Ramp Stuffed Shells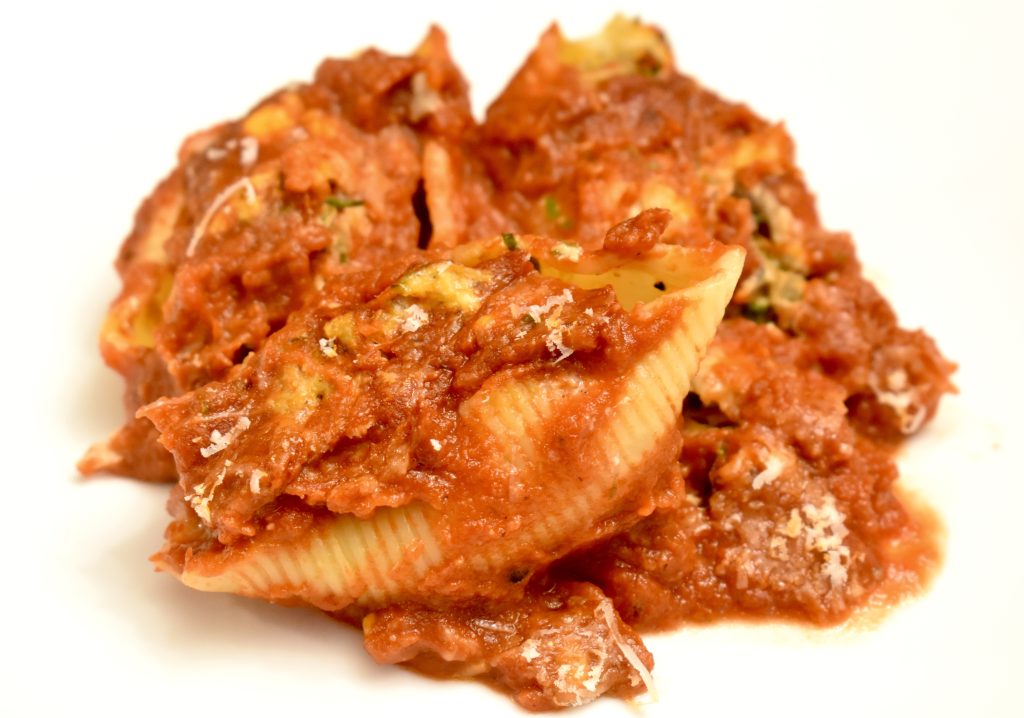 This rabbit and ramp stuffed shells is an incredible dish to make in the spring with rabbit from the freezer and ramps from the forest.
Feel free to top this bad boy with a good layer of mozzarella cheese if you like things to be cheesy!
Prep Time

1 hr

Cook Time

1 hr 30 min

Total Time

2 hr 30 min

Yield

6 servings

Serving Size

3-4 shells
Cuisine

Course

Cooking Method
Ingredients
1 whole rabbit OR 4 rabbit legs
1 tablespoon (15ml) olive oil
1 cup (250ml) white wine
1 onion, halved
Kosher salt
0.5oz (140g) dried porcini mushrooms
23oz (680ml) tomato passata OR plain tomato sauce
1 teaspoon (2g) oregano
1 teaspoon (2g) garlic powder
1 teaspoon (2g) smoked paprika
1/2 teaspoon (1g) black pepper
5.5oz (160g) or half a box jumbo shells pasta
15-20 ramp leaves
1 cup (100g) grated Parmesan cheese
1 cup (250ml) full-fat sour cream
Preparation
1
Break the rabbit into 2-4 pieces (to fit into pot).
Add the oil to a large pot over high heat. Add the rabbit pieces and sear on all sides until browned (about 5 minutes or so). 
Add the wine and scrape up any bits stuck to the pot. 
Cover the rabbit with water, add the halved onion and a pinch of salt. Bring to a boil. 
Reduce to simmer and cook uncovered for 1 hour, or until very tender (where you will be able to shred the meat off of the bones).
Certain wild rabbits may take longer to tenderize. 
2
Meanwhile, add the dried porcini to a bowl and cover with hot water. Let the mushrooms rehydrate while the rabbit is cooking. 
3
While the rabbit is cooking:
In a small pot over low heat, add the tomato passata. Add the oregano, garlic, paprika, pepper, a small pinch of salt, and a whole ramp leaf. 
Cook on low for 30 minutes. 
4
Remove the rabbit from the liquid and let cool enough to shred the meat off of the bones. 
Measure out three cups worth, and chop finely. 
Save any leftover rabbit, and the rabbit broth for another recipe (Rabbit soup? Rabbit tacos? Rabbit salad? Rabbit stew?).
5
Cook the shells as per package directions. 
Preheat oven to 350°F. 
6
Drain the mushrooms, reserving the liquid for another use (cook your rice in it!).
Chop finely. 
7
Slice ramps into fine ribbons, then chop.
Mix the rabbit, mushrooms, and ramps in a bowl. Mix in 3/4 of the Parmesan cheese and the sour cream. Add salt and pepper to taste. 
8
Pour half of the tomato sauce into an oven proof dish. 
Stuff each shell with the rabbit mixture. Arrange the shells on top of the sauce.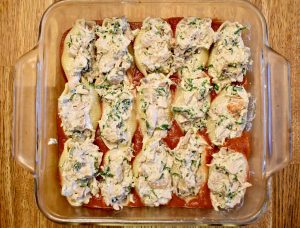 Top with the rest of the sauce, then sprinkle on the rest of the Parmesan cheese. 
9
Bake for 30 minutes.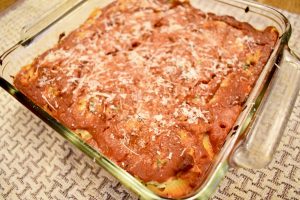 10
Serve with a nice side salad and a glass of white wine. Enjoy!
Notice how I didn't have you scroll through pages of mundane nonsense to get to the recipe? Notice that there were no annoying pop-ups or ads? That was on purpose!
I want finding and using my recipes to be easy for you, not frustrating. That does translate into a lot of lost income for me though. If you made this recipe and loved it, would you consider "buying me a coffee" and donating a buck or two through the Buy Me a Coffee app? It will help me keep pumping out recipes like this one!