Portuguese Wild Duck Rice – Arroz de Pato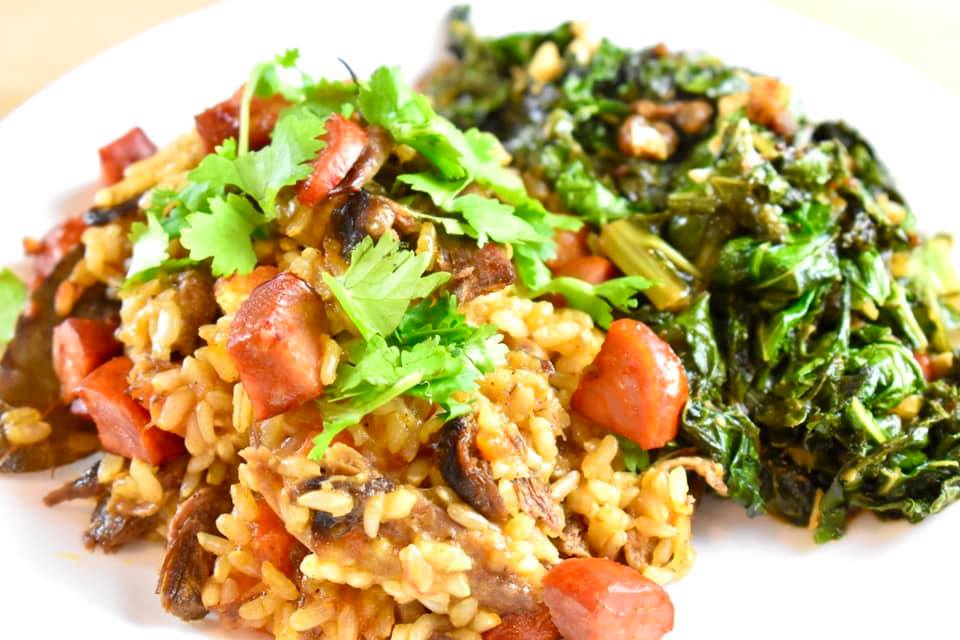 Portuguese duck rice, or arroz de pato, is a great way to repurpose leftover wild roasted duck or goose into an incredible new dish! Chouriço is a Portuguese variant on chorizo sausage and can be found in many grocery stores and delicatessens. If you can't find it, try replacing it with cubed spicy salami, kielbasa, or Spanish chorizo sausage. 
Prep Time

15 min

Cook Time

1 hr 30 min

Total Time

1 hr 45 min

Ready in

2 Hrs

Yield

4 Servings
Cuisine

Course

Cooking Method
Ingredients
For the broth
1/2 leftover roasted duck or goose on the carcass, along with any leftover bones
1 large carrot, peeled 
1 onion, cut in half 
3 cloves garlic, left whole 
10 cilantro stems (set aside leaves for garnish)
2 bay leaves
Zest of 1 orange
1 whole star anise
1/2 teaspoon dried thyme or one sprig fresh thyme
1/2 teaspoon freshly cracked black pepper
1/2 teaspoon kosher salt
For the casserole
2 tablespoons duck fat or olive oil, split
Shredded duck meat
1 large onion, peeled and chopped
3 cloves garlic, peeled and chopped
1/2 tablespoon smoked paprika (sweet or hot depending on your preference)
1 cup uncooked white rice
2 cups duck broth
Juice of 1 orange
1 link chouriço sausage, cubed
Preparation
1
Add leftover duck carcass or pieces and bones to a pot. Cover with cold water and add the rest of the broth ingredients.
Bring to a boil, then reduce to a simmer and cook for 45 minutes to 1 hour. 
2
Take the broth off of the heat.
Remove the carcass from the broth and let cool.
Strain the broth, discarding the solids (save any meat you find), and set aside 2 cups. The rest of the broth can be saved for other dishes. 
3
Once the carcass is cool, pull off and shred all of the meat you can find on it. Set this aside and dispose of the bones. 
4
Preheat oven to 375°F.
In a medium pot, heat up 1 tablespoon of the duck fat or olive oil over medium high heat.
Add the shredded duck meat, onion, garlic, and smoked paprika. Cook for about 3 minutes, then add the raw rice and cook for another 3 minutes or so, stirring constantly. 
Add a pinch of kosher salt, the juice of 1 orange, and the 2 cups of broth. Stir and bring to a boil. Reduce heat to low, cover and cook for 15 minutes. After the 15 minutes, take the rice off the heat and let stand for 5 more minutes without removing the lid. 
5
In a cast iron or other oven proof casserole dish, heat up the remaining tablespoon of duck fat or olive oil over low heat. 
Add the cooked rice mixture, spreading it evenly into the pan, then top with the cubed chouriço sausage. 
6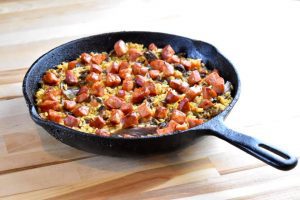 Put into the oven for 15-20 minutes or until the fat has begun to render out of the sausage and the rice becomes crispy on top. You can carefully and briefly finish it off under the broiler if you like it even crispier. 
Garnish with cilantro leaves and serve with a salad or sautéed kale. Enjoy!