Potato Pancakes with Hedgehog Mushrooms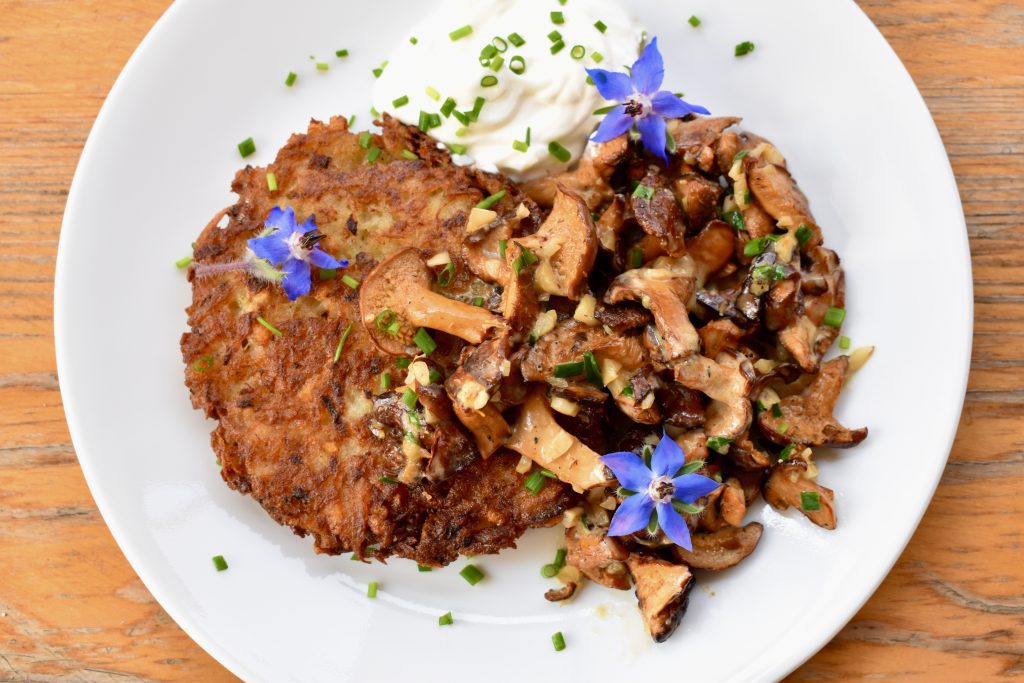 These potato pancakes with hedgehog mushrooms were inspired by Polish placki. They're amazing for breakfast, lunch, or supper!
Chanterelles, wild agaricus, oyster mushrooms, or hen of the woods could be used for this recipe in place of the hedgehogs, as could any store-bought mushrooms. 
Prep Time

20 min

Cook Time

40 min

Total Time

1 hr

Yield

4-8 pancakes

Serving Size

1-2 pancakes
Cuisine

Course

Cooking Method

Suitable for Diet
Ingredients
For the Pancakes
2 large, or 4 medium Russet potatoes
1 small brown/yellow onion
2 tablespoons all-purpose flour
1 egg
1/2 teaspoon kosher salt
1/4 teaspoon black pepper
Oil or lard to fry
Chives and sour cream to garnish
For the Mushrooms
1/2lb hedgehog mushrooms, trimmed and sliced thickly
1 tablespoon butter
3 cloves garlic, minced
1/2 teaspoon dried thyme leaves
1 cup 10% cream
Salt and pepper to taste
Preparation
For the Pancakes
1
Peel the potatoes, then grate them on the small side of a cheese grater. 
Gather a big handful of shredded potato and squeeze it in both hands over the sink. It's amazing how much water will come out. 
Repeat with the rest of the shredded potato, transferring it into a medium bowl. 
2
Grate a peeled onion as well and add it to the bowl with the potatoes. 
Add the flour, egg, salt, and pepper and mix well. 
3
Heat enough oil in a skillet over medium heat to cover the bottom by 1/4-1/2 inch. 
Add a big dollop of the potato mixture (about 1/4 cup) to the hot oil and flatten gently with a spatula. 
Add 1-2 more potato pancakes to the skillet if there's space. 
Cook for 3-5 minutes per side, or until nicely golden. 
Transfer to a paper towel, then move to a very low oven to keep warm. 
For the Mushrooms
4
Trim the mushrooms and slice thickly. 
Add the butter to a skillet over medium-high heat. 
Cook for about 8 minutes, or until mushrooms are golden and any liquid has dissipated. 
Add the garlic, thyme, and the cream and reduce heat to medium-low. 
Simmer until the cream becomes a thick, coating sauce. Season with a pinch of salt and pepper (to taste). 
To Serve
5
To serve, add one or two pancakes to a plate, add a handful of mushrooms and a big dollop of thick sour cream, then garnish with a sprinkle of fresh chopped chives. Enjoy! 
Notice how I didn't have you scroll through pages of mundane nonsense to get to the recipe? Notice that there were no annoying pop-ups or ads? That was on purpose!
I want finding and using my recipes to be easy for you, not frustrating. That does translate into a lot of lost income for me though. If you made this recipe and loved it, would you consider "buying me a coffee" and donating a buck or two through the Buy Me a Coffee app? It will help me keep pumping out recipes like this one!