Ramp and Cheddar Biscuits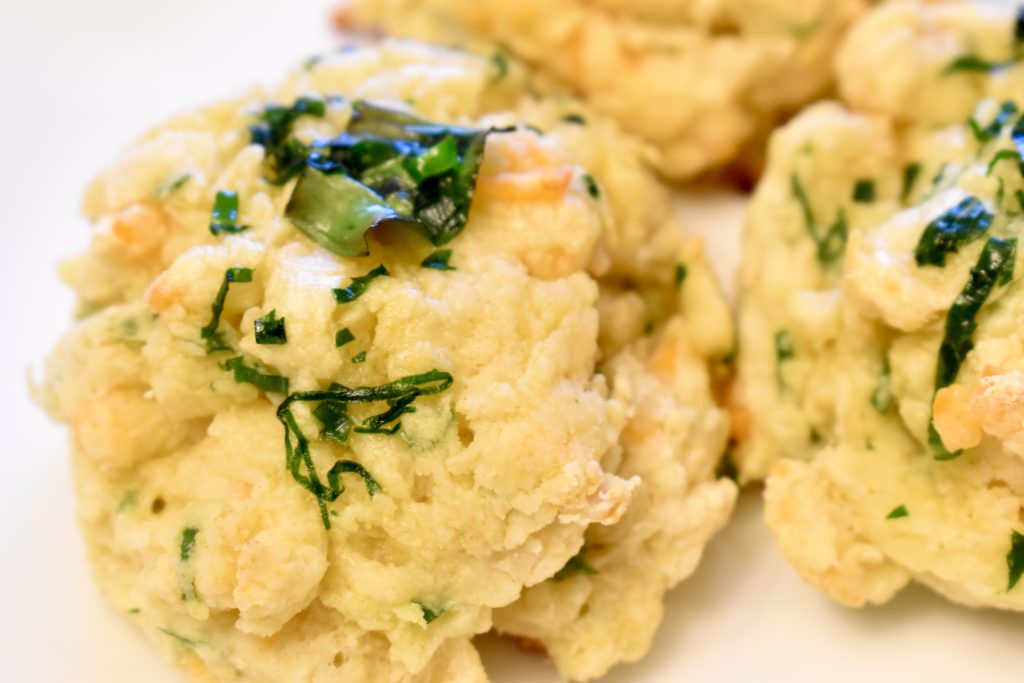 These ramp and cheddar biscuits are incredibly addicting and are the perfect side for any wild meat or fish dish!
Use garlic chives or scallions if you can't find any ramps/wild leeks.
Prep Time

15 min

Cook Time

15 min

Total Time

30 min

Yield

12-15 biscuits
Cuisine

Course

Cooking Method

Suitable for Diet
Ingredients
12 ramp leaves
2 cups (250g) all purpose flour
1 tablespoon (14g) baking powder
1 teaspoon (5g) white sugar
1/2 teaspoon (2.5g) kosher salt
1/4 teaspoon (1.25g) baking soda
1/3 cup (76g) frozen butter, grated
3/4 cup (60g) grated cheddar cheese
1 1/4 (310ml) milk
2 tablespoons (30ml) melted butter
Preparation
1
Preheat oven to 400°F. 
Set 4 ramp leaves aside.
Slice the rest into thin ribbons. 
2
In a large bowl, mix the flour, baking powder, sugar, salt, and baking soda well. 
Add the grated frozen butter and press in with a fork until it is all incorporated into the flour, creating a crumbly consistency. 
3
Add the grated cheese and sliced ramps, mixing them in. 
Add the milk, stirring it in, being careful not to over work or over mix the batter. 
4
Once it's gotten to the point where you can loosely form biscuits, use a spoon or ice cream scoop to drop them onto a sheet pan. 
You should end up with 12-15 biscuits. Space them out well. 
5
Tear three of the remaining ramps into enough pieces to top the biscuits.
Place a small piece of ramp on top of each biscuit and put them in the oven for 15 minutes. 
6
Take the last remaining ramp and mince it. 
Add it to a small pot with the 2 tablespoons of butter and heat gently. 
Once the biscuits are done, gently brush each biscuit with the ramp butter, then let them cool slightly before serving. Enjoy!
Notice how I didn't have you scroll through pages of mundane nonsense to get to the recipe? Notice that there were no annoying pop-ups or ads? That was on purpose!
I want finding and using my recipes to be easy for you, not frustrating. That does translate into a lot of lost income for me though. If you made this recipe and loved it, would you consider "buying me a coffee" and donating a buck or two through the Buy Me a Coffee app? It will help me keep pumping out recipes like this one!