Sheet Pan Bass with Garlic Scape Pesto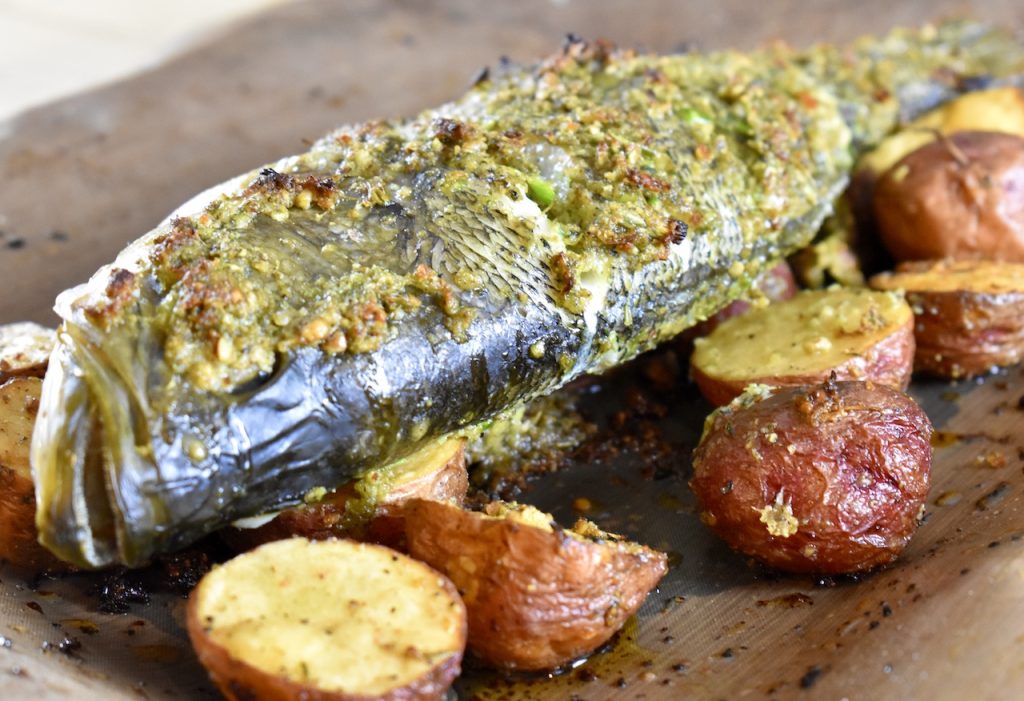 This sheet pan bass with garlic scape pesto, cooked over new potatoes is a great and easy way to cook freshly caught whole fish!
Make sure you make slashes in the fish in order to rub more pesto into it.
If garlic scapes aren't in season, feel free to use a regular basil pesto. 
Prep Time

25 min

Cook Time

35 min

Total Time

1 hr

Yield

2 servings

Serving Size

1/2 a fish each
Ingredients
For the Pesto
6 garlic scapes, tough sections trimmed off
1 handful basil leaves
1/3 cup walnuts, pine nuts, pecans, or pistachios
1/2 cup (125ml) extra virgin olive oil
1/2 cup shredded Parmesan cheese
1 pinch kosher salt (to taste)
For the Fish
1 whole bass
12 new potatoes, washed, large ones halved
Olive oil
Salt and pepper
Preparation
1
Preheat oven to 450°F (230°C, gas mark 8).
2
Add the garlic scapes, basil, and walnuts to a blender or food processor. Blend until mostly smooth.
Begin adding the oil in very slowly with the blender on low. Once the pesto has absorbed all of the oil, add the cheese. Add a small pinch of salt and taste. Add more if necessary (you want it to be a little salty). 
3
Put the potatoes onto a sheet pan and drizzle them with oil. Sprinkle them with salt and pepper then toss them all together. 
Put into the oven until they're beginning to get crispy and soft, about 20 minutes. 
4
Meanwhile (if you haven't already), prepare the fish. 
Remove the scales, fins, gills, and guts. Follow this guide to learn how to do this. 
Make 6 diagonal slashes on each side of the fish. Take 1/2 of the pesto and rub it all over the fish, making sure to get lots stuffed into the slashes. 
5
Once the potatoes are nearly soft, toss them in a a spoonful of pesto and arrange them so that they're all in a rectangle, then lay the fish on top of them. 
Put the sheet pan back into the oven for another 15-25 minutes, or until the fish is crispy and flakes easily with a fork. Time will depend on the size of your fish. 
6
To serve, either serve the fish whole in a communal style, or flake the fish apart, being careful to discard all of the bones, and serve it like that. Serve with potatoes and a side like creamed chard. Enjoy!