Spicy Pumpkin and 'Nduja Soup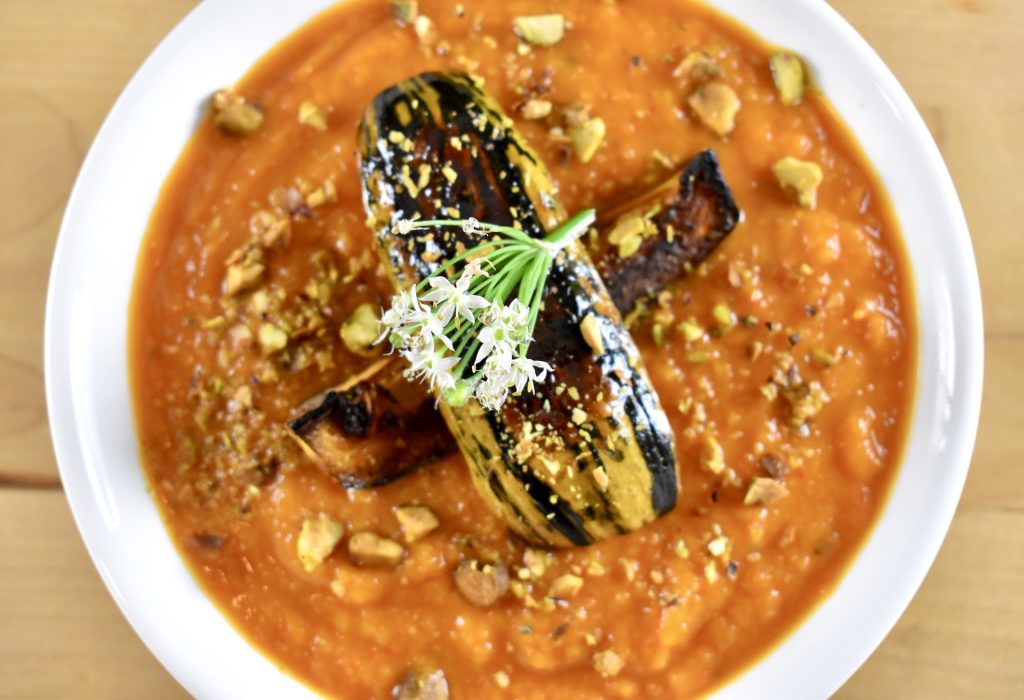 This recipe really kicks (kinda boring) pumpkin or squash soup up a notch!
'Nduja is a a spicy spreadable Calabrian sausage that can be found at high quality Italian grocers. It adds a deep spice and funkiness to the soup that makes it very special. 
If you can't find 'nduja, add a spicy Italian sausage instead. The texture won't be quite the same, but the flavour will be somewhat similar. 
Prep Time

30 min

Cook Time

1 hr 30 min

Total Time

2 hr

Yield

4-6 servings
Ingredients
2 pie pumpkins
1 delicata squash
1 teaspoon (5ml) + 1 tablespoon (15ml) oil or lard
Kosher salt
Black pepper
1 onion, chopped
3 cloves garlic, chopped
3 sprigs fresh thyme, or 1 small pinch dried
2 cups (500ml) chicken or vegetable stock
3oz (85g) 'nduja (less if you have a hard time with spice)
1 teaspoon (5ml) champagne vinegar (or white wine or cider vinegar)
1/4 cup (60ml) 50/50 or heavy cream
1/4 cup shelled pistachios, chopped
Preparation
1
Preheat oven to 400°F (200°C, gas mark 6).
Cut the very tops off of the pumpkins and remove the guts and seeds (save the seeds and roast them using this recipe). 
Put the pumpkins onto a sheet pan and roast in the oven for 1 hour or until soft. 
Leave oven on.
Let cool, then peel off the skin and chop the flesh roughly. 
2
Cut the delicata squash in half and scrape out the guts and seeds. 
Cut each half into 3 wedges. 
Toss the wedges in 1 teaspoon of oil and season with salt and pepper. Put on the same sheet tray you roasted the pumpkins on. 
Roast the squash wedges for 20-30 minutes, or until golden and slightly charred. 
3
Meanwhile, add the tablespoon of oil to a skillet over medium heat. 
Add the onions and sauté until soft, about 5 minutes. Add the garlic and cook for another 2 minutes. 
Strip the leaves off of the thyme sprigs and add them to the skillet. 
Add the stock, pumpkin, and raw 'nduja. 
Bring to a slow simmer for 10 minutes. 
4
Dump the skillet into a blender and let everything cool for a few minutes. 
Carefully pulse until the contents don't want to explode anymore, then blend on medium speed until smooth. 
5
Pour the resulting liquid back into the skillet or into a pot. 
Add the cream to the blender and pulse to pick up the leftovers in the blender. Add it to the skillet. 
Stir in the vinegar and taste. Add more salt if it needs it. 
6
To serve, ladle soup into bowls. Top with 2 squash wedges each, then sprinkle with chopped pistachios. Enjoy!