Venison Haggis with Neeps and Tatties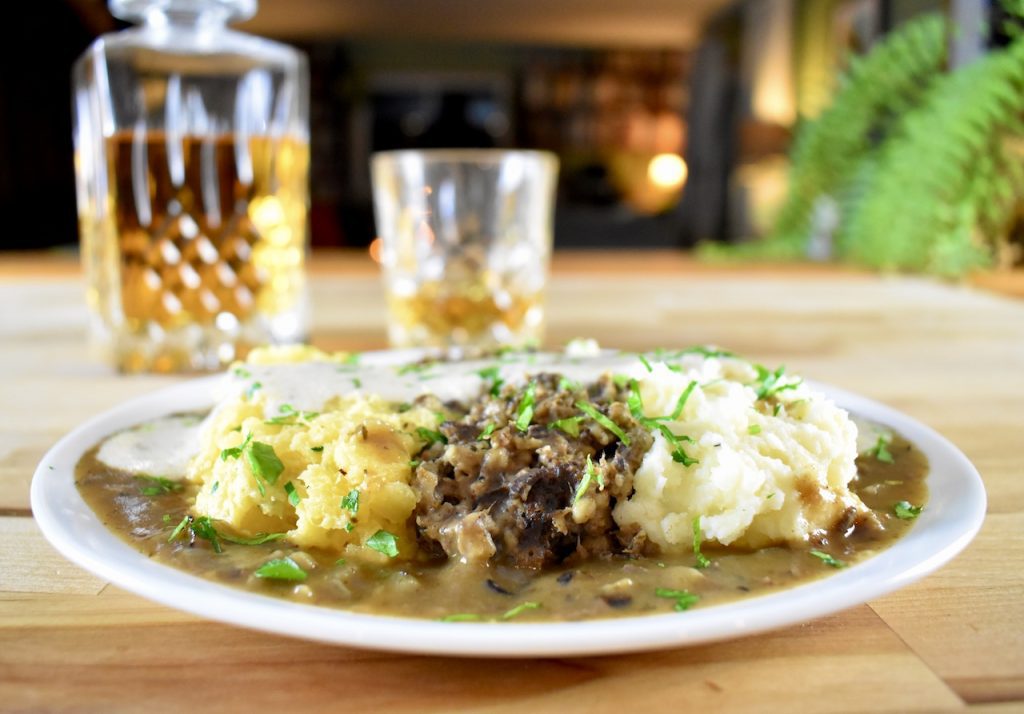 Haggis is a dish that strikes fear in the minds of people across the world, but this traditional Scottish dish is anything but weird or gross. 
With a mild but rich flavour, haggis is nothing more than a sausage of ground meat mixed with oats. It is often cooked in a stomach which is basically used as a sausage casing, but you can use regular hog casings, large beef casings, or collagen casings to make it as well. Everyone I've ever served it to loved it, even if they started out wary and dubious. 
Though traditionally made with a lamb's "pluck" (heart, lungs, liver), I made this particular haggis using the organs of a young deer. 
I used the lungs, liver, kidney, and some stewing meat cut from the shoulder to make this, but you could make it with any combination heart, lungs, liver, kidney, or shoulder meat as long as it comes in at around 4lbs. You could even make it with normal ground venison, though you'd be missing out on a lot of the richness that makes this dish special. 
Subtly spiced with mace, pepper, and thyme, the haggis is wonderful on its own, but becomes even better when paired with an onion gravy and whisky cream sauce. 
It's also commonly served with Scottish neeps and tatties, which are mashed rutabaga and potatoes. 
Many eat a haggis dinner on Robbie Burns day, which is January 25. Robbie Burns, a (the) Scottish poet, was so fond of haggis that he wrote a poem about it called Address to a Haggis that begins:
Fair fa' your honest, sonsie face,
Great Chieftain o' the Puddin-race!
Aboon them a' ye tak your place,
Painch, tripe, or thairm:
Weel are ye wordy of a grace
As lang 's my arm.
We like to eat a Burns Supper every January replete with homemade haggis, whisky cream sauce, neeps and tatties, and often a Scottish dessert like cranachan. 
Be sure to save the offal from your next deer to do it yourself, or you can order a lamb's pluck from any good butcher. 
Though it's more traditional to serve the haggis in a stomach casing that is slashed open with a dirk in a highly stylized manner, I find it much easier to make it in regular sausage casings. I've done both to great fanfare though, so it is up to you!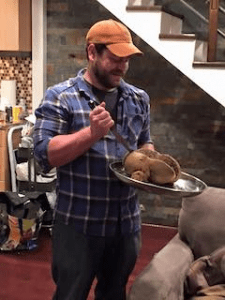 This is a long and relatively complicated recipe, but is very doable. Give yourself lots of time and go slowly and you'll end up with a beautiful traditional food that you'll be proud of. 
For a fun snack made with the leftovers, try my recipe for Haggis Scotch Eggs!
Prep Time

2 hr

Cook Time

3 hr

Total Time

5 hr

Yield

8 servings
Ingredients
For the Haggis
1 onion, peeled and halved
1 teaspoon (2g) ground mace
1/2 teaspoon (1g) dried thyme leaves
1/2 teaspoon (1g) ground pepper
1/2 teaspoon (2g) kosher salt
2 tablespoons duck fat, butter, or beef suet
2 cups (160g) Scottish pinhead oats
Hog casings, stomach, or beef bung casing
4lbs (1800g) of some or all of the below:
Venison lungs
Venison heart
Venison kidney
Venison liver
Venison stew meat
For the Onion Gravy
1 small onion, finely chopped
3 tablespoons (45g) butter
3 tablespoons (32g) flour
1 teaspoon (5ml) Worcestershire sauce
1/2 teaspoon (1g) dried thyme leaves
Kosher salt and black pepper
Reserved broth
For the Whisky Cream Sauce
1 tablespoon (15g) butter
4 tablespoons (60ml) Scotch whisky
3/4 cup (175ml) cream
1 teaspoon (5ml) Dijon mustard
Kosher salt and black pepper
For the Neeps (Mashed Rutabaga)
2 lbs (900g) rutabaga, peeled and cubed
1 cup cream
1/2 stick butter
Kosher salt 
For the Tatties (Mashed Potatoes)
2lbs (900g) russet potatoes, peeled and cubed
1 cup cream
1/2 stick butter
Kosher salt
Preparation
For the haggis
1
Add the venison meat and/or organs to a large pot.
Cover with water and add a big pinch of salt. 
Bring to a boil, then reduce to a simmer. Simmer for 2 hours. 
Drop the peeled and halved onion in for the last 10 minutes of cooking. 
2
Let everything cool, then remove the meat and onions from the liquid. Reserve the liquid. 
Either hand mince the meat and onion very finely by chopping, chopping, chopping, or run everything through a meat grinder on a coarse dye. 
If hand mincing, make sure everything is very finely chopped. 
Put the chopped meat into a large bowl. Add the spices, fat or suet, and mix everything together. 
3
Toast the oats in a dry pan over medium heat, stirring regularly, until the oats begin to slightly brown and everything smells nice and toasty. 
Add them to the meat mixture. 
Add in 4 cups of the reserved broth (reserve any you may have leftover) and mix and knead everything together with your hands until it forms a stiff, paste-like texture. 
4
Stuff into whichever casings you chose. I used regular hog casings. You can use a sausage stuffer, or a wooden spoon and a funnel to stuff the haggis into the casings. Tie the openings closed. 
If using a stomach, make sure it is washed well and boiled in a few changes of water. Stuff it and then sew the opening up tightly with needle and thread.
If using beef bung casing, stuff and then tie the opening closed. 
Whichever casing you use, ONLY STUFF 1/2 – 2/3'S FULL! 
The oats will expand while cooking and if you stuff the casing too tightly, it will burst during cooking. 
5
Add the stuffed casing(s) to a large pot. Cover with water and bring to a simmer. 
Lower to a very low simmer and cook:
Hog casings – 1 hour
Beef bung – 2 hours
Stomach – 3 hours
If the casings burst on you, finish cooking for the proper time, then pour the water through a sieve to catch all of the loose haggis. Drain well, then dry it by crisping it up in the oven or in a pan. 
For the onion gravy
6
Melt 1 of the tablespoons (15g) of butter in a skillet or pot over medium high heat.
Add the chopped onion and cook for 5 minutes, or until the onion is browned. 
Add the rest of the butter and the flour and cook, stirring, for another 5 minutes until the flour begins to brown. The browner you cook the flour, the darker and richer your gravy will be. 
Add 2 cups of the reserved haggis broth (or beef/venison broth), the thyme, and the Worcestershire sauce and whisk until the gravy thickens. 
Taste, then season with salt and lots of pepper. 
For the whisky cream sauce
7
Add the butter to a pot over medium heat to melt. 
Add the scotch. Tip the pot and use the burner or a lighter to ignite the alcohol. The flames will be quite high, so use EXTREME CAUTION doing this. You can skip this part if you're nervous. 
Once the flames die, add the cream and mustard. Taste, then season with salt and pepper. Taste again and adjust seasoning if necessary. 
Cook for 5 minutes over medium heat until the sauce thickens slightly. 
For the neeps
8
In a pot, cover the cubed rutabaga with water, add a pinch of salt, and bring to a boil. 
Boil until the rutabaga is soft when pierced with a fork. 
Drain the water and put back over low heat. Add cream and butter, then mash using a potato masher. 
Take off of the heat. Season to taste with salt. 
For the tatties
9
In a pot, cover the cubed potatoes with water, add a pinch of salt, and bring to a boil. 
Boil until the potatoes are soft when pierced with a fork. 
Drain the water and put back over low heat. Add cream and butter, then mash using a potato masher. 
Take off of the heat. Season to taste with salt. 
To Serve
10
Split the casing and shake out the haggis. You can serve as-is, or crisp it up in the oven or in a cast iron skillet on the stove. 
Spoon onto plates, along with the neeps and tatties. 
Pour over the onion gravy and cream sauce. Garnish with chopped parsley or chives if desired. 
Serve with a dram of scotch whisky. Slàinte!