Venison Shank Barszcz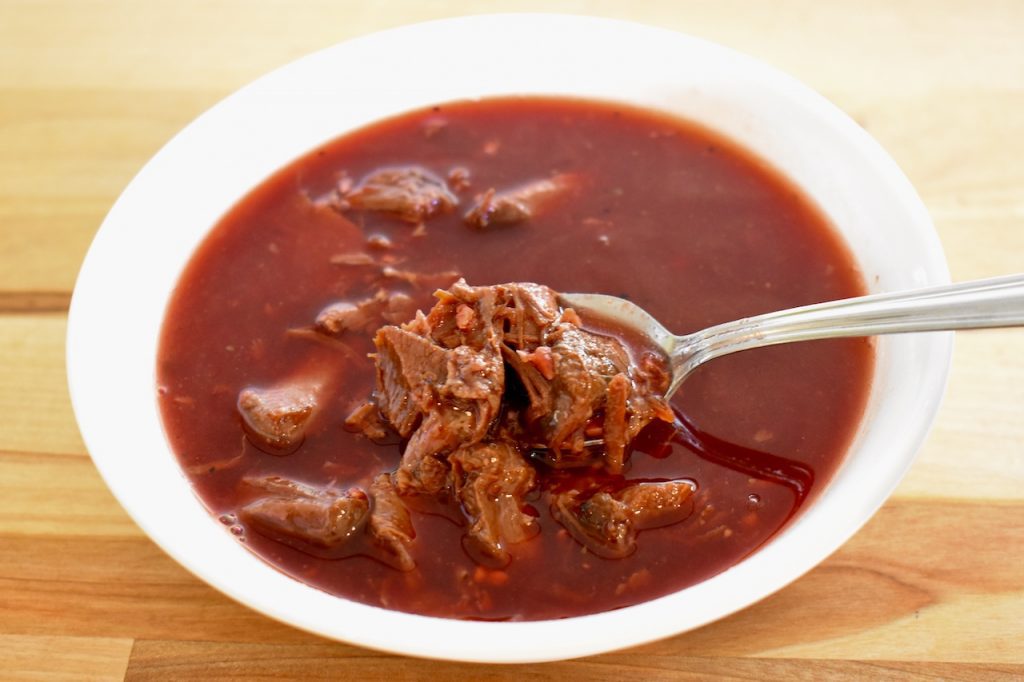 Barszcz is the Polish equivalent of borscht, an Eastern European beet soup. It is often served without meat at Christmas time and will usually be accompanied by kapuśniaczki or paszteciki, which are meat or mushroom hand pies. 
I made mine with venison shanks, which made the beet broth unbelievably rich and tasty. A bowl of this will warm you up from the inside out after a day spent out in the cold! 
You could also use venison shoulder, or could go with beef or lamb as well, though they'll be a tad fattier. 
If you don't have a Dutch oven, you can do Steps 2 and 3 in a skillet, then transfer everything over to a crock pot or slow cooker and cook it on low for 12 hours instead. 
I used vinegar to sour the soup, where it would be traditionally fermented to sour it. If you happen to have beet kvass, you could use that instead of vinegar. 
Prep Time

15 min

Cook Time

4 hr 20 min

Total Time

4 hr 35 min

Yield

4 servings
Cuisine

Course

Cooking Method
Ingredients
2 tablespoons (30ml) vegetable oil
1-2lbs (454-900g) venison shanks, whole or cut osso buco style
Salt and pepper
2 onions, minced
2 carrots, peeled and grated
2 large beets, peeled and grated
2 ribs celery, minced
1 turnip, parsnip, or celeriac, peeled and grated
2 cloves garlic, minced
8 cups (2L) venison or beef stock
2 tablespoons (30ml) cider vinegar 
1 clove garlic for garnish (optional)
Preparation
1
Preheat oven to 275°F (140°C, gas mark 1)
2
In a Dutch oven, heat the oil over medium high heat. 
Season the venison shanks generously with salt and pepper, then add them to the pot to sear. 
Sear the shanks, turning them so all sides get cooked, until very brown. 
Remove from pot.
3
Add all of the vegetables and sauté until they are softened, about 6-8 minutes. 
Pour in the stock and scrape up any bits stuck to the bottom of the pot. 
Add the shanks back in, cover, and put in the oven for 4 hours, or until the shanks are tender and the meat falls off of the bone. 
4
Remove the shanks and shred the meat. Discard the bones. 
Strain the broth through a sieve or a colander lined with cheese cloth and discard the solids. 
At this point you can attempt to skim off the fat with a spoon, or you can put the broth in the fridge for 2-24 hours, then peel off the fat that solidifies on the surface. 
5
Warm the broth back up if necessary, and add in the shredded meat and vinegar. 
Taste for seasoning and add any salt or pepper you feel is necessary. If you'd like it a little punchier, crush a garlic clove into paste and stir it into the soup. 
6
Serve with kapusniaczki and mizeria. Enjoy!